Hands-On With the Kindle Paperwhite: Light and Bright, and Just $119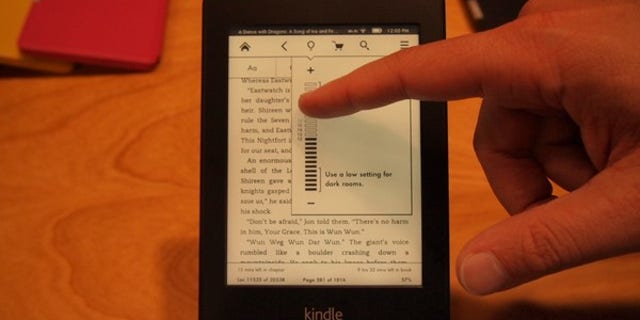 Reading in the dark has never been easier. The Kindle Paperwhite's display has a light guide that sits on top of its touchscreen, and emits a gentle glow that's a lot easier on the eyes than a traditional LCD display. Better yet, the Paperwhite has a 62 percent higher pixel density and 25 percent greater contrast than the previous Kindle.
The 6.7 x 4.6 x 0.36-inch Paperwhite is as light as ever--just 7.5 ounces--and felt as comfortable to hold as any e-Reader. We also like that it was easy to adjust the brightness. The touchscreen was also very responsive, and page turns were nearly instantaneous.
The Paperwhite's screen has a density of 212 pixels per inch. The light guide technology--essentially a flattened fiber-optic cable--uses only use four LEDs to illuminate the display. As a result, Amazon says the Paperwhite can last about 8 weeks, even with the screen on at all times.
The Wi-Fi only version of the Paperwhite will cost $119, which undercuts the Barnes & Noble Nook with Glowlight by $20. The 3G-enabled version of the Paperwhite will cost $179.
Stay tuned for our full review.