Hands-On With the Acer Aspire S7: World's Thinnest Ultrabook Starts at $1,199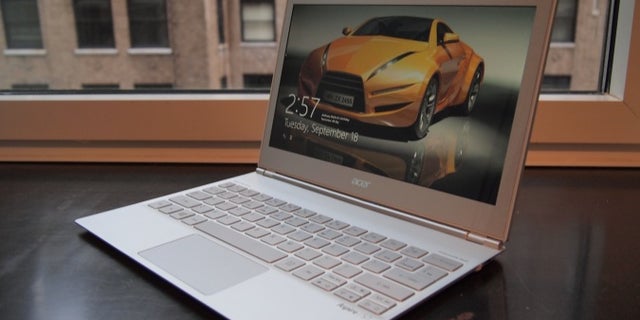 NEWYou can now listen to Fox News articles!
When Acer's new Aspire S7 Ultrabooks hit the market, they're sure to garner attention for their ultra-slim profiles. Starting at $1,199 for the 11-inch version and $1,399 for the 13-inch model, these two Windows 8 systems impressed us with their design, tailored for Microsoft's new operating system.
There's no understating how thin these notebooks felt. Even though both have a touchscreen, both are less than half an inch thick and weigh less than 3 pounds--2.3 in the case of the 11-inch version. We especially liked the Gorilla Glass lid on the 13-inch version, whose white coloring hid fingerprints, unlike the black glass lid on the HP Envy Spectre.
The lid on the S7-391 tilts back 180 degrees, so it can lie flat on a table, enabling others to share what's on the screen more easily. A unique dual-torque hinge design also ensures that the screen won't wobble when touched in an upright position.
Both the 11 and 13-inch S7 feature an all-aluminum unibody design, which made them feel sturdy despite their thinness. We also liked the cool blue backlighting for the keyboard, but the travel felt a tad shallow.
While there's no VGA port, both will ship with a microHDMI to VGA adapter, as well as a USB to Ethernet adapter, which will please the business set. Also appealing to road warriors: both systems should get about 6 hours of battery life, and an optional slice battery should double that.
| | | | |
| --- | --- | --- | --- |
|   | S7-191-6640 | S7-391-6810 | S7-391-9886 |
| Price | $1,199 | $1,399 | $1,649 |
| Display | 11.6 inches, 1920 x 1080 | 13.3 inches, 1920 x 1080 | 13.3 inches, 1920 x 1080 |
| CPU | Intel Core i5-3317U | Intel Core i5-3317U |  Intel Core i5-3317U |
| Hard Drive | 128GB SSD  | 128GB SSD  | 256GB SSD  |
| Memory  | 4GB  | 4GB  | 4GB  |
| Weight  | 2.29 pounds  | 2.86 pounds  | 2.86 pounds  |
| Size  | 11.17 x 7.7 x 0.48 inches  | 12.73 x 8.79 x 0.47 inches  | 12.73 x 8.79 x 0.47 inches |