Guns made of meteorite: Price tag $1 million
In the market for a gun that is out of this world? Then the Big Bang pistol may just be for you … provided you've got very, very deep pockets.

Parts of the 4.5 billion-year-old Gibeon meteorite that landed in sub-Saharan Africa in prehistoric times have been transformed into guns and pistol grips by Cabot Guns.
Cabot will reveal its meteorite-enhanced guns for the first time next week at the SHOT Show in Las Vegas. The Big Bang pistol set will ultimately be shown to the public in May. A relatively new company at about five years old, Cabot Guns has been establishing a reputation for luxury weapons. Its focus is on crafting 1911-style pistols.
Related: American Sniper widow Taya Kyle outshoots NRA champion
The Big Bang pistol set is expected to go on sale by auction and then snagged by the highest bidder. Cabot says that it has been offered $250,000 from a collector based on concept alone but notes that estimates on the value have ranged from $500,000 to over $1,000,000.
Big Bang Pistol Set
Dubbed the Big Bang, the interplanetary pistol set includes two mirror image precision-manufactured 1911 style semi-automatic 45s. One is designed for righties and the other lefties. Each is constructed from the ancient meteorite.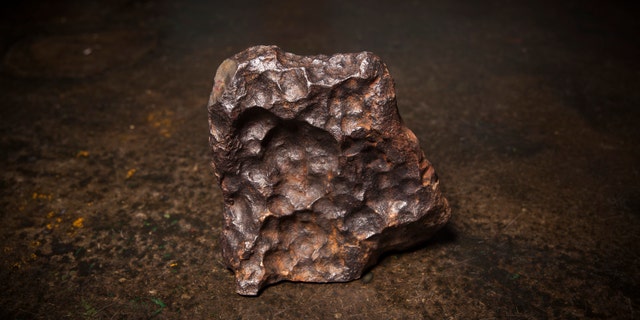 As the company's website explains, "Cabot Guns brings the galaxy to your fingertips as you lay hand on the rarest of materials and the finest of pistols."
Related: Can the US military build Star Wars-style laser cannons for its troops?
The unique pistol set comes with high-end display cases so they can be showcased like a piece of art.
The Meteor
The meteor used for this project may be billions of years old, but it was only first discovered in area that is now part of Naimibia in 1838. Analysis suggests it landed on Earth in prehistoric times.
Approximately 57,000 pounds of the meteorite have been discovered to date. Cabot acquired about 77 of them for its projects.
Highly coveted, Gibeon has often been referred to as the "Cadillac of meteors." Parts of the meteorite have been sold and collected over the years – some of it has even been used in high-end projects like by luxury watch company Rolex.
How can a meteorite become a weapon?
It is not easy to make a gun using meteorite material. The frame, trigger, slide and grips are made of the meteorite. And to achieve this, there were lots of challenges to overcome.
Related: Historic aircraft carriers in pictures
Cabot Guns used advanced aerospace techniques in its manufacturing process. Even just cutting the meteorite is tough - it's sort of akin to cutting rare gems. Cabot opted to use a three-dimensional laser to scan the meteorite before cutting into it.
Guns are usually made of metals like steel, aluminum and titanium. However, the meteorite's composition is about 80 percent iron. The remainder includes nickel, cobalt, phosphorus and more.
The Cosmos Meteorite Grip 1911
Cabot has worked with this meteorite before. Previously, the company made Gideon 'Cosmos' pistol grips for the 1911. The grips showcase the "Widmanstätten pattern" – a fancy term that describes one of the meteorite's signature features - an interlacing pattern of kamacite and taenite,
Sneak Peek
The public will eventually get a chance to see The Big Bang Pistol Set at the NRA Annual Meeting and Convention in Louisville, Kentucky in May. Cabot will be revealing more details leading up to the big public reveal.