Ground Control to Major Smartphone? NASA Wants Phones to Pilot Spaceships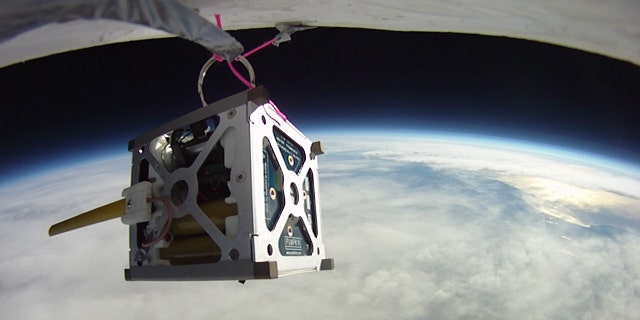 Are smartphones so smart they can operate a spacecraft? NASA wants to find out.
The space agency has for months been conducting tests to see if smartphones can survive by literally sending them to the edge of space. NASA last week conducted the most recent of these tests, sending an Android phone up nearly 100,000 feet on a balloon. Last August, it was a Google Nexus One phone on a rocket.
"The cell phone industry has invested billions of dollars in these phones. They've packed a lot of capability into a really small volume," said Chris Boshuizen, a senior systems engineer at Logyx, a California-based technology firm.
The power of today's smartphones rival those of many desktops and even exceed that of many satellites, said Boshuizen, which allows them to cheaply transmit photos and data. Phones running the Google Android OS have gigahertz processors, half a gigabyte of RAM, and accelerometers and magnetometers to measure gravity and direction.
"When you think about it, it's almost a spacecraft. All that is missing is solar panels," Boshuizen said.
But first NASA needs to know if they can survive the harsh environment of space. In the latest balloon test, engineers sent a smartphone almost a third of the altitude a satellite would settle into orbit.
Packed in a specially designed cube, the smartphone went up with extra batteries to give it a week of power, and a special circuit to reset the phone should it crash. It communicated with its ground station via external UHF ham radio. The "CubeSat" had capabilities very similar to Sputnik, where it could beep at ground operators and transmit photos. The big difference: the mock nanosatellite cube measured only 4 inches per side and involved only $3,000 in parts -- making it much cheaper than traditional satellites.
The test was considered successful, even though the ham radio cut out at about 2,000 feet. Boshuizen and his colleagues plan to adjust the radio frequencies to correct the problem for another balloon test next month.
Although NASA has not yet planned an actual smartphone satellite launch, which would take at least a year of preparation, researchers at the University of Surrey and Surrey Satellite Technology Limited (SSTL) in Guildford, Britain, are getting ready to launch an actual CubeSat by November or December.
The CubeSat, known as the Surrey Training, Research and Nanosatellite Demonstrator (STRaND-1), literally uses off-the-shelf smartphone components to power a tiny satellite, Dr. Chris Bridges, lead researcher for the SSTL nanosatellite project, told FoxNews.com
"We use a smartphone as the payload," Bridges explained. "We are trying to test all of the sensors and any subsystems on the phone. The smartphone industry spent a lot of money on integrating these things and making them very small. For satellites, the smaller we can make them with the least volume and the smaller weight, then we can send them up for cheaper amounts of money."
In the countdown to the launch date, SSTL is testing the smartphone with vibrations to see if it will survive the launch, testing it in a vacuum to see if it will work in space, and exposing it to extreme heat, cold and radiation. Bridges declined to say what model of smartphone is involved, saying only that it is commercially available.
The SSTL launch will take the smartphone CubeSat to a height that low-orbit satellites operate -- around 350-400 miles above Earth.
Bridges sees the potential proliferation of CubeSats as a continuation of the miniaturization of satellites, which shrunk from the size of trucks to dishwashers through the 1990s.
The STRaND-1 CubeSat weighs less than 2 pounds and measures about the size of a loaf of bread, Bridges said. The entire project will only cost about $400,000 -- a remarkably affordable satellite compared to previous satellites.
But it was the U.S. Army that first launched a CubeSat last December. The Army Space and Missile Defense Command (SMDC) started experimenting with CubeSat technology in the past several years to fill gaps in capabilities provided by traditional satellites.
"The whole concept of CubeSats started out in the academic community," acknowledged John London, SMDC nanosatellite technology manager. "The idea was that they wanted to have something university students could work on and develop within an academic timeframe. A graduate student working on a master's program could design, develop, and build something they could fly in space and then hopefully get the opportunity to fly it in space."
"We have communications satellites and other satellites to provide navigation capability and intelligence information, but there are some gaps in what they can do for individual soldiers around the world," he continued. The mission of Army is not to replace traditional satellites, but to provide additional capability to soldiers on the ground.
The first Army nanosatellite launch tested low-data rate communications, successfully passing data from unattended ground sensors placed around SMDC headquarters in Huntsville, Ala., to ground stations in Huntsville and Colorado Springs, Colo.
"We thought it would work, but we didn't realize how well it would work. We were very excited about the performance of the satellite," London commented.
While a traditional military satellite would require about 10 years from design to launch, the Army could produce a nanosatellite in about a year.
"They have a lot of attributes that make them attractive. You can develop them quickly; they are low cost; and they can fill niches in capability to support the warfighter on the ground," London said. "We intend to put more satellites up as soon as we can. The tough part for us is the launch."
The Army hopes to hitch a ride on an Air Force launch and launch its next nanosatellite as early as 2012.
"Why now? It's as simple as looking at your iPhone. The amount of capability and processing power in our handhelds today is absolutely mindboggling to look at compared to 20 years ago," said London. "