Google Updates TV, Signs Celebs, Invades Living Room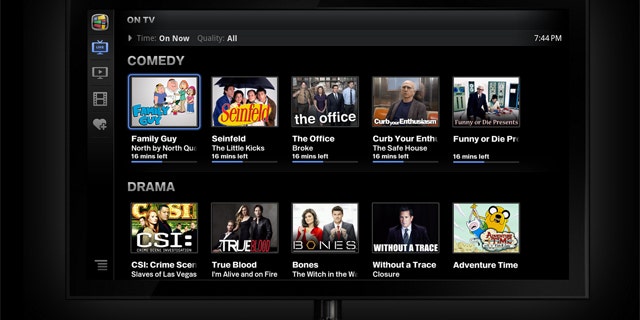 Google made its intentions to invade the living room clear this week with a fresh update to its Google TV platform and a plan to create 100 online video "channels" on its YouTube website that will feature original programming from the likes of Madonna, Jay-Z, Ashton Kutcher and former NBA star Shaquille O'Neal.
The company said it simplified the Google TV software, which allows users to access the internet and search for web-video content through their TV screens. Google also said it improved the way people can simultaneously search for content on their live TV listings as well as Google's YouTube video site, on-demand shows available on Amazon.com and Netflix.com, among others.
Google hopes the new update can reinvigorate a product that has so far met a lukewarm reception since its initial release last year as it seamlessly integrates its family of services.
"We're launching a new YouTube experience specifically built for Google TV," the company said in a blog post. "It is now fast and easy to get to your favorite HD-quality YouTube entertainment. And we've integrated YouTube more closely with Google TV search, so that you can turn virtually any topic – mountain biking, cooking, etc. – into a channel."
Despite advances in technology, many customers have been resistant to "cutting the cord." This time, the company promises to entice new users with exclusive content.
The new venture, in partnership with dozens of media companies, Hollywood production companies, and online-video creators, will generate about 25 hours of new, original programming per day on YouTube. The majority of the roughly 100 channels will launch next year, The Wall Street Journal reported Saturday.
Also involved in the venture are wellness guru Deepak Chopra, skateboarding legend Tony Hawk, Rainn Wilson of "The Office" (who will be featured in a comedy channel), and a Hispanic channel featuring Sofia Vergara of "Modern Family." The celebrities will partner with various production companies to produce the content.
Madonna is expected to be involved in a dance-related channel, and Jay-Z is expected to produce content related to his Life + Times website, said people familiar with the matter.
Google is hoping to turn YouTube into a next-generation video provider that oversees free online channels with professional-grade shows. YouTube is expected to give some content creators 55 percent of the resulting ad revenue after YouTube recoups the cash advances it paid them, some of the people said. In Hollywood, such a split is considered to be generous.
Newscore contributed to this report.