Google Releases Person Finder for Victims of Japan Tsunami and Earthquake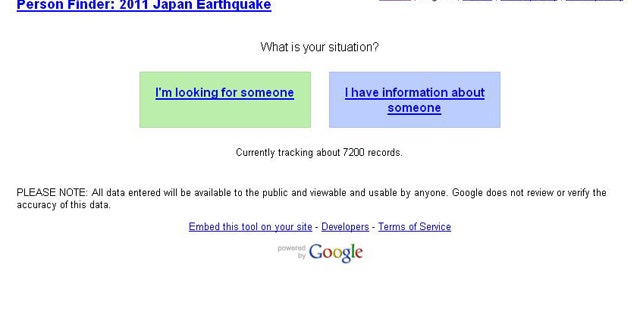 Google has unveiled a person finder app to aid those affected by the massive, magnitude 8.9 offshore earthquake that struck Japan and the massive tidal wave that followed it.
The tremendous earthquake -- the largest in Japan's history -- unleashed a 23-foot tsunami and was followed by more than 80 aftershocks for hours, many of them magnitude 6.0 or greater. Hundreds of bodies were found after the tsunami struck the northern coast of Japan. Japanese police say 200 to 300 bodies have been found in a northeastern coastal area, after the ferocious tsunami swept away boats, cars and homes.
To help survivors and families reunite in the stricken country and around the globe, Google has released the new tool, which simply aims to let friends and family keep in touch, or at least let others know a certain area or neighborhood is safe.
The application simply asks for a person's situation: Are you looking for someone, or do you have information about someone?
It claims to currently have information on about 7,200 people. Google claims that all data entered in the application will be available to the public and viewable and usable by anyone. Google does not review or verify the accuracy of the data, the company noted.
This isn't the first time Google has released such a tool. The search giant created similar tools following the February earthquake in Christchurch, New Zealand, the disasters in Haiti and Chile in 2010, and the floods in Pakistan and Brazil.