Google Maps update offers indoor walking directions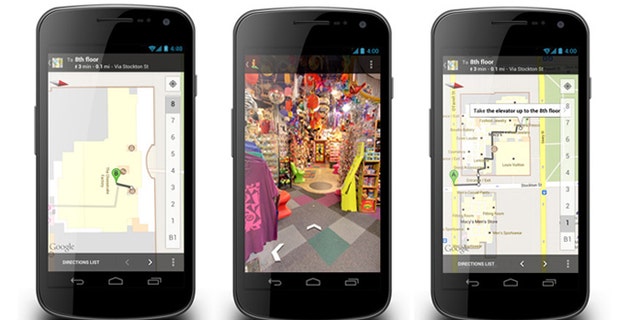 MOUNTAIN VIEW, Calif. – Google Maps is stepping in a new direction -- indoors.
The popular mapping service rolled out an update offering several additions including indoor walking directions, allowing users in the U.S. and Japan to use Google Maps to navigate inside malls and airports.
"This will help you get directions not only to a building's front door, but also through those doors to the places where you want to go inside," Benjamin Grol, product manager at Google, wrote in a blog post.
[pullquote]
The update comes in Google Maps 6.7 for Android, released by the search giant on Wed., May 9.
The Boston subway service immediately rolled out a service offering maps of the MBTA, letting passengers see stairs, escalators and exits and entrances.
Indoor maps and walking directions are available in Google Maps for Android in two dozen key stations including Park Street, South Station,and Downtown Crossing. A full list of stations we included in the initial launch is below, the MTBA announced.
But the focus appears to be mainly on shopping.
Google Maps 6.7 integrates a service called Google Business Photos that the company has been testing for about two years, which lets you explore panoramic photos of the inside of a business.
"Now you can get a feel for a restaurant or store inside as well as outside using Street View technologies," Grol wrote.
Google has also started to integrate Groupon-like offers into Google Maps.
Eric Rosenblum, Google's director of product management for Google Offers, said consumers will start seeing offers for restaurants, spas and other services on a variety of Google properties soon, AllThingsDigital reported Thursday.
"Any Google properties that have a strong location, social or commerce component are strong candidates," he said. U.S. consumers who use the 6.7 version of Maps on Android devices will start receiving offers for nearby deals and coupons when conducting a search for a local business.
The announcements also hint at how Google sees the daily deals business evolving, which, as it turns out, is different from either Groupon or LivingSocial.
Rosenblum explained the search company is narrowing in on three types of offers -- daily deals, coupons and rewards.
A daily deal provides a huge discount to the consumer who pays for it upfront. In that scenario, the deal is used as a lead generator and may pull in customers from all across town. In contrast, a coupon is free and may give consumers a couple bucks off their next purchase, providing an additional "nudge" to pick one restaurant over the other.
And, finally, the third approach offers a loyalty program to merchants that will keep consumers returning through the use of rewards.
Google's rewards program is currently being piloted in the San Francisco Bay Area.
NewsCore contributed to this report.