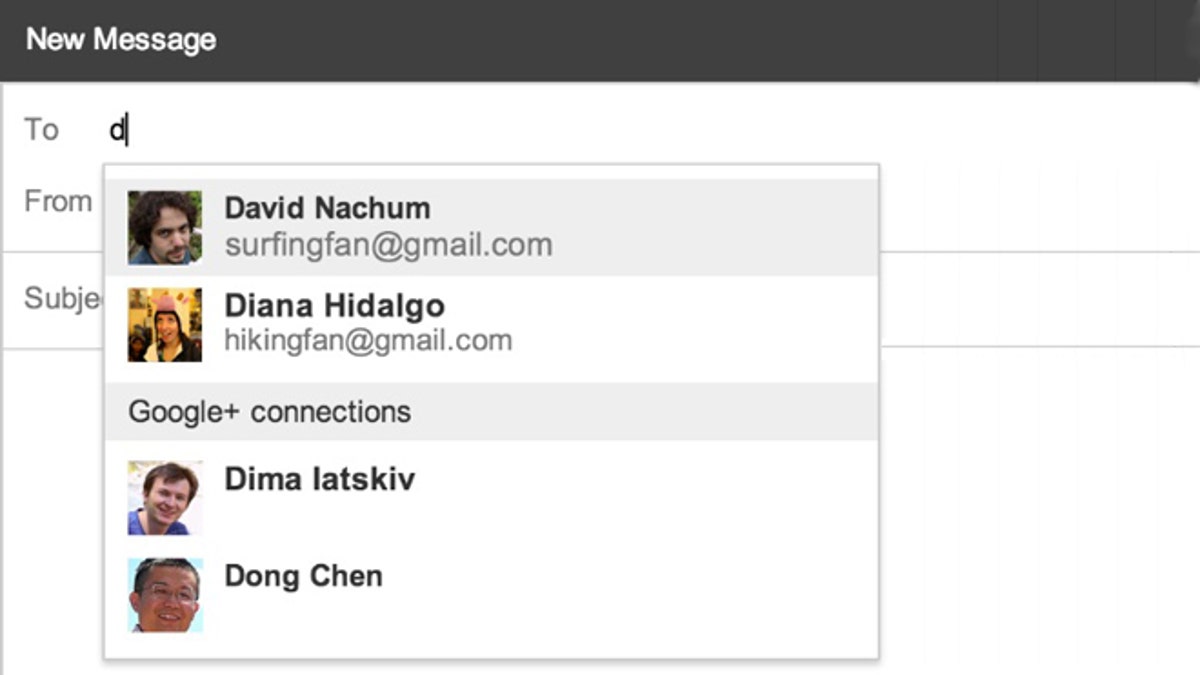 A new feature on Google's email service makes it easy for people who don't know you and don't have your email address to get in touch -- and privacy advocates call it a worrying development.
Google on Thursday announced a new feature that enhances the link between your Google+ connections and your Gmail account, letting people who simply follow you on the social network get in touch with you via email.
"As an extension of some earlier improvements that keep Gmail contacts automatically up to date using Google+, Gmail will suggest your Google+ connections as recipients when you are composing a new email," wrote David Nachum, a product manager with the technology company.
An example image released by the company shows suggested contacts from Gmail and, beneath a horizontal line, the names of connections from Google+.
[pullquote]
"Your email address isn't visible to a Google+ connection unless you send that person an email, and likewise, that person's email address isn't visible to you unless they send you an email," he added.
But the link is nonetheless raising the eyebrows of privacy advocates.
"[It's] eerily similar to the Buzz fiasco, when Google tried to force Gmail users into Google's social network service Buzz," violating their privacy, Marc Rotenberg, executive director of the Electronic Privacy Information Center, told the Los Angeles Times.
"The FTC needs to determine whether this change to Google's business practices violates the consent order that resulted from the Buzz investigation," he said.
That ultimately led to an FTC settlement requiring Google to submit to two decades worth of privacy audits, the LA Times wrote.
It's part of Google's continuing efforts to raise the profile and utility of Google+, the company's answer to Facebook. While generally regarded as well designed, Google+ is also frequently dinged for drawing far less activity than that other social network -- hence the continuing efforts to integrate it and Google's other, more popular, services.
"Like a frustrated mother who makes her toddler eat all of the pea-flavored baby food -- even though pea-flavored baby food is clearly objectively disgusting -- Google is on a mission to force-feed users Google+," wrote Kate Knibbs on Digital Trends.