God in cyberspace: There's an app for that - in fact, lots of them
There may be no more visible example of how religion and technology are intertwined than the proliferation of religious apps. Case in point: A biblical app known as YouVersion, now approaching its 10th anniversary, has been downloaded 300 million times.
But it's not just evangelical Christians creating and using religious apps. Carry Your Faith, an app affiliated with the Roman Catholic Archdiocese of Boston, lets people who can't physically celebrate Mass attend virtually each day at 9:30 a.m. The Roman Catholic Church launched the Pope App in 2013. Last year, the exiled Tibetan spiritual leader Dalai Lama began offering an app.
The same goes for tech-savvy Muslims and Jews. Islamic apps provide instruction on the various prayer steps, complete with illustrations. Some also offer interactive Ramadan planners and a way to live stream Ramadan activities with others around the world. Those interested in Judaism have such choices as the TorahChannel app, which offers top online videos about Judaism. The app includes Jewish holiday playlists and teaches history and law relating to the religion.
"There's a stereotype of religions, people think of them as old or ancient, afraid of technology," said Michael McBride, an economist at the University of California at Irvine who teaches a class titled "Economics of Religion" in which students research religious apps.
"But religious groups have been at the forefront of new technology adoption, from the days of the printing press – religious groups were early adopters of the printing press – to using videos when VHS first appeared to setting up websites in the early days of the Internet," McBride told Fox News.
Apps often supplement rather than replace traditional forms of engaging with religion, such as going to a service or liturgy, he said.
When he was a millennial, YouVersion founder Bobby Gruenewald wanted to give people like himself – someone who wanted to be more familiar with the Bible and connected to religion but was not going to go to church every Sunday – a way to learn about, understand and perhaps eventually live by Scripture.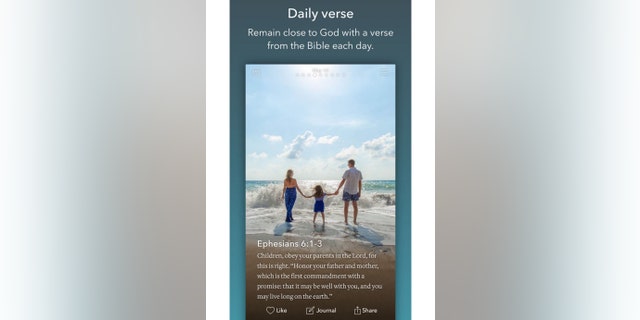 YouVersion, which has been downloaded in every country, in more than 1,200 languages, is free of charge – a key part, Gruenewald told Fox News, of making sure there are no barriers to making it accessible to anyone who wants it. It is backed by LifeChurch.tv of Edmond, Oklahoma, which has invested more than $20 million into it.
There's a stereotype of religions, people think them as old or ancient, afraid of technology. But religious groups have been at the forefront of new technology adoption, from the days of the printing press.
"There are many people similar to me," Gruenewald said, "who have an interest in learning about the Bible, or read some of it and want to read more of it, but have trouble consistently doing it the traditional way. "
They would see the book and the size and formatting are intimidating."
The app morphed over the years, going beyond offering a mobile and instant way to read the Bible to giving personalized aspects of Scripture via a preferred language, version, and in response to a mood or concern at a given moment, among other things.
"We're trying to make it accessible, we designed it to encourage daily engagement," said Gruenewald, who launched YouVersion as a website in 2007. He got the idea for the app a year earlier while dealing with a long delay at an Oklahoma airport. It was one of the first 200 apps in Apple's App Store in 2008.
"In the explore area of the app, it allows you to express different emotions you're experiencing at the time, and we connect you to a scripture based on that emotion. You can subscribe to a daily plan for seven days [for example] around anxiety [issues]."
My app is a way of delivering massive content -- my daily briefing, podcast and programming – and it's now simply a fact of life that if you're not present in that world [of apps], you're not reaching millions and millions of people.
When the anxiety-themed plan launched, he noted, 750,000 people subscribed to it.
"We want it to be simple and easy so that people can find something relevant to where are they are," Gruenewald said, "We certainly hope it strengthens their faith, and engaging with God's words can be a great source of strength and encouragement that can help people in their daily life."
YouVersion's developers found that many users like placing Bible verses over images, and now are working on ways to make that easier on the app, Gruenewald said, noting how technology must continue to evolve to keep pace with mobile trends. About one-fourth of the app's customers follow the Bible on audio, he said. Individual spiritual leaders also offer followers religious apps.
The Southern Baptist Theological Seminary launched a mobile app for its president, the Rev. R. Albert Mohler Jr., in 2015. The pastor's podcast alone had gotten more than 1 million downloads on the app each month.