Girl Scouts Get a 'Cookie Tracker' App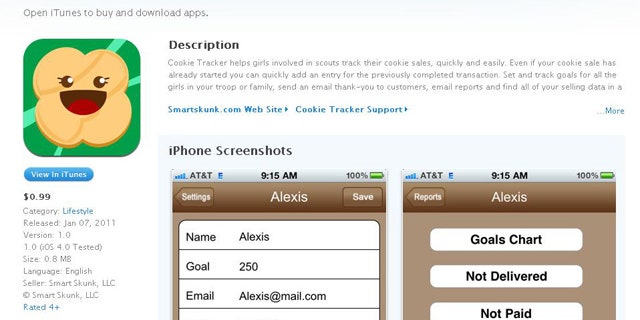 Girl Scouts and Brownies around the country hit the pavement this week to sell those addictive cookies. But this year, there's an app for that.
SmartSkunk.com has just released a "cookie tracker" app, an application designed to help scouts track their cookie sales quickly and easily. They can set and track goals for the entire troop, send an e-mail thank-you to customers, and find all of their selling data in a glance.
Girls peddling boxes of their famously delicious Thin Mints and Samoas can now turn to their iPods, iPhones, and iPads for a little relief, explained MyFoxAtlanta
Customers can use an online order form to submit their "promised" cookie order that is automatically recorded on girls' "Cookie Club" account order pages. The app is available for $0.99 (half off the normal price) for a limited time.
As of 2007, sales were estimated at about 200 million boxes per year. Scout officials said the cookies sales teach the girls the basics of money management, product marketing, interacting with customers and goal-setting.
Read more at MyFoxAtlanta.