Giant iPad Pro boasts some big firsts for Apple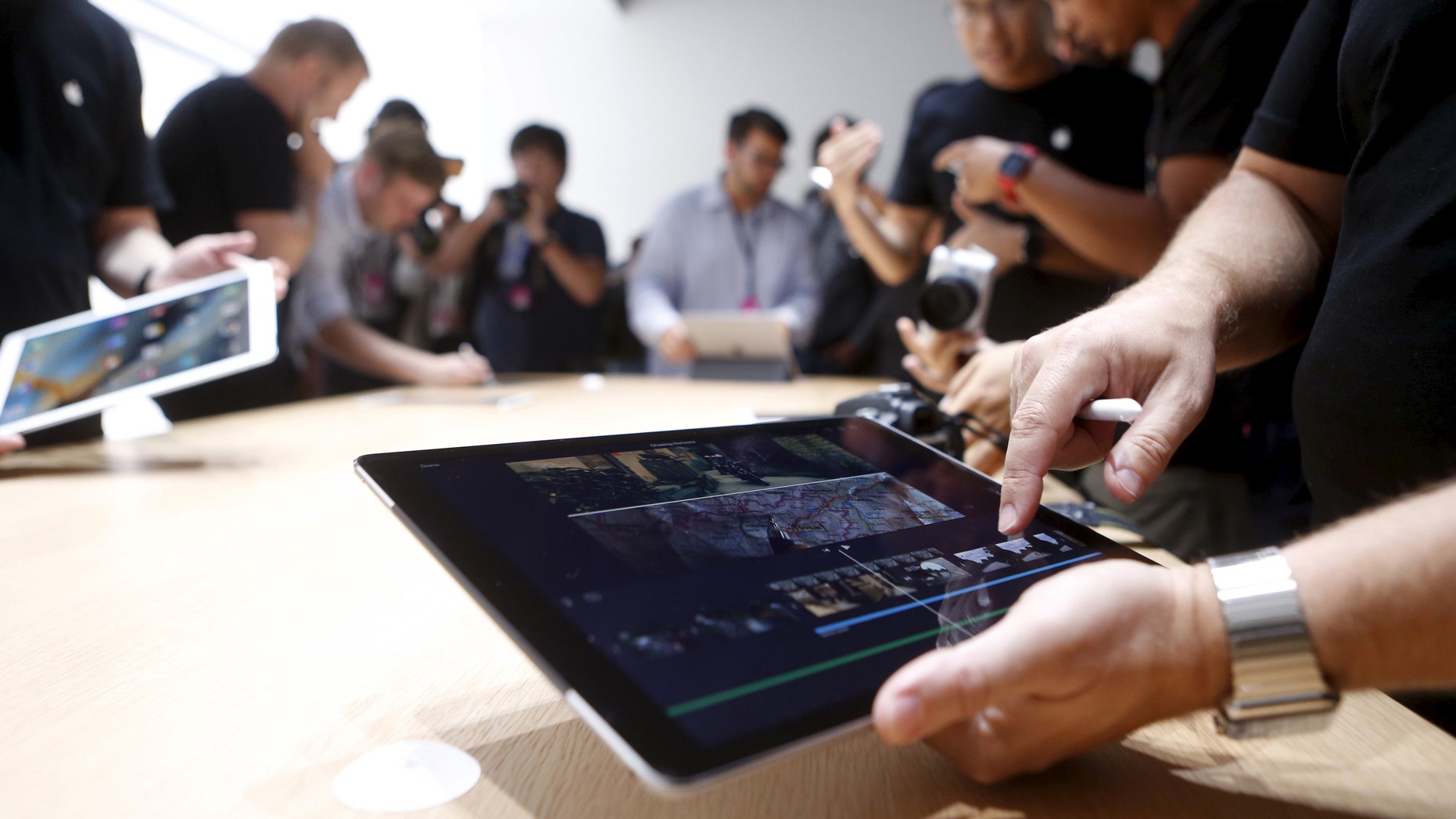 The iPad Pro is another Apple technological tour de force, redefining the iconic tablet.
"The biggest news in iPad since the iPad," said Apple CEO Tim Cook at Wednesday's big launch event in San Francisco.
That's not an overstatement.  The biggest change of course is the screen size.  The iPad Pro's display is massive at 12.9 inches, only slightly smaller than a 13-inch MacBook and even larger than the 12-inch MacBook – a full-fledged laptop.
The display also packs more pixels than any iPad to date: 5.6 million to be exact. "Far more than on any iOS device before.  In fact, that's even more pixels than a 15-inch MacBook with Retina display," said Phil Schiller, Apple's senior vice president of worldwide marketing, at the launch event.
Related: Apple unveils iPad Pro, new iPhones, revamps Apple TV
And consumers can take advantage of all that screen space and resolution to multitask on the iPad too.  Split View -- a new feature of iOS 9, Apple's upcoming operating system -- allows you to run two screen-filling apps side by side.
If the iPad Pro is beginning to sound more like a device for creating stuff (rather than passively watching movies), that's the direction that Apple is going.  For the first time, Apple is offering a stylus, called Apple Pencil.  The Pencil is aimed at content creators and makes touch much more precise --- a boon to artists and designers, for example. (It's worth noting that Steve Jobs once lambasted the stylus, saying "Who wants a stylus?" But that was long ago when Apple first introduced the touch-based iPhone and Jobs was comparing it to the human finger.
And speaking of styluses, for years Microsoft has been offering a stylus for its Surface tablet, which Microsoft touts as a content creation (aka, "productivity") device. Is Apple, perish the thought, taking a cue from Microsoft?
New Chip
Because Apple has designed the iPad Pro as a tablet for creating rather just consuming, it needs a chip that's up to the task.  Enter the A9X, which puts the new iPad into the same performance class as thin-and-light laptops using Intel processors.  "It is faster than 80 percent of the portable PCs that have shipped in the last 12 months," Schiller said, adding that, overall, it delivers roughly twice the performance of previous Apple processors. (The "X" suffix denotes Apple's highest performing chips.  The less-performance-optimized A9 processor is used in the new iPhone 6S.)
Related: An iPhone 6 that stays charged for a week? New tech may be on the way
While skeptics may say that's just Apple hyping its chips, the company has become one of the premier global processor designers.  And its goal – ever since it introduced the 64-bit A7 chip with the iPhone 5S – has been to offer what it calls "desktop" PC performance.
And there are other new features that make the iPad Pro more PC-like than past iPads. Because of its large size, it integrates four speakers.  And, as an option, Apple offers a newly-designed, full-size Apple "Smart" keyboard.
Finally, it has a PC-like price, starting at $799 and ranging up to $1,079 with built-in 4G/LTE connectivity.