Get tactical: 8 March Madness must-haves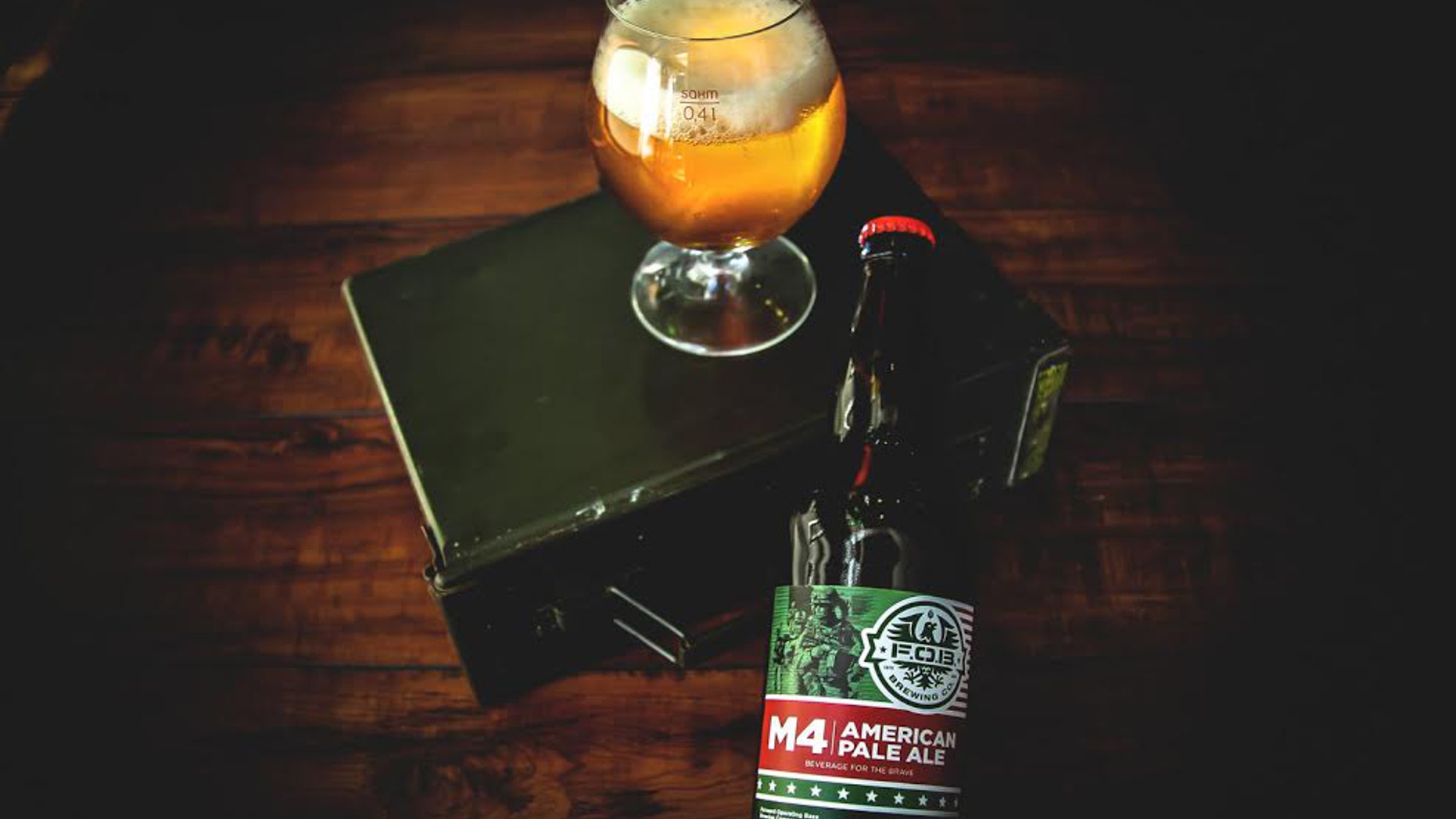 Gear up to party like a tactical professional this year to watch the Final Four NCAA college basketball teams. Arm up for the action with a party-friendly Tank, Forward Operating Base beers and more.
Here are 8 March Madness must-haves to get tactical this year at your Final Four parties.
Forward Operating Base Beers
Washington-based Forward Operating Base Brewing Company aims to craft beers "as bold, courageous and honorable as the men and women of our military!"
Stop by to watch the games or reach out to them to get some of their excellent beers with a tactical twist like  "Napalm in the Morning" an Imperial Brown Ale brewed with De Espresso Liber Coffee, the "M4: American Pale Ale" and "C-130: American Double IPA."
Beers tend to be available in the $4-6 dollar range.
Adult Beverages Covert Delivery System
You can't show up to a Final Four party empty handed.
To get your adult beverages from home to the party, gear up and get your hands on a limited edition Multicam Black Covert Box Messenger made by 5.11 Tactical.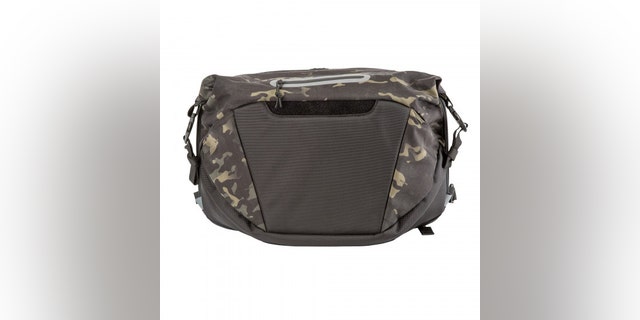 NFL PLAYERS AND COMBAT VETERANS JOIN FORCES TO SAVE LIVES
This bag can carry a G36C submachine gun so your March Madness food and drink supplies are in safe pair of hands and there's plenty of space.
Beyond leveraging it as a covert Final Four adult beverage delivery system, this bag is a great for work. It fits a seventeen-inch laptop with ease. And for those in tactical professions, there's a concealed quick draw front pocket and low profile mag pockets.
Available for $169.99.
Fighter Jet Ammo Bottle Opener
You can't drink beer if you can't open that bottle and let's face it … bottle openers rapidly become impossible to find at parties. But not this one.
Why bring an ordinary bottle opener, when you can bring a 25MM Bullet Bottle Opener that was fired out of a Gatling Gun.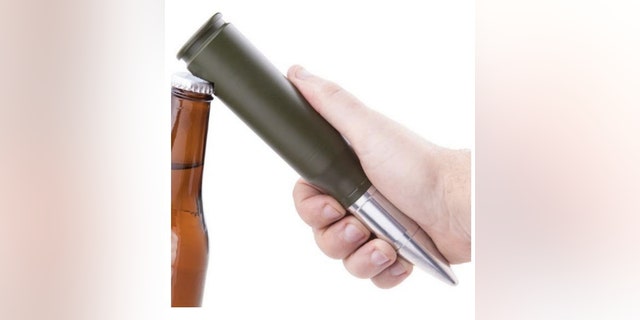 HERE'S HOW 'INVISIBLE ARMOR' COULD DEFEAT BULLETS AND BLADES
Lucky Shot USA makes these from real, demilitarized, stealthy fighter jet F-35A GAU-22 authentic once-fired rounds. The steel shell casing is procured from the U.S. military.
This is one bottle opener it will be easy for everyone to find throughout the party and you won't lose. At 8.5 inches long, it is a big as a beer bottle.
Available for $34.99 and you can have it engraved for your party. Lucky Shot USA also offers a military 10 percent discount.
Battle Mug
This drinking device takes game day beers to another level. Back by popular demand to the top picks list, the Battle Mug classic, made by Battle Mug, has Picatinny Rails so if need be, you can mount optics to get a good view of the action on that screen.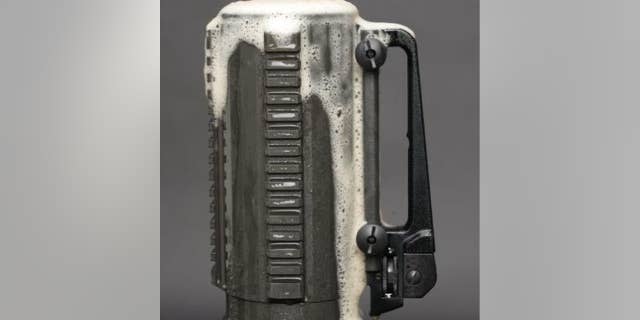 Didn't have time to hit the gym before the game? You can feel less guilty with this device since you've got to hoist 2 pounds with every sip. The Battle Mug is machined from a 10.5-pound hunk of aluminum. You can also laser engrave it to make it clear who you're supporting this year.
Available for $189. The lightweight polymer version is available for $45.00.
Shot by a Weapon Shot Glasses
It wouldn't be March Madness without drinking games. Lucky Shot USA makes two great options: one made from A-10 fighter aircraft ammo and one with a literal bullet stuck in it.
The 30MM Shot glasses are made from ammo fired by the A-10 Thunderbolt II aircraft GAU-8 Avenger rotary cannon. The ammo comes in armor piercing and high explosive versions.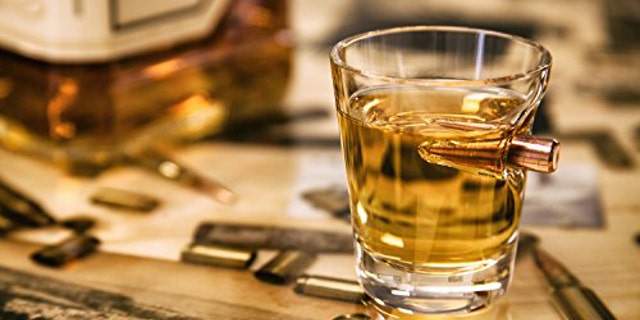 HOW TO MAKE YOUR CELL PHONE SELF-DESTRUCT 'MISSION IMPOSSIBLE' STYLE
For your March Madness shot needs, these rounds are demilitarized, anodized, cut down and rendered totally safe without any active gun powder or primers.
Another fun choice is the shot glass with a REAL .308 Bullet stuck right in the glass. Lucky Shot USA describes this as a shot "without mercy."
The 30MM Shot Glass set is available for $14.99 and the .308 Real Bullet Handblown Shot Glass for $12.99. Lucky Shot offers engraving and a 10 percent military discount.
The TANK
Take your March Madness to the next level with a Tank.
Don't be less than JV and serve up warm beers. Gear up and protect your guests' beers from the heat with this beast.
YETI describes its TANK as a "nearly indestructible party machine." These robust tubs are armored to survive the most rowdy of Final Four parties. And they leverage YETI's state-of-the-art tech that keeps things cold for a mind-blowing length of time.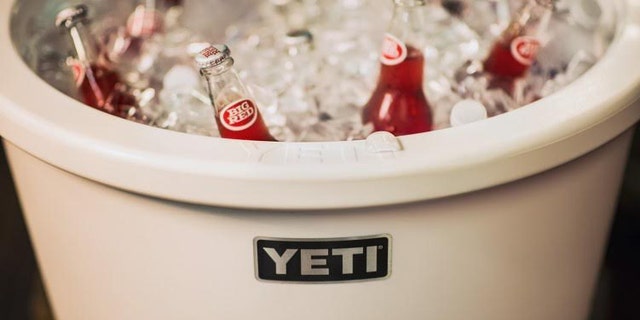 THIS FOAM STOPS BULLETS COLD AND PULVERIZES THEM TO DUST
The YETI TANK 45 will keep 52 cans or a pony keg icy cold for Final Four viewing.  For more icy firepower, the larger YETI TANK 85 will keep up to 96 cans or 60 longnecks frosty.
You can customize the TANK to support your team and it comes in white, desert tan and ice blue. The YETI Tank 45 is available for $199.99 and the YETI Tank 85 retails for $249.
Frostiness Protection Device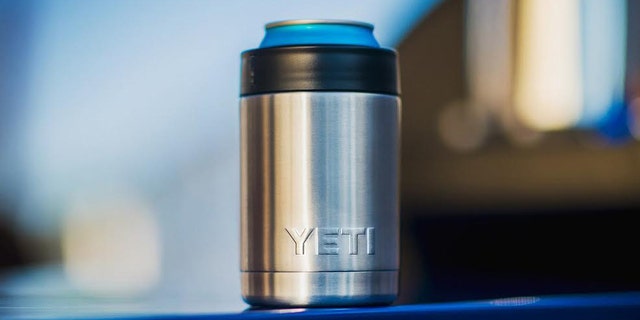 Once your beer is out of the Tank what do you do? Pop it in the YETI Colster for some lock and load in the load-and-lock system that keeps your beer cold and in place.
Available for $29.99
Morale Coasters
If you're going to protect your tables from Final Four beverages, then do it with a tactical spin.
Ares Gear is known for its outstanding tactical belts. But the company also makes cool swag, such as slate coasters.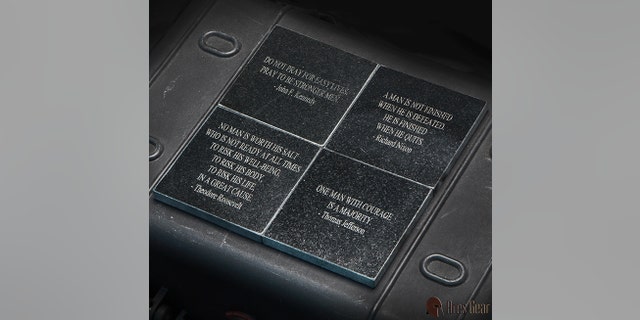 The coasters are sold in packs of four and engraved with quotes suitable for game day fierce competition and year-round patriots, such as Thomas Jefferson's "One man with courage is a majority." and JFK's "Do not pray for easy lives, pray to be stronger men."
Available for $19.99.