Get ready for Hurricane Irma: 10 essentials for sheltering at home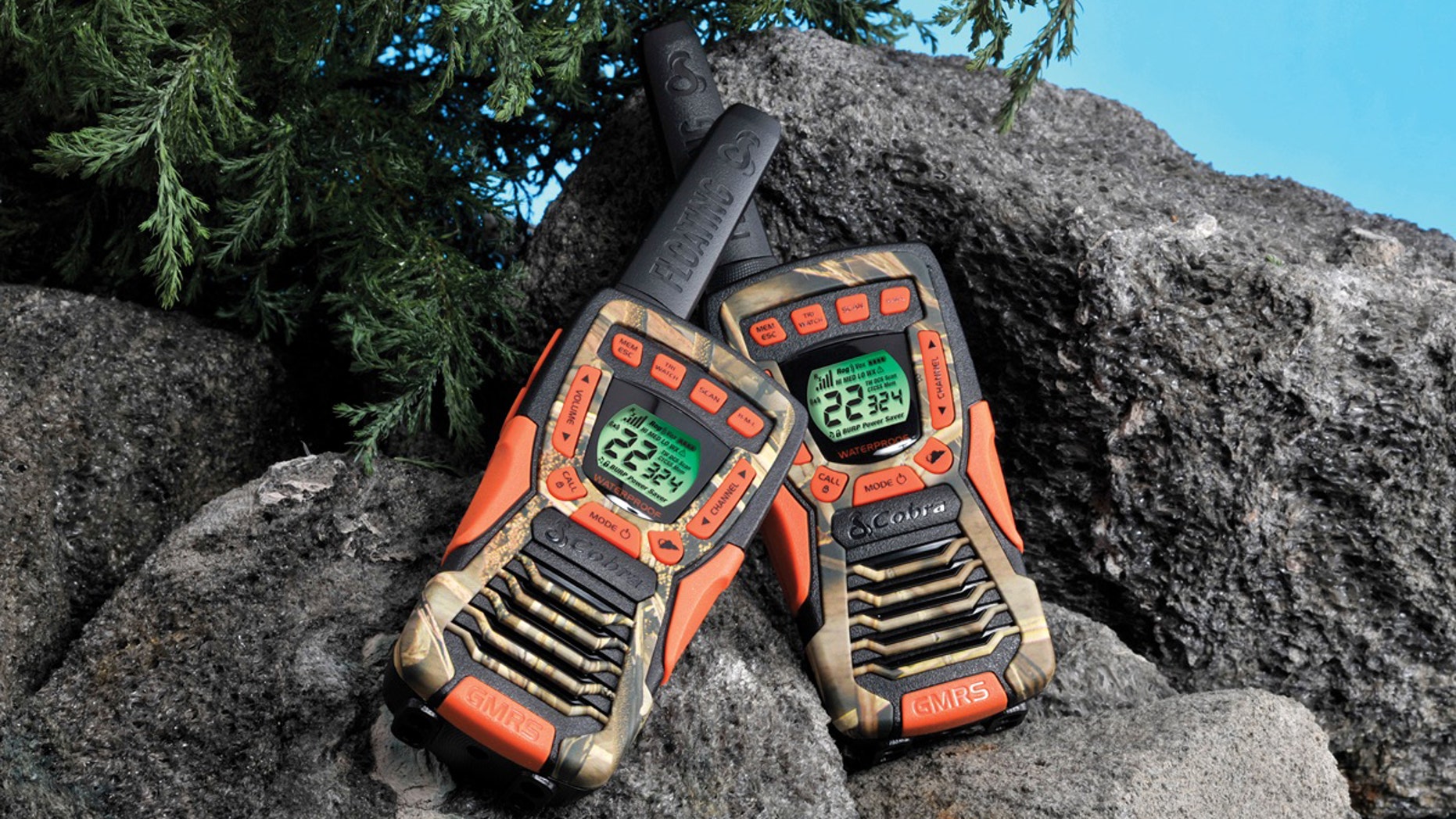 Turn your home into a hurricane defiant fortress … if you are not planning to evacuate from the path of a hurricane, then sheltering in place still means you absolutely need to gear up and get ready.
There can be serious dangers with hurricanes. And the aftermath can be just as difficult with flooding, power outages, inaccessible roads, isolation from resources and more.
If you plan to shelter in place it is still very important to be ready to quickly evacuate from that place for a few days just in case by preparing supplies in a backpack.
Red Cross, FEMA, and the CDC provide comprehensive lists of guidance to help get prepared at home for when a hurricane strikes that are worth reviewing.
We've taken some of the dangers folks will face and found some of the best solutions available to tackle them.
You'll find items to improve your family's safety from walkie talkies through to a special kind of boot. Should the worst happen, we've got ideas for you on the right items to help your family escape and get rescued. To defeat a power outage, we've curated the best kid-friendly headlamp and solar generators so powerful they will keep your fridge cold and television delivering hurricane updates ... and much, much more.
Here are 10 ways to gear up to help you and your family get through a dangerous hurricane and beyond.
POWER
It is important to think about power in advance of the storm. FEMA's guidance is to unplug all electric cords from wall sockets and turn off electricity at the breaker in case water rises to the socket. Before power is lost, fully charge phones in advance and turn the fridge and freezer to highest setting so the cold will last as long as possible.
In hurricanes, there are often power outages. Be prepared for the loss of power with a solar generator. This will provide essential power while you wait for the lights to come back on.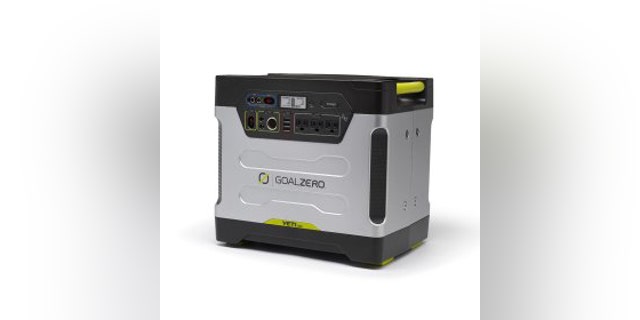 To keep larger appliances like the fridge and television powered, you'll need a larger solar generator.  One of the best is the Goal Zero's 100 pounder Yeti 1250 Silver/Black XX-Large Solar Generator Kit. This will support smartphones, laptops and media players, but it is also capable of delivering power for larger appliances like fridges.
Available for $1999.95.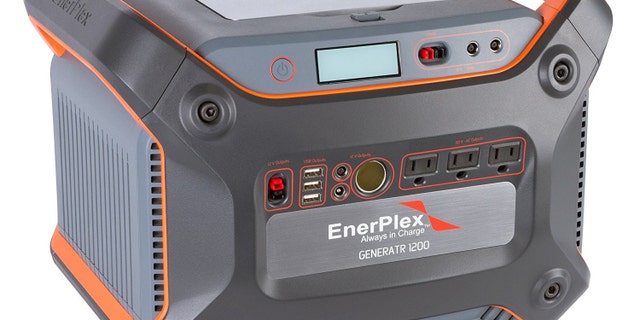 The lighter 42 pounder EnerPlex Generatr Y1200 is another outstanding option that can provide enough power to run a television, mini fridge or other small appliances. For a family, its smart design allows several phones and laptops to be hooked up simultaneously. Available for $1399.
LIGHT
Headlamps are a great solution to loss of power and light. If you need to suddenly evacuate a building, they are also very handy because it is one less thing to carry.
One of the best options at an affordable price point and a great choice for children is the Coast FL11 that retails for about $23. Some 130 lumen is enough light to be comforting to a child, to help find their way to their bed and play with toys. This headlamp provides fantastic value for money.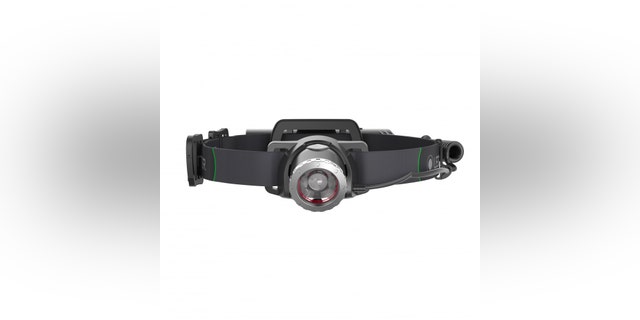 The Ledlenser MH10 is a smart choice for emergencies like a hurricane. The rechargeable battery can reach an 80 percent charge in just four hours and a full charge in about six. For sheltering at home, it will effortlessly shift from 'spot' (enough light read a book) to 'flood' (filling a room with light) settings. The Ledlenser MH10 is available for about $80.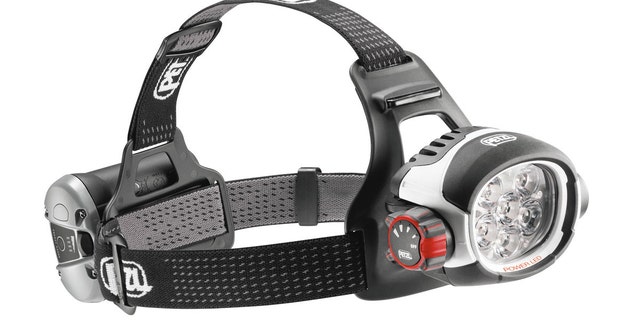 For more tactical professional capabilities, the Petzl Ultra Rush Headlamp is an outstanding option that provides 760 lumens of light out to 560 feet. For a hurricane, it also provides the advantage of surviving submersion in up to 1 meter (3.2 feet) of water for 30 minutes without damage.
Retails for about $295.
EVACUATION IN THE EVENT OF AN EMERGENCY
Make an evacuation and communication plan with your family in advance of the storm. Make sure you have a solar-powered radio on for updates on weather and evacuation boats that may be coming through your area. Do not rely on using your phone or GPS necessarily to guide you.  Instead make sure family members have paper maps.
Find out where your nearest evacuation center is — regardless of your home's elevation — and have a route mapped out should your local authorities issue an evacuation notice.
Keep in mind that cell phones may not work. For families, walkie-talkies are a great way to provide more security and ensure communication no matter what.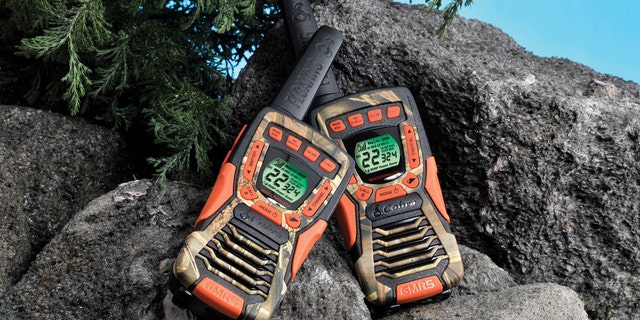 One of the very best is the COBRA CXT1035 FLT CAMO with a range of up to 37 miles. For hurricanes, it is a particularly good fit because it is designed to float and this walkie can be submerged in a meter of water for up to 30 minutes and still works fine.  It also very conveniently doubles as a flashlight. For families, it has voice recognition tech so it will detect a voice, allowing you to communicate hands-free with one child while getting rain gear on another, for example. The COBRA walkies are available for $129.95.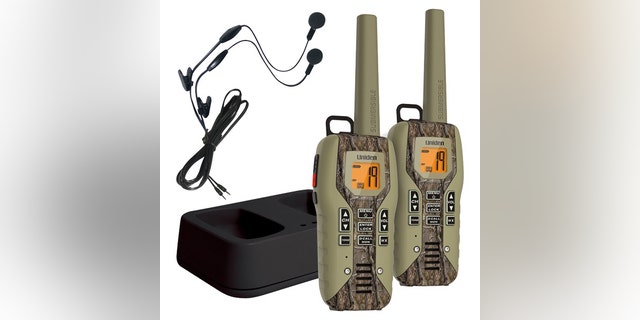 For staying in touch at a great distance, the Uniden GMR5088-2CKHS Camo Submersible Two Way Radio with Charger and Headset is available for $149.99 and is a great choice. This one is also waterproof, and can be submerged in three feet of water for up to 30 minutes, but can communicate up to 50 miles unstopped by storm or hilly terrain.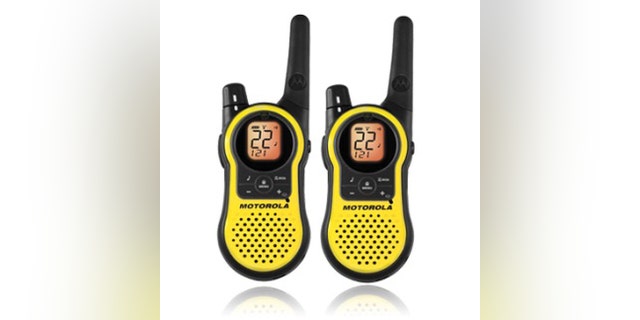 For walkies to give children or an excellent walkie at a lower price point, the Motorola MH230R is a good choice. This robust walkie has a range of 23 miles, a very long battery life of 10 hours and delivers automatic weather and hazard updates. Available for $47.
PODCAST: Master Defending Your Home with Special Operations Expert
STAY CONNECTED WITH THE WORLD
The Midland ER310 E+Ready Emergency Crank Weather Radio is a top choice for staying connected with the news during a hurricane and its aftermath. With this radio, you don't need to worry about a power outage because it works by solar, crank and battery. And it has an extremely long battery life of 32 hours.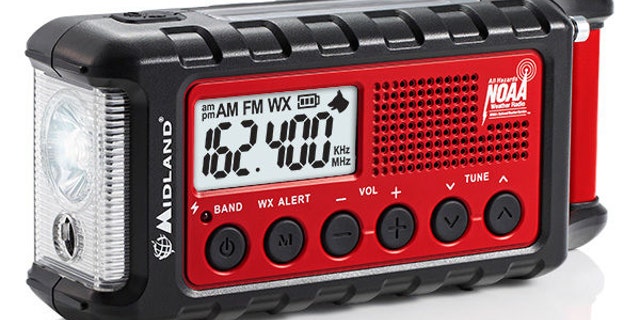 The images of Americans stranded on roof tops without any way to ask for help are horrible. If you are staring down a hurricane, then this radio will help you in that sort of grave situation too.
It also has an SOS flashlight beacon to signal emergency assistance as well as an ultrasonic dog whistle to signal search and rescue teams to come to your assistance. Another clutch feature built in is an extremely bright flashlight.
Priced at $59.99.
Another one of the very best is the more expensive Eton Solarlink FR600.
ESCAPE TOOLS
If you have a single-story home and are at risk of flooding, check your attic in advance for a way to exit to the roof. For those that need to create an exit if the flooding becomes too high, then put the tools you need in the attic in advance, your pre-prepared go bag, as well as your Midland radio to signal for help.
An axe, for example, would be a smart tool to put in place. If you are going to invest in one, then here are two that would also be incredibly handy when camping and hunting too.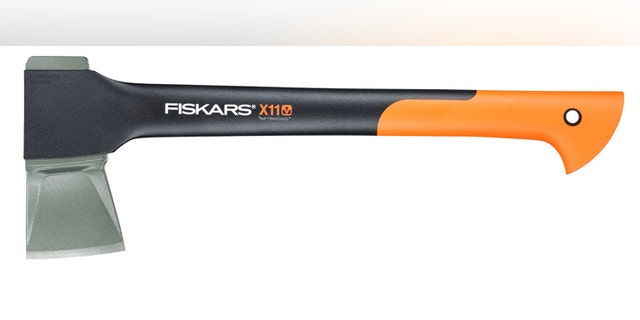 The 17-inch Fiskars X11 Splitting Axe would be useful for someone trapped by flooding and handling an axe for the first time. If you have swung an aluminum baseball bat before, then it will feel familiar since the balance and power to weight ratio has been especially designed to increase speed and power. It retails for $39.99.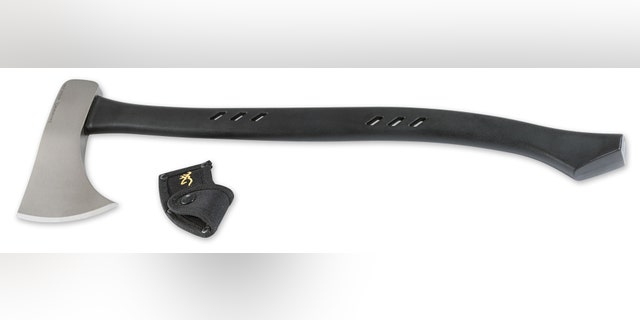 Designed by acclaimed cutting tool maker Russ Kommer, the Browning Outdoorsman Axe is another excellent, lightweight axe that falls between a hatchet and a full-sized axe.  It retails for $69.99.
DO NOT DRINK THE WATER!
Do NOT drink water from the tap until you have been advised that the water system is not contaminated. It may look clean, but could still make you very sick. Stock up on bottled water in advance or invest in a water filtration system that provides a more limitless and ecofriendly supply.
Ideal for a family and sheltering in place, the Sawyer Complete 4 Liter Gravity Water Purification System will effortlessly produce 4 liters of clean water for you. Very simple to use, it physically removes 99.997 percent of viruses, 99.99999 percent of bacteria, and 99.9999 percent of protozoa.
You just need to fill the reservoir with water and gravity will do the work for you. Available for $139.95
PODCAST: SEAL Team 6 Sniper Explains How Submarines Shoot SEALS from Torpedo Tubes 
FOOD
Stocking up on food in advance is easy to do. To be prepared for anything, it is best to always have at least one week of food stored for emergencies.
If you invest in this now and don't use it, then you have the comfort of knowing you have it for another future emergency and it will still be "fresh" and delicious.
With your regular food, eat the perishables first and then eat by expiration date. While you can stock up on canned food, specialist food such as Mountain House Buckets are also an excellent option.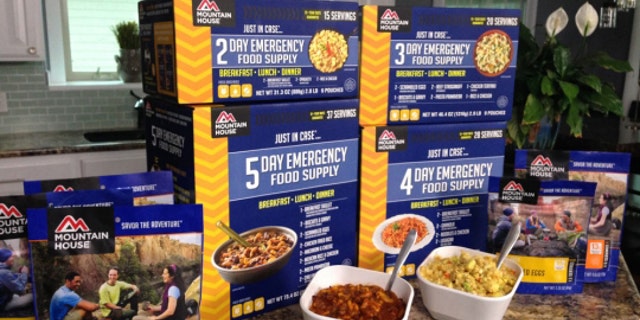 The "Just in Case... 14 Day Emergency Food Supply" by Mountain House includes 100 total servings of meals like Chili Mac with Beef, Buttermilk Biscuits and Pork Sausage Gravy
and Chicken Teriyaki. To prepare, you simply have to add water. And it will stay "fresh" for 30 years – but is still tasty and doesn't taste the way you'd expect food that can last three decades to taste.
The buckets come in a range of sizes starting at individual meals and buckets providing all meals for two to fourteen days. The two-week bucket is $285.
STOVE
Without electricity, you may not have a working stove or microwave.
Sheltering in place does not mean you have to suffer cold meals until power is restored.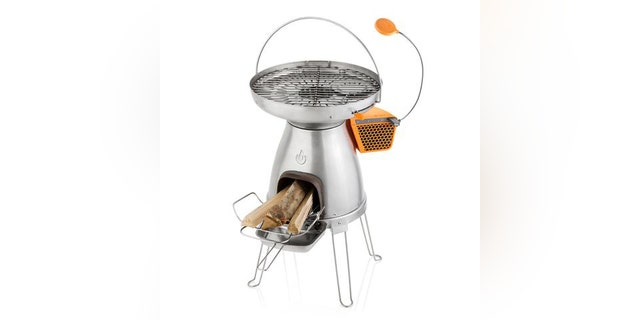 One of the best solutions available for a family is BioLite's BaseCamp. Not only will it allow you to cook hot meals – to the size of fitting 8 burgers on the grill -  it also provides warmth while charging devices like smartphones with its USB charging port.
All you need is some fallen branches and you can still make hot meals.
Available for $199.95
PROTECT PRECIOUS THINGS
Create a list of items like electronics or family heirlooms that need to be moved higher in your home and waterproofed in case of flooding. Locate any critical documents like passports, insurance, proof of ownership documents, medical coverage papers and birth certificates. Make copies and digital copies in advance before placing them in a waterproof device and putting them in your go bag.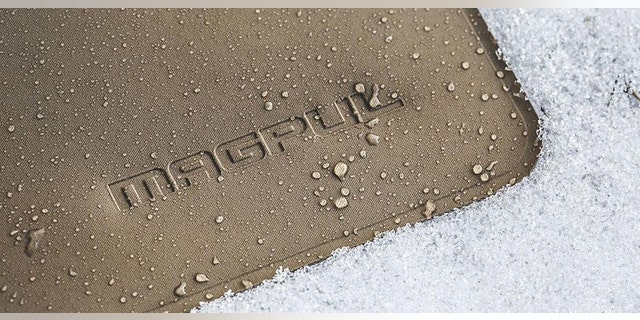 For tactical level document protection the Daka by Magpul is a great option. Available for $22.95. Ziploc bags are also a great readily available option.
BOOT UP - DANGERS LURKING UNDERFOOT
FEMA advises that you absolutely do not go barefoot in your home or in the flood during the storm. You should make sure to wear rubber soled shoes or rubber boots at all times. These will help protect you from sharp objects like broken glass, but also provide a degree of protection against electrical threats. Hurricanes can down power lines.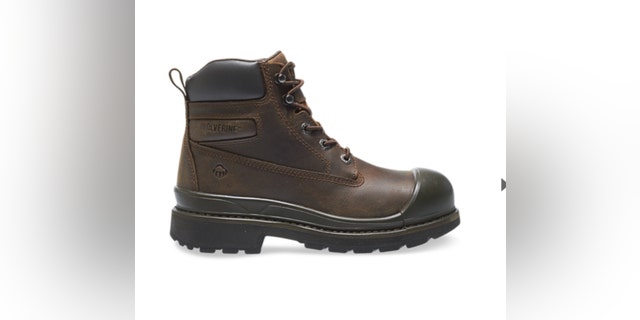 If you need boots, then a great option for men are the tough, slip resistant Wolverine Men's Crawford Waterproof Steel Toe Boots. They're ASTM-rated for electrical hazard protection providing extra defense. Available for $140.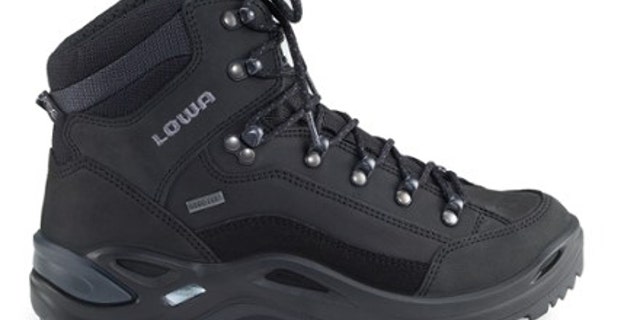 For women, the rubber soled Lowa Renegade GTX Mid provide excellent water resistance and foot protection. Available for $230.
Hurricane-related injuries are often caused by flying glass and other debris. So if you are sheltering at home, this means making sure to stay in a safe spot away from windows and doors. For protection against high winds, a bathroom, closet or basement can be the best spots to shelter. Stay inside until an all clear is given.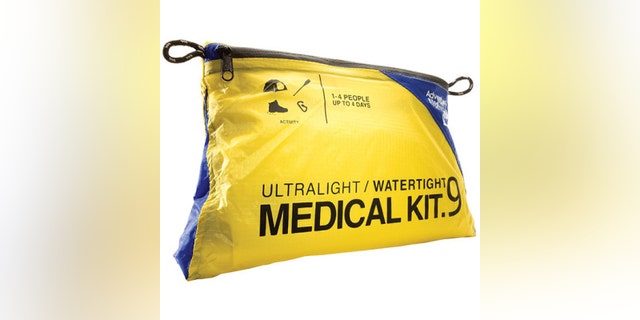 It is always important to have a first aid kit on hand and fully stocked when facing an emergency like a hurricane. Adventure Medical Kits' Ultralight & Watertight is an excellent choice and can easily fit in your go bag if you have to quickly leave. It is available for $35.
Avoid walking or driving through flood waters, but if you need to make sure to wear your sturdy rubber soled boots.  There can be many different dangers lurking in flood water whether, from sharp debris to unexpected depths.
Keep in mind it only takes six inches of moving water to knock an individual down – and one foot of fast-moving water to sweep a vehicle away!
DEFEND YOUR HOME
Make sure to keep your doors closed – not just against water, but to stop animals and insects who will be hunting for places to land.
After Hurricane Andrew, analysis revealed that roofs, windows, doors and garage doors were the most vulnerable. Repair and fortify if you can.
You can apply hurricane straps to roofs. You can also use duct tape to seal off gaps.
It is important to fortify windows against flying debris if you can with shutters, nailing up plywood temporary shutters or even tape. Duct tape or packaging tape can be used to create x-shapes across windows to help prevent shattering.
If possible, before the hurricane move your car off the street and into a more secure location.