Florida PD posts photo of hot cops, Facebook comments cause chief to 'blush'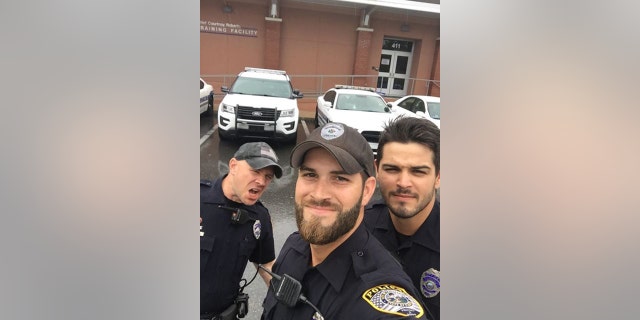 NEWYou can now listen to Fox News articles!
America's finest, indeed. An Irma-related photo of three male members of the Gainesville Police Department has caused such a stir that the photo was updated to note "Officer Rengering is being placed into Cougar Prey Protective Care, similar to the witness protection program for his safety." And they aren't referring to the four-legged type of predator.
The Sunday night post originally simply read, "Officers Nordman, Hamill and Rengering...part of the night crew getting ready to do some work. #Irma." But it's much more interesting reading now, thanks to the 127,000 comments that have been left, some of which "actually made our chief blush," per an update to the post that notes a charity calendar is planned.
The update also specified that while "MRS. Nordman and MRS. Hamill have also enjoyed knowing how millions of women are going crazy over their husbands," Officer Rengering (the one "with the amazing hair") is available.
Some standout comments:
This article originally appeared on Newser: Photo of Florida Cops Causes Internet to Die, Go to Heaven