Fitness tracking data on Strava app reveal US military bases details, sparking security concerns
Data from fitness trackers that clearly show the movement of personnel at U.S. military bases is sparking major concerns, with experts citing potential dangers to base security.
The data, collected by a host of fitness devices, has been shared by users with fitness tracker app Strava. However, a global "heatmap" of fitness data published by Strava has fueled worries that service members are sharing data about their movements, particularly in dangerous locations such as Afghanistan and Syria.
Movements around the sprawling Kandahar Airfield in Southern Afghanistan, for example, are clearly documented on the map. Stateside bases also show up on the map.
MILITARY BASE ISSUES 'POKEMON GO' WARNING
"DoD takes matters like these very seriously and is reviewing the situation to determine if any additional training or guidance is required, and if any additional policy must be developed to ensure the continued safety of DoD personnel at home and abroad," a Department of Defense spokesperson said in a statement emailed to Fox News.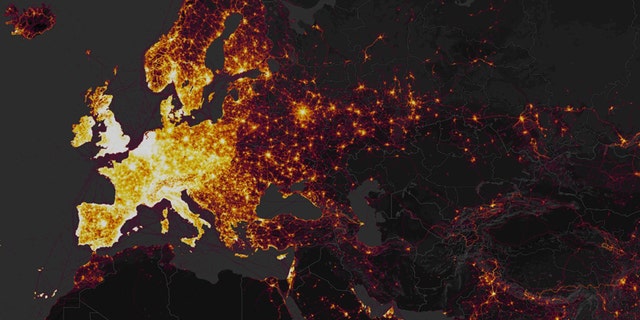 The U.S. military conducts regular training for service members on data security, although the heatmap suggests that more attention needs to be paid to information privacy.
"Annual training for all DoD personnel recommends limiting public profiles on the Internet, including personal social media accounts," explained the spokesperson. "Furthermore, operational security requirements provide further guidance for military personnel supporting operations around the world. Recent data releases emphasize the need for situational awareness when members of the military share personal information."
MILITARY PERSONNEL DATA LEAKED IN DUN & BRADSTREET DATABASE
The global heatmap, which was published in November 2017, tracked 1 billion activities from September 2017, according to Strava. The map is compiled from 3 trillion latitude and longitude points and reflects a total distance traveled of 17 billion miles.
First noticed by Nathan Ruser, a member of the Institute for United Conflict Analysts (IUCA), the map has shone a light on data privacy and its impact on operational security. "It looks very pretty, but not amazing for Op-Sec. US Bases are clearly identifiable and mappable," tweeted Ruser.
U.S. bases in Syria also show up on the map, according to defense analyst Tobias Schneider, as does the Hmeimim airbase, which is being used by Russian forces in the country. The map, he tweeted, is "excellent for locating military bases."
GERMAN NAVY'S NEW STATE-OF-THE-ART WARSHIP SAILS INTO TECH TROUBLE
Strava does give users the option not to share their data. "Our global heatmap represents an aggregated and anonymized view of over a billion activities uploaded to our platform," explained Strava, in a statement emailed to Fox News. "It excludes activities that have been marked as private and user-defined privacy zones. We are committed to helping people better understand our settings to give them control over what they share."
Strava is one of a number of companies that lets users share details of their atheltic endeavors on social media - others include fitness tech giant Fitbit and running app Runkeeper.
Follow James Rogers on Twitter @jamesjrogers