Firefighters slam YouTube prankster who 'cemented' a microwave oven to his head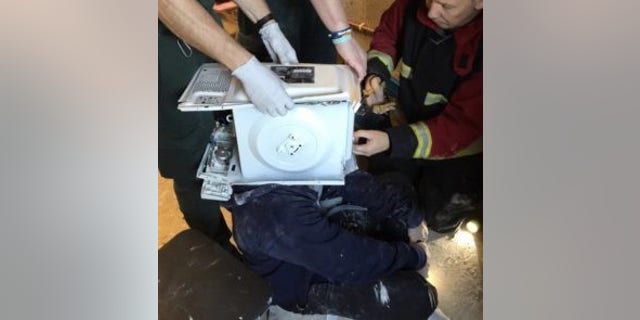 Firefighters in the U.K. have slammed a prankster's "irresponsible" behavior after they were called out to rescue a man who had cemented a microwave oven on his head in a YouTube stunt.
Sky News reports that 22-year-old Jay Swingler put his head in a plastic bag in the microwave before seven bags of Polyfilla were poured into the oven by his friends Thursday. He quickly became trapped, according to the report.
His friends spent 90 minutes trying to free Swingler before calling an ambulance crew. When the paramedics were unable to help, West Midlands Fire Service was called.
VIDEO: MAN FILMS HIMSELF ATOP BALI VOLCANO, ANGERING OFFICIALS
A fire crew from Fallings Park Community Fire Station in Wolverhampton responded. "The oven was being used as a mould, and wasn't plugged in," explained Watch Commander Shaun Dakin, officer in charge of the crew, in a statement. "The mixture quickly set hard and, by the time we were called, they'd already been trying to free him for an hour and a half."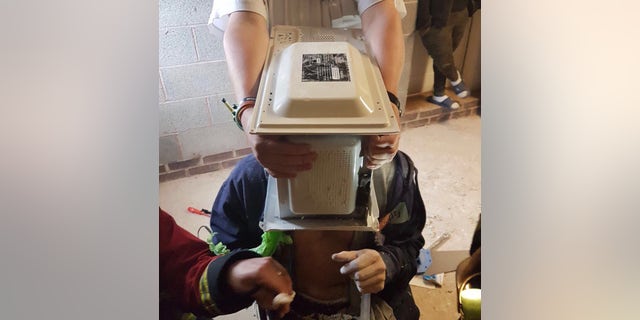 Swingler's friends had fed an air tube into his mouth to help him breathe.
"Taking the microwave apart was tricky, because a lot of it was welded," explained Dakin. "We video-called our technical rescue colleagues for advice and eventually managed to get him unstuck."
DRAMATIC VIDEO SHOWS DAREDEVIL JUMPING OFF 800 FT. CLIFF WITHOUT A PARACHUTE
"He was very relieved when we removed a large chunk of the Polyfilla with a screwdriver, allowing him to breathe more easily," he added. "But we had to be extremely careful with the screwdriver, working so closely to his head."
"As funny as this sounds, this young man could quite easily have suffocated or have been seriously injured," said Dakin.
Swingler's YouTube video of the incident has been watched more than 1 million times. "I have never appreciated my life so much ever," he said, describing his rescue. "Thank you very much to the paramedics and the Fire Brigade for helping me get out."
WASP RIPS BEE IN HALF IN VIRAL VIDEO
The prankster has come in for a lot of criticism since his rescue.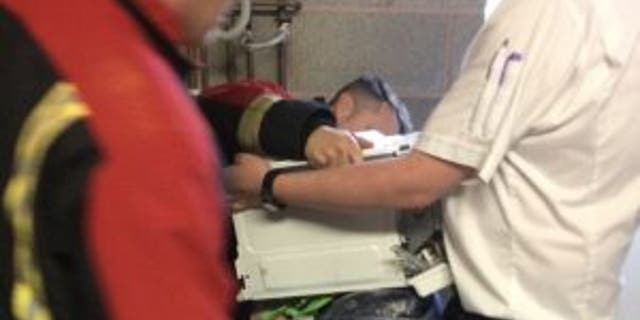 "We're seriously unimpressed," the West Midlands Fire Service tweeted Thursday. "Five of our firefighters were tied up for an hour this afternoon, freeing a YouTube pranker whose head had been 'cemented' inside a microwave oven."
The Fire Service aims to reach emergencies within 5 minutes, noting that the time spent freeing Swingler would have been critical if the firefighters were needed elsewhere.
IRON MAN IS REAL: BRITISH INVENTOR BUILDS FLIGHT SUIT
"If we're attending incidents that are YouTube videos, where we have people that have been irresponsible, those crews are unable to attend those life-risk incidents," said Simon Woodward, a West Midlands Fire Service station commander in a video. "What I would like to do is remind everybody not to put their lives at risk for the sake of other peoples' entertainment."
However, he added that Swingler will not be charged the $870 cost of the rescue operation, noting that the YouTuber's life was in danger.
In a YouTube video posted Friday Swingler fired back at his critics but said that he would happily pay the cost of the rescue. "I am expecting a fine and I am more than happy to pay it," he said. "And I am more than happy to donate my money to the people that helped me that day."
Follow James Rogers on Twitter @jamesjrogers