Feds shut down $1.2 billion criminal Internet marketplace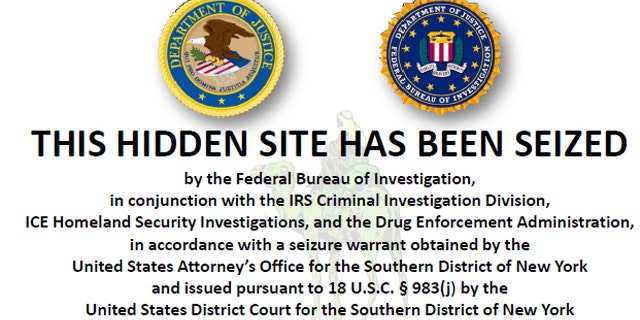 NEWYou can now listen to Fox News articles!
Federal authorities have shut down what they called the "most sophisticated and extensive criminal marketplace on the Internet today," an underground operation responsible for distributing illegal drugs and other black market goods and services.
The site's alleged owner, Ross William Ulbricht, was arrested and $3.6 million in anonymous digital currency known as Bitcoins was seized. The site, which did about $1.2 billion in sales, was taken over by federal authorities, according to court documents unsealed Wednesday in the Southern District of New York.
Ulbricht was alleged to operate a website responsible for distributing hundreds of kilograms of illegal drugs and other illicit goods and services, including fake IDs and computer hacking-related services. He was indicted on charges of drug conspiracy, computer intrusion offensives conspiracy, and money laundering conspiracy.
Ulbricht, 29, used the aliases "Dread Pirate Roberts," "DPR," and "Silk Road" while operating the site, authorities said.
He appeared in federal court in San Francisco on Wednesday and was scheduled to reappear Friday for a detention hearing.
The government seized approximately 26,000 Bitcoins in the largest ever seizure of the online currency designed to be as anonymous as cash.
The website, described as "a sprawling black-market bazaar," was used by several thousand drug dealers and unlawful vendors to distribute hundreds of kilograms of illegal drugs including heroin, cocaine and LSD as well as other illicit goods and services in over 1000,000 buys from January 2011 to September 2013, the court papers alleged. The site also allegedly laundered hundreds of millions of dollars from the illegal transactions.
According to court papers, the site had nearly 13,000 listings under categories including "Cannabis," "Dissociatives," "Ecstasy," "Intoxicants," "Opioids," "Precursors," "Prescription," "Stimulants" and "Psychedelics."
As of September 2013, there also were 159 listings in the "services" category, which included vendors offering to hack into Facebook, Twitter and other social media accounts of the customer's choosing, allowing them to "Write, Upload, Delete, View All Person Info" among other information.
One listing offered tutorials on "22 different methods" for hacking ATM machines while. another offered criminal services, including access to a "Blackmarket Contact List" described as a list of "connects" for "services" such as "Anonymous Bank Accounts," "Counterfeit bills," "Firearms and Ammunition," "Stolen Info [credit card, Paypal]" and "Hitmen (10+ countries.)"
Silk Road Hidden Website was designed to facilitate illegal commerce by providing anonymity to its users via "The Onion Router" or "Tor" network. The site required transactions to be paid in Bitcoins.
Since November 2011, undercover law enforcement agents made multiple purchases of controlled substances from Silk Road vendors and the payments for those substances were then involved in money laundering transactions on the Silk Road website, according to the civil forfeiture complaint made public on Wednesday.
The site generated sales revenue of over $9.5 million Bitcoins, which prosecutors estimate equal about $1.2 billion in sales and about $80 million in commissions.
Undercover agents bought various drugs, including heroin and cocaine, as well as hacking services, including malicious software such as remote access tools allowing a hacker to remotely control and steal information from infected computers, according to court records.
The papers alleged that while Ulbricht managed a small staff of online administrators, he alone controlled the massive profits generated from the site. He is also accused of having "been willing to pursue violent means to maintain control of the website and the illegal proceeds it generates for him," according to the criminal complaint.
Specifically, in March 2013, Ulbricht, "in connection with operating the Silk Road website, solicited a Silk Road user to execute a murder of another Silk Road user, who was threatening to release the identities of thousands of users of the site."
In response to the Silk Road takedown, Senator Charles Schumer, D-N.Y., who urged federal authorities to go after the site in 2011, said:
"Sayonara to Silk Road. Over two years ago, I called on the DEA and DOJ to put the kibosh on this outrageous virtual illegal-drug bazaar, and I am pleased that today they hung a 'Closed for Good' sign on Silk Road's door. "I congratulate the DEA agents and the law enforcement personnel at the Department of Justice for their hard and successful work in shutting down this marketplace, which in only two and a half years generated a staggering $1.2 billion in sales of drugs, computer hacking material, and other illegal and dangerous goods. The country is safer now that this open market for law-breaking has been shuttered."