Fears of Terminator-style robot wars stop society benefiting from AI, expert claims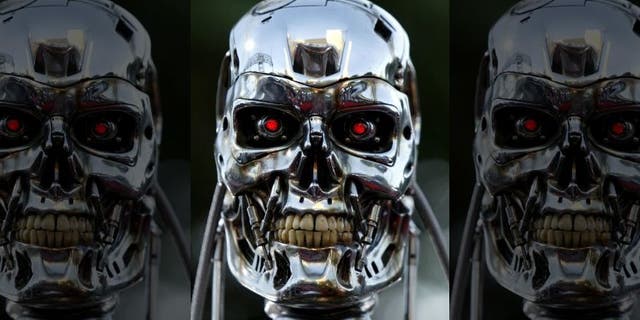 Fears of a Terminator-style robot war could prevent society benefiting from artificial intelligence, an expert has warned.
Prof Jim Al-Khalili says AI could lead to a bigger revolution than the internet, if the public learns about the science rather than the science fiction.

In the Terminator films, starring Arnold Schwarzenegger, an artificial intelligence system called Skynet seeks to wipe out humans.
AI could add $15.1 trillion to the global economy by 2030.
But Prof Al-Khalili, the new president of the British Science Association, warned: "There's a real danger of a public backlash against AI, potentially similar to the one we had with genetically modified food.
"If the public become disengaged our leaders will see it as less of a priority."
Regulations will need to be in place and they may come too late.
"At the very least this will result in the technology not being used to its potential in the public sector, possibly leading to an increase in inequality in society."
AI is already used in virtual assistants such as Siri and Alexa.
And it contributes to the "almost psychic awareness" of Google and Amazon, said the professor.
He wants it included in future school curriculums, adding: "AI is going to transform our lives even more than the internet.
"Let's make sure we're ready for it."
His comments echo a speech from Samsung's mobile chief last week, who said his firm was spending billions of dollars on AI, and hoped to convince you there's nothing to fear.
"For nearly a decade, we've been leading the global research and development race to unleash the power of AI…for consumers," said HS Kim, CEO of Samsung Electronics, speaking at the IFA 2018 tech show in Berlin.
"Last year alone we invested $14billion in research and development.
"We also committed $22billion of investment over the next three years to advance AI…"
Samsung – and other AI players, like Google, Apple, Amazon and Microsoft – face a problem that people are terrified of AI.
The late Professor Stephen Hawking once said: "I fear that AI may replace humans altogether. If people design computer viruses, someone will design AI that improves and replicates itself. This will be a new form of life that outperforms humans."
And Tesla, PayPal and SpaceX founder Elon Musk warned that AI poses a "fundamental risk to the existence of civilisation".
Samsung's HS Kim admitted this is a concern: "We need to empower people to feel like they have control over the future we are working to create.
"Our goal is to open their minds to the potential of AI without fear it may take over their lives.
"We'll do this through intelligent experiences that put people first. That are fun and safe, that learn and adapt to meet people's changing needs."
This story originally appeared in The Sun.