Facebook 'owner' accused of billion-dollar fraud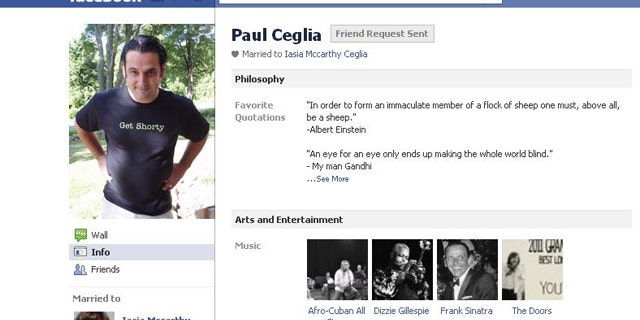 Paul Ceglia said he owned half of Facebook. Federal prosecutors say otherwise.
The former associate of Facebook-founder Mark Zuckerberg was arrested Friday on charges stemming from his alleged multibillion-dollar scheme to defraud the social media company.
Ceglia is accused of doctoring, fabricating and destroying evidence to support a fraudulent federal lawsuit claiming he was promised a 50 percent share in Facebook, according to the criminal complaint unsealed in New York federal court on Friday.
Facebook and Zuckerberg were pleased with the latest turn of events.
"We commend the United States Attorney for charging Ceglia with federal crimes in connection with his fraudulent lawsuit against Facebook. Ceglia used the federal court system to perpetuate his fraud and will now be held accountable for his criminal scheme," Orin Snyder, attorney for Facebook and Mark Zuckerberg, told FoxNews.com.
The 39-year-old Ceglia was arrested at his home in Wellsville, N.Y., and is expected to appear Friday afternoon in federal court in Buffalo. He has been charged with one count of mail fraud and one count of wire fraud, each of which carries a maximum sentence of 20 years.
"By marching into federal court for a quick payday based on a blatant forgery, Paul Ceglia has bought himself another day in federal court for attempting a multibillion-dollar fraud against Facebook and its CEO," Manhattan U.S. Attorney Preet Bharara said in a news release.
"Ceglia's alleged conduct not only constitutes a massive fraud attempt, but also an attempted corruption of our legal system through the manufacture of false evidence. That is always intolerable. Dressing up a fraud as a lawsuit does not immunize you from prosecution."
The accusations of high-tech fraud come partly from a low-tech source: the U.S. mail system.
"When Mr. Ceglia allegedly decided to take advantage of Mark Zuckerberg and Facebook, he underestimated the resolve of the Postal Inspection Service to bring him to justice for illegal use of the U.S. Mail," the Postal Service's inspector-in-charge, Randall C. Till, said.
The complaint says Ceglia signed a contract in April 2003 with Mark Zuckerberg, hiring him to do programming work for his online business, StreetFax.com.
In 2011, Ceglia filed a lawsuit in federal court in the Western District of New York claiming that in that same 2003 contract Ceglia had been promised at least a 50 percent interest in "The Face Book" project -- which eventually became the now-public social media company.
The second page of the alleged contract contained the signatures of both Ceglia and Zuckerberg.
Ceglia's suit also contained emails purportedly between him and Zuckerberg between July 2003 and July 2004, appearing to contain conversations about "the design and functionality of "The Face Book" website, as well as ways to generate income from its expansion. The emails also reflected conversations in which Zuckerberg offered Ceglia money to "repair [their] business relationship," according to the complaint.
Federal prosecutors labeled the emails and his claim entirely fake.
"Ceglia simply replaced page one of the real contract with a new page one doctored to make it appear as though Zuckerberg had agreed to provide Ceglia with an interest in Facebook," prosecutors say. "And Ceglia doctored, fabricated and destroyed evidence to support his false claim."
Investigators searched Ceglia's hard drives and found the original 2003 contract, which did not mention Facebook or any promise regarding future profits. They found that the pages of the contract submitted in Ceglia's lawsuit had different spacing and columns and margins between the first and second pages—evidence prosecutors say shows that it was doctored.
A search of Harvard University's backup email servers also showed that the alleged email conversations did not exist, the complaint says.