Facebook, Google, Twitter sued by family of American killed in Nice terror attack
A Texas woman whose husband and son were killed last summer in the Bastille Day terror attack in Nice, France, is suing Google, Facebook and Twitter, alleging the tech giants played a role in "aiding and abetting" and providing "material support" to the terrorist.
Sean Copeland, 51, and his 11-year-old son Brodie were among the more than 80 people killed when a truck, whose driver was linked to Islamic State (ISIS), smashed through a crowd of people gathered last July for the Bastille Day fireworks along a popular promenade. The father and son were in Europe on vacation with Sean's wife, Kim, and his two other children from a previous marriage.
"Kim Copeland is filing this lawsuit hoping that there will be no more funerals where ISIS and others continue to conduct terrorist operations using social media as a tool," Keith Altman, one of the lawyer's representing Kim Copeland, told Fox News in an email. "She also wants to see Google, Facebook, and Twitter change their behaviors and act reasonably and responsibly by taking active steps to disrupt ISIS and other nefarious groups' ability to use their sites to cause death and destruction."
The complaint, filed Thursday in the northern district of California, argues that the three Silicon Valley-based companies "have knowingly and recklessly provided the terrorist group ISIS with accounts to use its social networks as a tool for spreading extremist propaganda, raising funds, and attracting new recruits."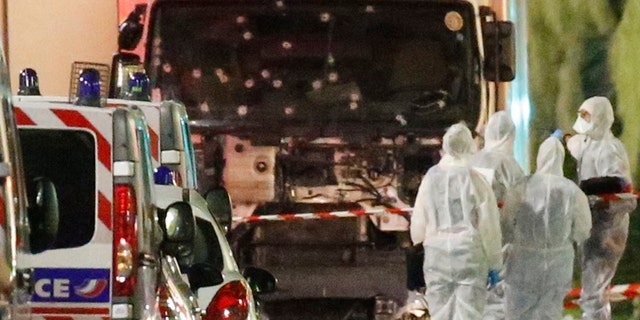 "Without Defendants Twitter, Facebook, and Google (YouTube), the explosive growth of ISIS over the last few years into the most feared terrorist group in the world would not have been possible," the complaint states.
Copeland's lawsuit is just the latest in a series of legal actions leveled against the three tech companies by Altman on behalf of the families of terror attack victims.
Earlier this month, the family of California man killed in August's terror attack in Barcelona filled suit against Google, Facebook and Twitter and, in June, Altman brought a case against the companies on behalf of a Jordanian citizen killed in the New Year's Eve terror attack by ISIS at an Istanbul nightclub that left 39 dead.
To date, Altman has leveled seven lawsuits against the three tech giants – alleging that Google, Facebook and Twitter have allowed their social media platforms to be used as a tool to recruit jihadists and that these companies have even profited from advertisements on terrorist propaganda.
Altman and others have begun to argue that social media sites may be violating the provision with their heavily guarded algorithms and that these companies have the resources to monitor any terror activity on their platforms.
"I want to show that there is no social benefit to letting terrorists use social media," Altman said.