Facebook files 'smoking gun' evidence in ownership lawsuit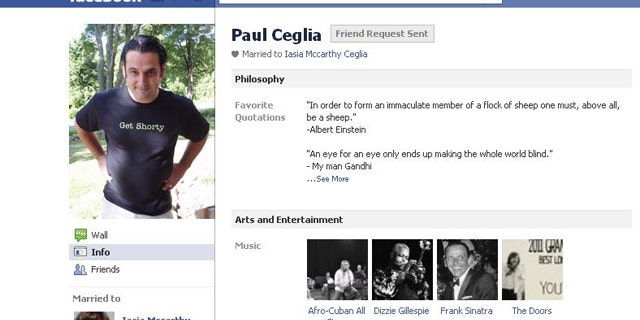 Paul Ceglia's Facebook claim may finally face the music.
Introducing a wealth of fresh forensic evidence, Facebook on Monday filed a motion to dismiss what it labelled a "shakedown" lawsuit by Paul Ceglia, who sued the world's biggest social network in June 2010 for breach of contract -- claiming a document entitles him to ownership of 85 percent of the company.
"Today's motion proves what Facebook and Mark Zuckerberg have emphatically stated all along: this case is a fraud," said Orin Snyder, partner with Gibson Dunn and the attorney for Facebook and founder Mark Zuckerberg.
Along with the motion, Facebook filed what it described as a "treasure trove" of evidence attacking the authenticity of the contract and a series of emails between Zuckerberg and Ceglia.
"The motion ... demonstrates that Ceglia has forged documents, destroyed evidence, and abused the judicial system in furtherance of his criminal scheme. Ceglia must be held accountable," Snyder said.
[pullquote]
Ceglia's lawyers countered with evidence in support of his case, and said they look forward to a court ruling, anticipated for April 4.
Digital forensics experts with Stroz Friedberg hired by Facebook uncovered what they call the authentic contract between Ceglia's company StreetFax and Zuckerberg on hard drives submitted by Ceglia as evidence. That contract dates to 2003 -- before the creation of the social network.
A document filed in court Monday details the company's findings.
"Stroz Friedberg did find a signed copy of an April 28, 2003 contract between Mr. Ceglia and Mr.Zuckerberg, entitled 'STREET FAX,' concerning Mr. Zuckerberg's work on the StreetFax project," that document reads. "Stroz Friedberg found direct and compelling digital forensic evidence that the documents relied upon by Mr. Ceglia to support his claim are forged."
"Stroz Friedberg also found what it believes to be the authentic contract between Mr. Ceglia and Mr. Zuckerberg. That contract contains no references to Facebook."
That same document was also recovered from the records of law firm Sidney Austin, where Ceglia emailed it in early 2004, the document says.
Facebook also introduced in court additional proof that the document alleging part ownership in Facebook is a fake: testimony from a forensic chemist and a documentation authentication expert, both of whom called the contract bogus.
After reviewing the documents, Ceglia's attorneys told FoxNews.com they stand by their client: A jury needs to weigh the evidence and rule in the case.
"The Federal Rules of Evidence say a jury should weigh the evidence in this case, including experts' declarations in Mr. Ceglia's favor about the authenticity of his contract with Mr. Zuckerberg," said an attorney with New York law firm Milberg LLP. "Mr. Ceglia deserves his day in court, where the jury will resolve this dispute over the ownership of Facebook."
They cited a study of the documents by forensic scientist Larry Stewart introduced in November.
Ceglia originally sued for breach of contract, alleging a Work for Hire contract between himself and Mark Zuckerberg -- dated April 28, 2003 -- gave Ceglia a multi-billion-dollar ownership interest in Facebook. Ceglia claims to have forgotten that he had the contract for 7 years and then stumbled across it when he was looking through his files.