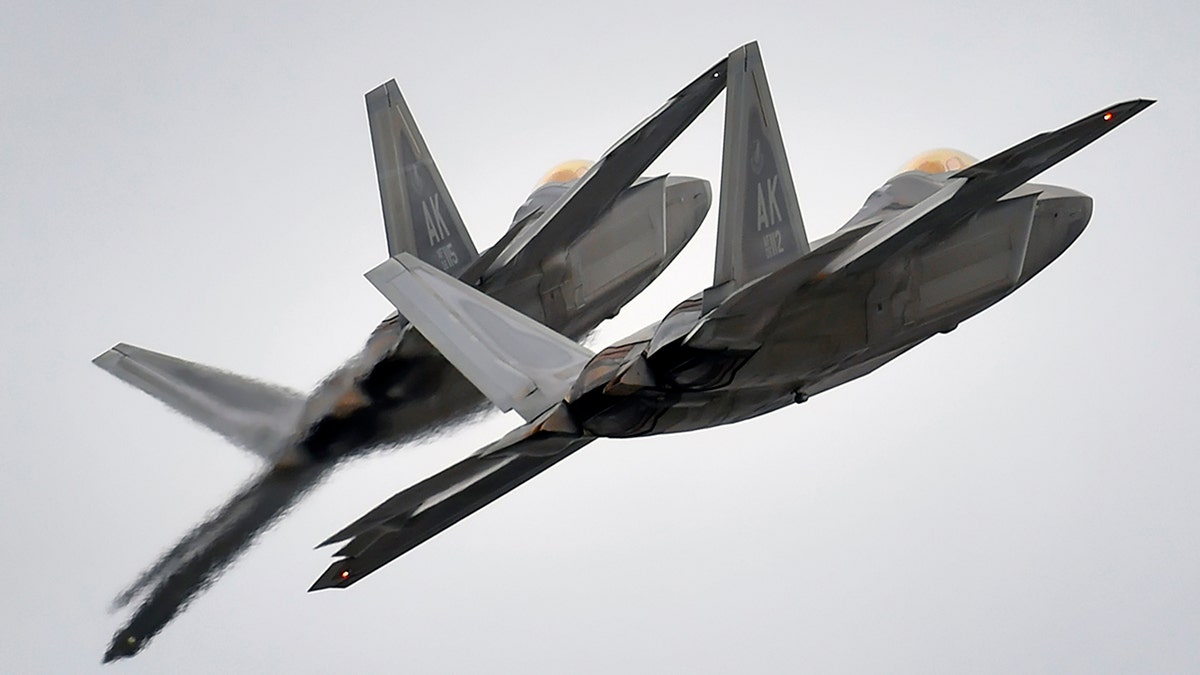 The Air Force F-22 has been refining its dog-fighting skills, assessing technical upgrades and testing air-to-air combat tactics during a Red Flag exercise in Nevada earlier this year – designed to improve attack maneuvers and solidify emerging communications technologies and sensors, service officials said.
The aircraft, from the 27th Fighter Squadron, Langley Air Force Base, Virginia, performed air interdiction, combat search and rescue, close air support, dynamic targeting and defensive counter air operations in mock combat scenarios.
"Red Flag incorporates all spectrums of warfare to include command and control, real-time intelligence, analysis and exploitation, and electronic warfare," MSgt. Sanjay Allen, 57th Wing Public Affairs, Nellis Air Force Base, told Warrior Maven earlier this year.
While Allen said the F-22s in particular are performing primarily air-to-air support, the aircraft is also shown to be effective as a close air support platform; it has performed close air support in Iraq and Afghanistan.
Confronting simulated "Red" force ground and air threats, F-22s attacked targets such as mock airfields, vehicle convoys, tanks, parked aircraft, bunkered defensive positions and missile sites, added.
Although modern weapons such as long-range air-to-air missiles, and the lack of near-peer warfare in recent years, means dogfighting itself is less likely these days -- as the service prepares for future contingencies against technologically advanced adversaries, maintaining a need to dogfight is of great significance. For instance, the emerging Chinese J-10 and Russian 5th Gen PAK-50 clearly underscore the importance of this.
Advanced dogfighting ability can greatly expedite completion of the Air Force's long-discussed OODA-loop phenomenon, wherein pilots seek to quickly complete a decision-making cycle - Observation, Orientation, Decision, Action – faster than an enemy fighter. The concept, dating back decades to former Air Force pilot and theorist John Boyd, has long informed fighter-pilot training and combat preparation.
If pilots can complete the OODA loop more quickly than an enemy during an air-to-air combat engagement, described as "getting inside an enemy's decision-making process," they can destroy an enemy and prevail. Faster processing of information, empowering better pilot decisions, it naturally stands to reason, makes a big difference when it comes to the OODA loop.
Connectivity with air and ground combat assets, drawing upon emerging data-link technology, has been a key part of the exercise as the Air Force strengthens efforts to work with other services on cross-domain fires operations.
The Air Force plans to actualize key aspects of this with, for instance, LINK 16 upgrades to the F-22 that enable it to improve data-sharing with the F-35 and 4th-generation aircraft in real-time in combat.
"The F-22 program is developing enhanced "5th-to-5th" generation and "5th-to-4th" generation aircraft communications via the TACLink 16 program," Capt. Emily Grabowski, Air Force Spokeswoman, told Warrior Maven.
Grabowski added that this program includes hardware and software modifications to field LINK 16 transmit on the F-22. While not eliminating the need for voice communication, transmitting and receiving via LINK 16 datalinks can expedite data- and video-sharing, target coordination and more secure non-voice connectivity.
​"If somebody broke our encryption they could listen to our conversation. LINK 16 transit allows us to share our screen without having any voice pass," Ken Merchant, Vice President, F-22 Programs, Lockheed, told Warrior Maven in an interview earlier this year.
Merchant added that F-35-F-22 LINK 16 connectivity should be operational by 2020.
"This new philosophy will allow us to set an aggressive target for ourselves. Pilots will be better able to see an enemy or air-to-air asset coming their way," Merchant said.
Once fielded, the F-22 TACLink 16 will enable the F-22 to receive and transmit with other platforms, such as the F-35, F-16, F-15 and others, Grabowski said.
Additional F-35-F-22 LINK 16 tests are planned for 2019 and 2020.
First operational in 2005, the F-22 is a multi-role fighter designed with stealth technology to evade enemy radar detection and speeds able to reach Mach 2 with what is called "super-cruise" capability. Supercruise is the ability to cruise at supersonic airspeeds such as 1.5 Mach without needing afterburner, a capability attributed to the engine thrust and aerodynamic configuration of the F-22.
The F-22 is built with two Pratt & Whitney F119-PW-100 turbofan engines with afterburners, Air Force statements said.
The aircraft has a 44-foot wingspan and a maximum take-off weight of more than 83,000 pounds.
-- F-22 Mini-Series PART I: Rapid Raptor Program Sends F-22s to War in 24 Hours CLICK HERE ---
--- F-22 Mini-Series PART II: Air Force Maps Future F-22 Weapons Strategy CLICK HERE ---
--- F-22 Mini-Series Part III: F-22 & AI Through 2060 CLICK HERE
More Weapons and Technology - WARRIOR MAVEN (CLICK HERE)