'Exploding Kittens' card game breaks Kickstarter record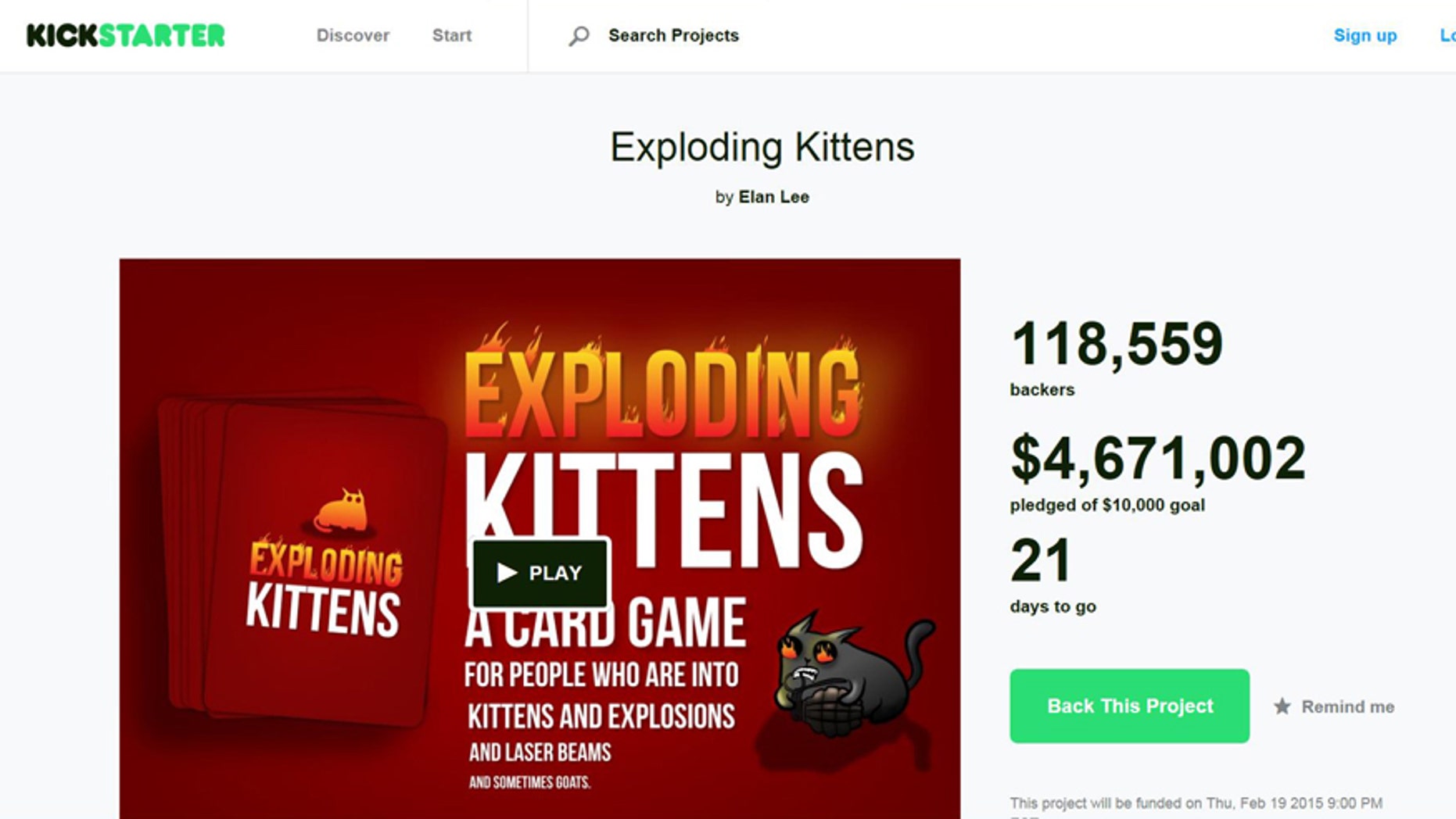 Even in an era of state-of-the-art video games, there's still huge interest in quirky card games, as evidenced by the success of "Exploding Kittens." A crowd funding phenomenon, the card game has broken the record for most backers on Kickstarter.
Described as "a card game for people who are into kittens and explosions and laser beams and sometimes goats," the game had racked up $4,671,002 from 118,559 backers Thursday. The funding campaign, which ends at 9 p.m. ET on Feb. 19, kicked off on Jan. 20 with a goal of raising just $10,000.
The game was 100 percent funded within 20 minutes of the funding campaign's launch, and 1000 percent funded in less than an hour.
While other projects have raised more money on Kickstarter, "Exploding Kittens" has racked up the most backers.
The game is a "highly strategic kitty-powered version of Russian Roulette," according to the Kickstarter page. "Players take turns drawing cards until someone draws an exploding kitten and loses the game," it explained. "The deck is made up of cards that let you avoid exploding by peeking at cards before you draw, forcing your opponent to draw multiple cards, or shuffling the deck."
However, a "defuse card" can defuse the kitten using things like laser pointers and catnip sandwiches.
"Exploding Kittens" is the brainchild game designers and Xbox veterans Elan Lee and Shane Small. Cartoonist Matthew Inman, famous for "The Oatmeal" cartoons, has illustrated the cards.
Backers who fund  "Exploding Kittens" for $20 or more will be shipped the card game.
The creators didn't expect to sell more than 1,000 decks of cards, according to The Wall Street Journal, and have not yet decided what to do with the money. "We certainly feel indebted to the community," said Lee, adding that any follow-up products will incorporate "community suggestions" without borrowing too heavily from the original game.