Errant drone slices toddler's eyeball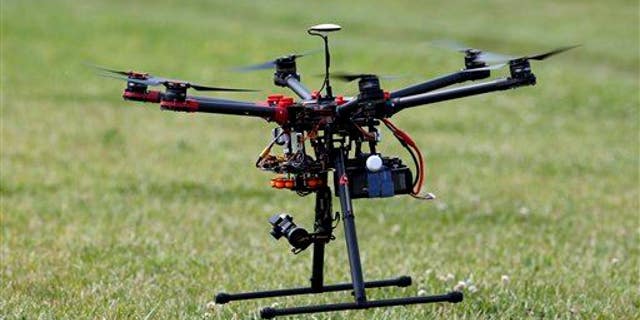 A toddler has lost an eye in an "awful accident" with an errant drone in the UK. Sixteen-month-old Oscar Webb was outside his family's home in Stourport-on-Severn, Worcestershire, while a family friend was flying a drone seven weeks ago.
"It was up for about 60 seconds. As I brought it back down to land it just clipped the tree" and spun out of control, Simon Evans tells the BBC.
"The next thing I know I've just heard my friend shriek and say 'Oh God no' and I turned around and just saw blood and his baby on the floor crying." Oscar's mother, Amy Roberts, says she was in an ambulance with her son when he first opened his injured right eye.
"I can still see it now," she says. "What I saw or what I thought I saw was the bottom half of his eye and it's the worst thing I've ever seen." A BBC report on the incident shows Evans with a kit-based quadcopter drone without propeller blade guards, per Mashable.
Doctors say one of the drone's propellers cut Oscar's eyeball. They tried to save the eye in emergency surgeries but it eventually needed to be removed, reports the Telegraph.
Doctors "did say that it was one of the worst eye incidents they'd seen," Roberts says. Oscar will need to undergo several more surgeries before he can be fitted with a prosthetic.
Evans says the child's family has forgiven him for the accident, but he won't be flying drones again any time soon. "Since the accident, I haven't flown [the drone] once," he tells the BBC, per Mashable.
"I look at the drones in the garage and I feel physically sick." (A toy helicopter sliced off the top of a man's head in Brooklyn.)
This article originally appeared on Newser: Errant Drone Cuts Toddler's Eyeball in Half
More From Newser