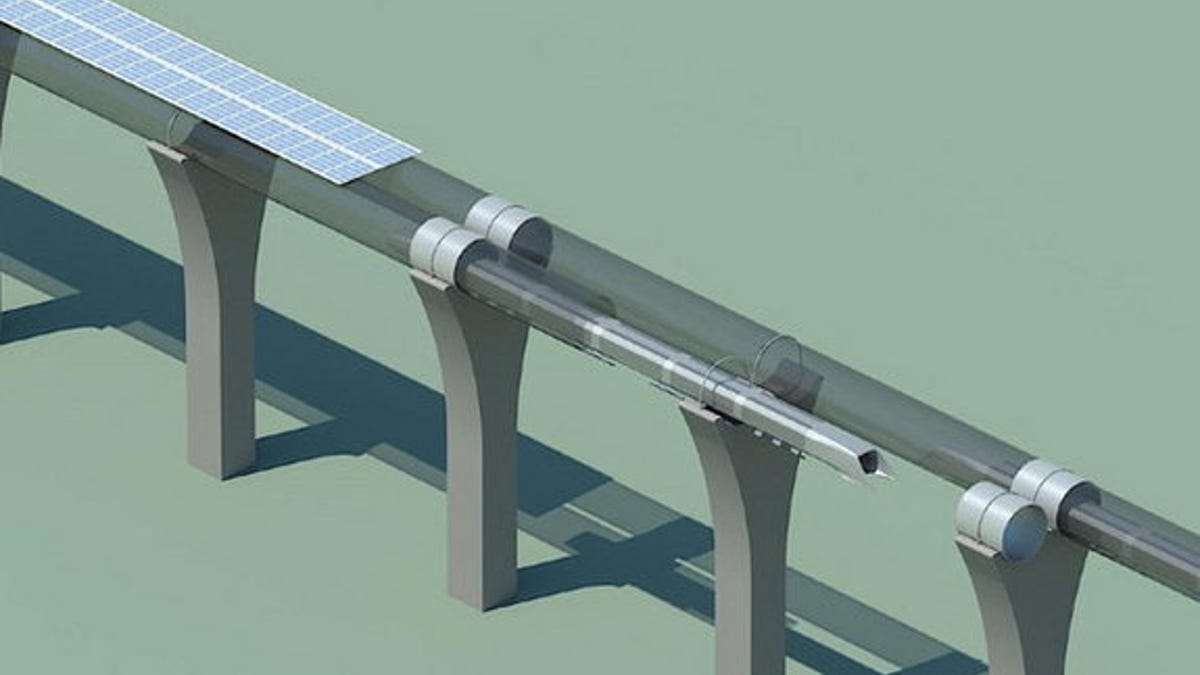 Transport visionaries: Are you ready to zoom into the annals of history?
SpaceX, the commercial spaceflight company run by Elon Musk, has announced a competition to design prototypes of his futuristic "Hyperloop" transport system.
The theoretical Hyperloop would transport passengers at superfast speeds by sending pods cushioned by air through a low-pressure vacuum tube.
The most promising prototype pods will be tested on a 1-mile-long stretch of test track at SpaceX's Hawthorne, California, headquarters in June 2016. [Photos: Musk's Superfast 'Hyperloop' Transit System of the Future]
Futuristic transport
Musk first unveiled the futuristic transit idea at a news conference in August 2013. His conception of the idea involves passenger-filled pods that would produce air with attached fans, allowing the pods to float on air inside the giant vacuum tube. Without much friction, powerful magnets could theoretically accelerate pods to 750 mph, just shy of the speed of sound, according to a white paper posted on the SpaceX website. For comparison, the fastest magnetic levitating (maglev) train in the world travels at roughly half that speed, but it must contend with high drag force.
The "cross between a Concorde, a rail gun and an air-hockey table," as Musk described it, would take passengers between Los Angeles and San Francisco in just 30 minutes, according to the white paper.
Calling all engineers
Those who think they have what it takes to design such a system can submit team information on the SpaceX website. The goal of the competition is to accelerate the development of the concept.
According to a timeline posted on SpaceX's website, the company will issue more detailed rules and specifications on Aug. 15, and interested parties should declare their interest in competing by Sept. 15. The final designs will be due this December, and all of the design ideas will face off next June.
Although anyone can apply, the competition is aiming to attract independent engineering teams, as well as university teams, according to the website. The goal of the contest is to design pods that will optimize safety, aerodynamics and low-speed functionality, according to SpaceX.
Challenges to overcome
While physicists say the Hyperloop concept is theoretically possible, there are many safety challenges to overcome. For one, at such blistering speeds, the Hyperloop pods couldn't handle curves or slope, James Powell, an American physicist and co-inventor of the superconducting maglev transportation system, previously told Live Science.
"At that speed, the track has to be straight and flat, to avoid bumpiness," Powell said. "When you're going 600 mph, you can't really go around curves, and you'd have to be very flat, because without causing excessive g-forces, you probably wouldn't be able to adjust to changing elevations rapidly."
In addition, the tube must maintain its low-pressure vacuum, or all of the passengers in the pod would crash, Powell said. And if any spot along the way were to get damaged — say, if a terrorist shot a hole in the side, or if an earthquake caused a miniscule kink in the tube — the entire system would be nonfunctional, he said.
In May, Musk signed a deal with central California landowners to build a 5-mile (8 km) test track along Interstate 5. A handful of private companies are exploring the development of a Hyperloop prototype, but they are not affiliated with SpaceX or Musk.
Copyright 2015 LiveScience, a Purch company. All rights reserved. This material may not be published, broadcast, rewritten or redistributed.