Earthquake early-warning systems finally becoming a reality
Scientists and earthquake experts agree that it's not if but when "the big one" – an earthquake registering magnitude 8.0 or higher – will hit the West Coast. In fact, seismic experts believe a major earthquake on the southern San Andreas Fault is long overdue.
When that earthquake hits, it has the potential to cause thousands of deaths, impact 3.5 million homes and cause hundreds of billions of dollars in damage.
With that in mind, public and private organizations are racing to get earthquake early-warning systems into the hands of residents, businesses and utility companies.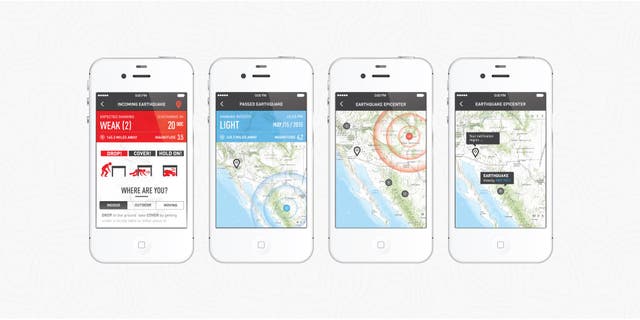 The technology already exists and could give West Coast residents up to 60 seconds of warning time, depending on how far they are from the epicenter of the quake. That may not sound like much time, but it's enough for residents to take shelter, doctors to stop surgeries, trains to come to a halt, pipelines to be shut down, first responders to open garage doors for their vehicles and much more.
This week, Pacific Gas and Electric Company announced it was infusing earthquake early-warning systems into its emergency management and preparedness efforts. According to a press release, PG&E is working with both private and publicly funded technology developers and integrators, including Early Warning Labs, Seismic Warning Systems and the ShakeAlert project.
HOW SMARTPHONE WARNINGS COULD SAVE LIVES IN AN EARTHQUAKE
The ShakeAlert project is a coalition that includes the U.S. Geological Survey, the State of California and universities including the Berkeley Seismological Laboratory at the University of California, Berkeley, the University of Washington and the University of Oregon.
"Safety is the cornerstone of PG&E's culture. Nothing is more important to us than public, employee and contractor safety, and PG&E's embrace of earthquake early-warning technology is the latest example of our dedication to taking a proactive and committed approach to preparedness and resiliency," said Barry Anderson, PG&E's vice president of electric distribution.
But even anyone with a cellphone could get a heads up on when an earthquake will happen.
Early Warning Labs anticipates a large portion of California residents will have its earthquake early-warning system app in their hands as soon as 2018.
"Earthquakes have always remained elusive threat to life and property," said Josh Bashioum, the founder of Early Warning Labs. "Now, with the tremendous work from the USGS and partner universities such as Caltech and Berkeley, paired with our cutting-edge technology, we can now warn individuals to protect themselves BEFORE the shaking arrives. As a volunteer first responder and instructor myself, the thought of saving hundreds if not thousands of lives in the next big earthquake is incredibly rewarding."