Drones used to show huge scale of Hong Kong pro-democracy demonstrations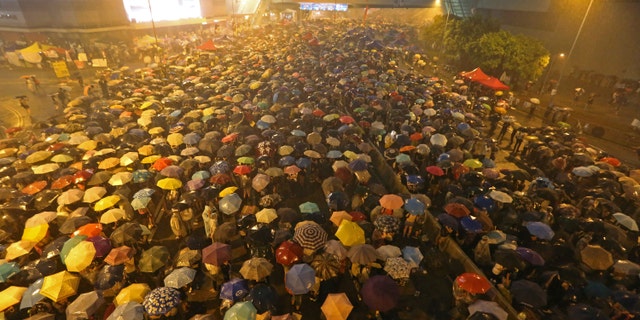 NEWYou can now listen to Fox News articles!
Drone enthusiasts in Hong Kong have been sending their flying machines skyward to capture the huge scale of the pro-democracy demonstrations currently taking place there.
Footage from a number of drone operators (examples embedded above and below) have started to appear on YouTube, offering a bird's eye view of the protests, which have brought parts of Hong Kong to a standstill in recent days.
The videos show how crowds of demonstrators are continuing to pour into the heart of the city, with many main roads blocked between the Central business district and the entertainment area of Wanchai.
With drone and HD camera technology becoming more affordable and sophisticated in recent years, a greater variety of footage is beginning to land on sites like YouTube as enthusiasts discover the full potential of camera-equipped unmanned aerial vehicles.
Related: NASA developing automatic traffic management system for drones
While the Hong Kong drone footage appears to show mainly peaceful crowds, there were troubling scenes over the weekend when riot police started using tear gas against demonstrators in an effort to get them to disperse.
'One country, two systems'?
The demonstrations started in response to the Chinese government's plan to have more say over how the special administrative region is governed, with tighter controls recently announced regarding candidate selection for a leadership ballot in 2017.
Related: FAA green lights commercial drone use for movie-makers
Hong Kong was handed back to China 17 years ago after more than 150 years of British control. Part of the handover deal included a promise by China's Communist Party to operate the region under a "one country, two systems" arrangement that gives Hong Kong residents greater freedoms than their mainland counterparts.
However, many of its citizens fear the Beijing-based government is steadily dismantling this system, leading to the current protests.
Instagram blocked
With services such as Twitter and YouTube already blocked in China, protesters in Hong Kong started posting photos and videos to Instagram with the hashtag OccupyCentral.
However, fearing the unrest might spread to the mainland, the Chinese authorities put a block in place, preventing its citizens from accessing the content.
They also began blocking the OccupyCentral hashtag on Weibo, China's popular Twitter-like service.
At the time of writing, Instagram continues to be blocked in China, a status that's likely to remain in place while the protests continue, and possibly for a long time after.