Declaration of Independence discovery stuns experts
Harvard researchers were initially skeptical when a database project indicated that an extremely rare parchment copy of the Declaration of Independence was in a small records office in Southern England.
However, Harvard Professor Danielle Allen and Emily Sneff, research manager for the Declaration Resources Project, tracked down the parchment manuscript and confirmed its authenticity.
Sneff told the Guardian that the trail began when she was getting records together for a university database. "I was just looking for copies of the Declaration of Independence in British archives," she said, adding that the listing at the UK's West Sussex Records Office was unusual because it described the document as parchment. The only other parchment copy of the manuscript is in the U.S. National Archives.
'LOST CITY' DISCOVERY: KANSAS SITE SHEDS NEW LIGHT ON NATIVE AMERICAN HISTORY
The researchers dated the manuscript, known as "The Sussex Declaration," to the 1780s based on handwriting, spelling errors and analysis of parchment style and preparation. The document likely once belonged to the Third Duke of Richmond, the so-called "Radical Duke" who supported the Americans during the Revolution, according to the experts.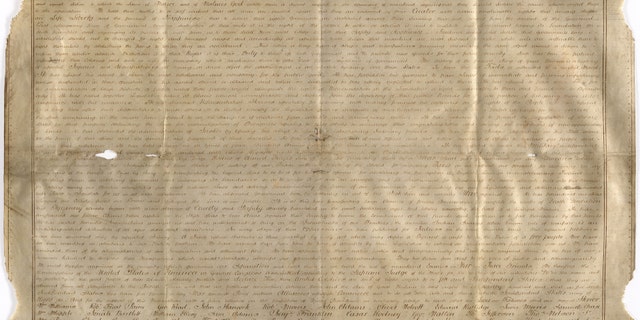 The Guardian reports that, prior to the Harvard team's investigation, the Sussex Declaration had not been closely examined. Officials had received the manuscript in 1956 from a local man who worked with a law firm representing the dukes of Richmond.
The parchment was likely produced in New York or Philadelphia. Researchers think that it may have been commissioned by Founding Father James Wilson, or one of his political allies, as part of his advocacy efforts on behalf of the Federal Constitution.
FOR THE LATEST TECH FEATURES FOLLOW FOX NEWS TECH ON FACEBOOK
Unlike other 18th century versions of the Declaration, the list of signatories on The Sussex Declaration is not grouped by states. Allen and Sneff think that this detail may reflect efforts by Wilson and his allies during the Constitutional Convention and ratification process, to argue that the Declaration's authority rested on a unitary national people, not on a federation of states.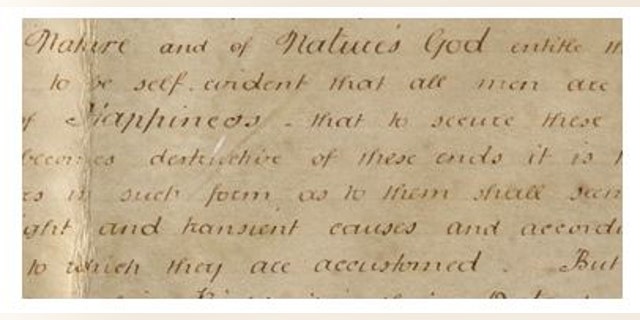 On the Sussex Declaration, the phrase "the pursuit of happiness" is followed by a dash, not a period. However, the phrase "consent of the governed" is followed by a period.
At 24 inches by 30 inches, the manuscript is the same size as the Matlack Declaration housed in the National Archives in Washington, D.C.
The Harvard team is working with the West Sussex Record Office, the British Library and the Library of Congress to perform hyperspectral imaging analysis on the parchment. Hyperspectral imaging collects electromagnetic data.