City embeds traffic lights in sidewalk for smartphone users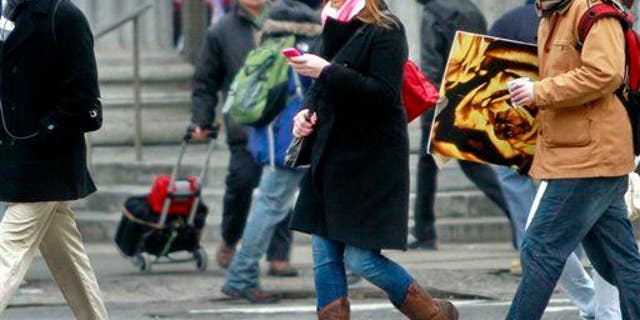 It's only been a matter of weeks since a 15-year-old girl in Germany was hit, dragged, and killed by a tram while she was distracted by her smartphone and headphones, but the nearby city of Augsburg has decided to take action.
Citing two similar, though not lethal, incidents of distracted pedestrians hit by quiet electric street trains, the town has installed traffic lights in the ground to catch the attention of those looking down at their phones when a tram is approaching.
The lights began operating at two tram stops last week, reports the Local. "The normal traffic light isn't in the line of sight of many pedestrians these days," Tobias Harms of city administration tells the German-language Augsburger Allgemeine, per the Local.
More from Newser:
TV Is Getting 'Supersized' —and Annoying
"The more we have, the more people are likely to notice them." The utility company that installed the lights says they rapidly blink red whenever the pedestrian doesn't have the right of way, reports Atlas Obscura.
And while Germany is the home of the popular word "smombie," meaning smartphone zombie, the phenomenon is clearly a global problem, reports the Washington Post.
The University of Washington estimates that one in three Americans is buried in a smartphone at dangerous road crossings, while in 2014 the Chinese city of Chongqing installed a 165-foot stretch of pavement where pedestrians had to actively choose between a normal lane and the smombie one.
But are the lights working? "Until now, I didn't even notice them," says one pedestrian. (Experts say these are dark days for pedestrian safety.)
This article originally appeared on Newser: For Smartphone Zombies, a New Kind of Traffic Light