China's Super Train Trounces Speed Records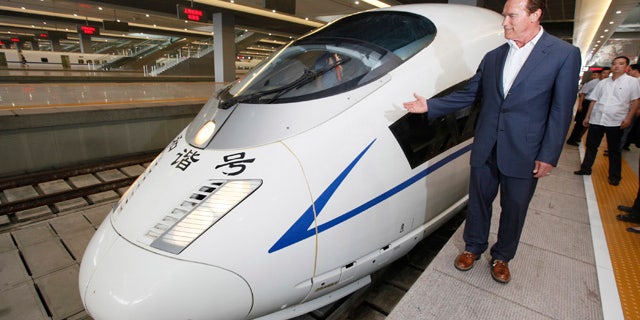 NEWYou can now listen to Fox News articles!
258 miles per hour. That's how fast China's latest bullet train flies.
A new Chinese high-speed train broke a world record for the fastest top speed by an unmodified commercial train Tuesday on the new railway between Shanghai and Hangzhou.
Codenamed CRH380A, the train reached a top speed of about 258 mph, over 100 mph faster than the fastest offering from the U.S., Amtrak's 10-year-old Acela Express service. With an average speed of about 220 mph, China's new train is expected to cut the travel time in half between the two cities, shaving the journey to a mere 40 minutes.
"The new record of 416.6 km per hour shows that China has achieved a new milestone in high-speed train technologies," Zhang Shuguang, deputy chief engineer of the Ministry of Railways, told China Daily.
But travelers are skeptical of the actual benefits of this rocket. According to initial estimates, tickets will cost twice as much as current fares.
Moreover, in an effort to support regional development, non-direct service may be the norm -- with the actual trip taking longer than the two-hour drive on road.
Still, the effort represents yet another infrastructure milestone for China. The Railroad Ministry expects to have 68,350 miles of railway track by 2012, 8,078 of which will be high-speed rail.
These achievements have also led to greater international influence for the country, as the U.S., Brazil, Argentina and others look to partner with Chinese contractors on their own high-speed railway projects.