CES: Would you pay $5,000 for a Samsung smart fridge?
If you're the type of person that needs technology to permeate almost every aspect of their life, then Samsung has just the thing for you – if you've got $5,000 burning a hole in your pocket.
The show stealer of the technology giant's CES press conference Tuesday was undoubtedly the new Family Hub refrigerator.
The fridge will come complete with sensors, cameras, smart capabilities and a huge touch screen display. It also takes a picture of what's inside your fridge every time you close the door- meaning you'll always be up to date on how much milk and bread you have left.
Related: Samsung announces one remote to rule them all
You can remotely access the fridge's cameras in real time from any location through your smartphone, and also use the Family Hub to order groceries online through the new "Groceries by MasterCard" smart fridge app. The 21.5-inch, 1080p display can also display family pictures and messages- bringing the age-old custom of magnetized photos into the future.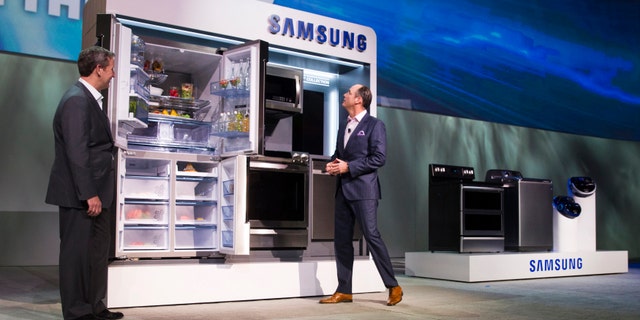 And if the fridge didn't do enough already- it also comes equipped with technology to help track and monitor your family's eating habits.
The fridge is part of Samsung's strategy to deliver so-called "life hacks" – mundane tasks that can be made more efficient through technology. The device will retail for $5,000, hitting the market this spring.
Related: Samsung bolsters audio lineup with Dolby Atmos-compatible Soundbar
Samsung unveiled a host of high-tech gadgets, gizmos at CES Las Vegas- all designed to help you "life hack" your way through 2016.
The company, for example, also showcased the remote to end all remotes- a smart remote capable of controlling your television, cable set-top boxes, gaming consoles, Blu-ray and media players.
The remote will lead you to a specialized menu with full control capabilities when paired with a Samsung Smart TV.
Related: Garmin unveils Varia Vision, touts tech to boost cyclist safety
"We wanted to offer consumers a new type of experience, integrating live TV with streaming services and other content sources," said Chris Turkstra, vice president of Samsung's customer experience lab. "No longer will you need to keep track of several remotes to control individual devices. All you need is one Samsung Smart TV."
Samsung is also making it easier to wash clothes.
The company displayed its new AddWash system at CES- which allows a user to add a clothing item to the wash even after the cycle has started.
Related: Here are the trends to watch for at CES 2016
"We've all been there. You've just finished loading the wash, hit start and then you spot that sock laying on the floor…with add wash you can now add items after," said John Herrington, senior vice president and general manager of Samsung Home Appliances.
AddWash doors will be added to the front of top load washers. By pressing a new pause button, you can get the extra front door to open- all while water continues to flow into the wash. AddWash also lets users add extra detergent or softener during the wash. You can expect to see it on three different Samsung washing machine designs this spring.