CES: Sony debuts high-tech turntable, super-thin TVs, 4K video camera
Sony tried to wow CES 2016 attendees Tuesday night with a novel turntable, a new video camera, and an ultra-thin big-screen TV.
Back to Vinyl: On the back of a resurgence of turntables that play vinyl records, Sony's new PS-HX500 is designed to convert records into Hi-Res audio files. While that may seem a bit counterintuitive (some audio aficionados shun modern audio formats and turn to vinyl records for that reason), Sony wants to take your vinyl collection and let you store it digitally. You will be able to record up to DSD quality – a Sony format – or 24-bit WAV files.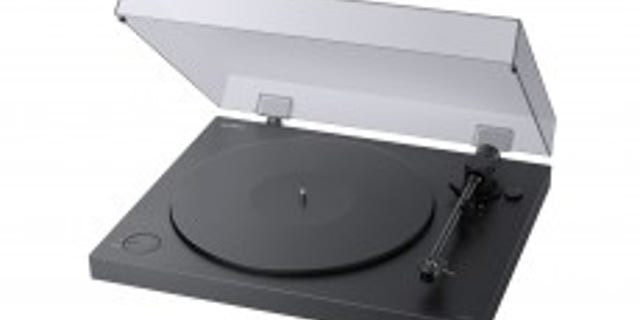 All of this can be done via a USB connection to a PC or Mac. Basically, all you need is your computer and the HX500. Of course, if you just want to stay in the vinyl world, Sony is also trying to deliver a high-quality stand-alone record player. The base and feet on the HX500 are designed for anti-vibration. And it comes with tools to make sure the needle is aligned properly.
Related: Technics shows off glorious new Grand Class SL-1200G turntables
The HX500 will be available in the spring. No pricing is available yet.
TVs getting thinner and thinner: The Sony XBR-X940D and XBR-X930D 4K are Sony's new flagship TVs, combining the thinness of a smartphone with top-notch images and HDRcompatibilty. HDR, widely used in the TV industry, provides higher contrast between light and dark images, resulting in a more realistic image. Sony says that its X-tended Dynamic Range PRO technology "boosts and dims the backlight to create deeper blacks and brighter peak highlights."
Like other high-end TVs coming onto the market, when viewed from the side its profile is razor thin. Sony combines the slim physical design with its Triluminous Display tech to reproduce a wider color range with accurate color details at any brightness level.
Related: Would you pay $5,000 for a Samsung smart fridge?
The XBR-X940D is a 75-incher while the XBR-X930D comes in screen sizes of 55 and 65 inches. All use Google's Android TV operating system and will be available in early 2016 but no pricing is available.
4K video camera with big pixels: the Sony FDR-AX53 4K Handycam camcorder boasts a high-sensitivity image sensor with pixel size 1.6 times greater than the current 4K Handycam model. Typically, the bigger the sensor, the more image data can be captured, boosting video quality, particularly in low-light conditions.
The camera is also equipped with a new 20x optical zoom Zeiss lens and a new microphone structure that captures sound from five directions. It is slated to ship in the spring. No pricing was given.