CES: New HP EliteBook Folio is like a 12-inch MacBook but with military-grade toughness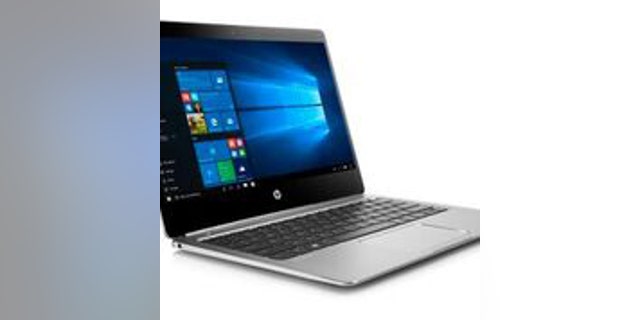 At CES, Hewlett Packard announced a new ultrathin laptop in its high-end EliteBook line that looks eerily like a 12-inch MacBook. But aside from the physical similarity, it proposes to go beyond the MacBook in some key respects, including durability.
For comparison purposes, let's start with the 12-inch MacBook: released last April, it is a razor-thin (0.52-inches) 2-pound laptop that emulates a tablet in portability. It is the most radical redesign of the MacBook since the original MacBook Air was introduced by Steve Jobs in 2008.
Related: CES 2016 showcases innovative new drones
Enter the new EliteBook Folio: clad in aluminum (like the MacBook), the laptop is under 0.5 inches thick, and weighs a mere 2.2 pounds. And, like the MacBook, it is "fanless" -- meaning it is simply too thin to accommodate a cluster of whirring fans.
On paper at least, HP has outdone the 12-inch Retina MacBook. For example, the Folio's 12.5-inch display (available with up to 4K resolution) can be tilted back until it's essentially flat – something the 12-inch MacBook can't do. It can also be configured with a touchscreen – something sorely missing (at least according to some users and reviewers) on the MacBook. It also adds another USB-C port for a total of two, compared to the MacBook's single USB-C connector.
Related: Sony debuts high-tech turntable, super-thin TVs, 4K video camera
The EliteBook will also come with Intel's newest 6th Gen "Skylake" fanless processors, compared to the MacBook's 5th Gen chips (though Apple will likely rectify that in the coming months when it upgrades the 12-inch MacBook).
HP also states that it is built to meet MIL-STD specifications, a U.S. military specification for durability.
Related: The 200GB wireless flash drive your 16GB iPhone desperately needs
In the spirit of full disclosure, I am using both the 12-inch MacBook and an HP EliteBook Folio 1020 on a daily basis. The Folio 1020 is also extremely thin and light and could probably be considered the precursor for the new 2016 EliteBook Folio. When HP says a laptop is mil-spec'd they aren't kidding around. The MIL-STD 810G spec'd Folio 1020 is tough as nails and is constructed by bonding an outer layer of bead-blasted aluminum to a magnesium inner shell.
Only time will tell if the new EliteBook is as tough as the 1020 but based on HP's record of delivering tough business laptops, it's almost a given.
Related: Technics shows off glorious new Grand Class SL-1200G turntables
The new EliteBook Folio's battery life is rated by HP at 10 hours. It starts at $999 and is slated to go on sale in March.