CES: LG's massive 8K TV headed to your living room? You wish
NEWYou can now listen to Fox News articles!
CES is always about big, brash TVs. And LG doesn't disappoint with one of the largest, high-res TVs yet.
LG's 98-inch TV stands out because it boasts an 8K display that's about twice the size of best-selling big screen TVs today. But getting to 8K is the hard part. Today the highest-resolution cutting-edge TVs are 4K -- also called Ultra HD or UHD. So, LG has quadrupled the number of pixels. Getting all of those pixels on a large screen with high production yields is really hard for TV manufacturers to do.
Related: Would you pay $5,000 for a Samsung smart fridge?
That's why it's probably not going to be in your living room anytime soon. While there's no word yet on the pricing, Sharp, for example, sells an 85-inch 8K TV for 16 million yen – over $130,000. And LG's previous 98-inch 4K TV sells for $40,000.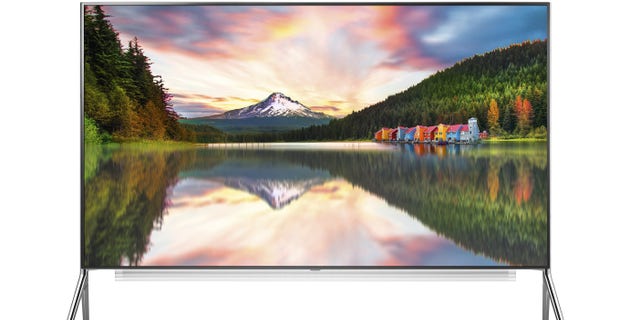 Of course, if you don't need an 8K TV with a 98-inch screen then prices drop off very dramatically. Samsung offers an 85-inch 4K TV for about $9,000 and LG offers a 79-inch model for under $6,000 at retailers like Best Buy.
Related: Panasonic intros DX900 LED TV series, promises Ultra HD OLED and Ultra HD Blu-ray in 2016
Another thing to keep in mind with all 4K and upcoming 8K TVs is that there are virtually no live 4K broadcasts, though that is expected to change in the coming years. For now, 4K content is only available from streaming services like Netflix and Amazon on a limited basis. There are other caveats too, such as having the right components that provide enough speed and bandwidth to playback 4K and 8K video.
But CES isn't just about size and resolution. Thinness is a big theme too -- and LG is pushing its OLED TVs to impossibly thin proportions. OLED (organic light emitting diode) displays are where everything from smartphones to TVs are going. OLEDs not only beat traditional LCDs in key areas of image quality but can be formed into flexible and foldable displays. You know it's important when Apple decides to pivot away from LCDs and begins to order OLED displays for the first time for its iPhone, as recent reports claim.
Related: LG Display to showcase 18-inch panel that rolls up like a newspaper
LG's latest ultra-thin offering is the G6, easily one of the thinnest big-screen TVs yet. The company calls it "picture on a glass" because the display is only one-tenth of an inch (2.57 millimeters) thick. That's so thin that its profile almost disappears when looked at from the side.
The TV consists of the OLED panel mounted directly on a piece of glass, while the electronics, sound, and inputs are in the base. The base – including the sound bar – can be folded up behind the TV for wall mounting. The TV is available in sizes up to 77 inches. No pricing is available yet.