CES: IBM teams with Under Armour to create 'Internet of athletes'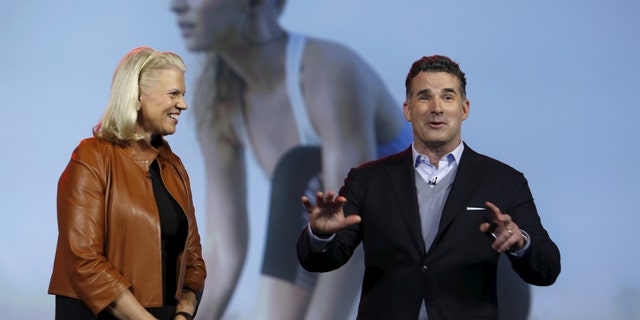 IBM's Watson supercomputer, famous for its appearance on the quiz show 'Jeopardy,' is at the core of a new partnership between the tech giant and Under Armour.
The companies vowed to revolutionize health and fitness when they announced the partnership at the Consumer Electronics Show in Las Vegas Wednesday. Watson will power what IBM and Under Armour are touting as "the world's first complete health and fitness insights app."
A cognitive coaching system developed by Under Armour will use the IBM supercomputer to assess a host of factors that affect health and fitness, such as physiological and behavioral data, nutrition, expert training knowledge and environment.
Related: Sports tech takes center stage at CES
Initially, the cognitive coaching system will focus on four categories within Under Armour's new UA record app – sleep, fitness, activity and nutrition. The app harnesses insights from the Under Armour Connected Fitness community, academic research studies and institutions, and Watson similarity analytics.
IBM used the example of a 32-year old female training for a 5K run that could use the app to create a personalized exercise and meal plan based on people of similar height, weight, body type and lifestyle. The app could map running routes near her office based on factors such as the dates, times of day, duration, location and frequency that the runner wants to train. The app would also follow her exercise using GPS tracking and heart monitoring, taking account of factors such as outdoor temperature and weather. On a hot day, for example, the app could advise her to run at cooler times, such as in the morning.
"With the new Under Armour partnership, we're going to shift the focus from collecting and reporting health and fitness data to delivering personalized insights for professional and amateur athletes," explained Steve Gold, vice president of the IBM Watson Group, in a statement emailed to FoxNews.com. "The combined power of Watson and the Under Armour Connected Fitness community will help create a new Internet of athletes."
Related: NFL goes high-tech with chip technology
Over the coming year Under Armour will add new capabilities around behavioral and performance management, food intake tracking and how weather and environmental factors affect training.
Under Armour was busy at CES this week – in addition to the IBM partnership, the company also announced a slew of connected fitness devices.
Related: Virtual Reality gets real at CES 2016
The deal further extends the reach of the IBM supercomputer. Watson's ability to trawl vast troves of data has already been targeted at the healthcare sector via partnerships with insurance firm WellPoint and New York's famous Memorial Sloan Kettering Cancer Care Center. In 2014 IBM announced an investment of more than $1 billion in its Watson Group in an attempt to boost development of cloud-based applications and services. IBM has also enhanced Watson in an attempt to speed up the pace of scientific breakthroughs.
The supercomputer is being used to help U.S. military personnel make the transition back to civilian life.
Related: Under Armour showed me the future of fitness tech
Boston Children's Hospital is also harnessing IBM's Watson supercomputer to help doctors identify possible options for the diagnosis and treatment of rare pediatric diseases.
Follow James Rogers on Twitter @jamesjrogers