Can data end hunger? US and world governments hope so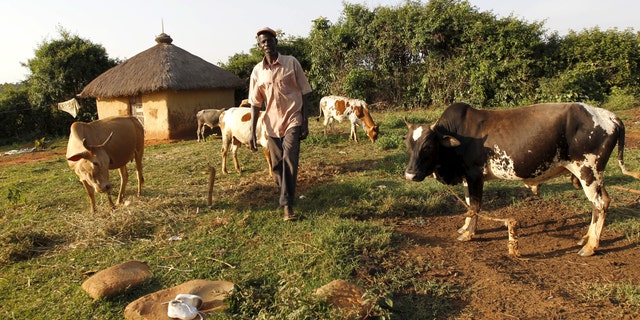 Governments around the world are pushing an ambitious initiative to share agricultural data in an attempt to eradicate hunger.
Born out of the 2012 G-8 Summit, Global Open Data for Agriculture and Nutrition (GODAN) aims to unlock existing but often unavailable agriculture and nutrition data. The effort is a step towards the U.N.'s goal of ending hunger by 2030.
According to the United Nations Food and Agriculture Organization (FAO), almost 800 million people in the world struggle with hunger and malnutrition.
GODAN, which has over 363 partners spanning governments, non-governmental organizations and companies, kicked off a two-day summit to harness open data in New York Thursday.
"The concept behind GODAN is simple – more openness and more transparency, more sharing of information," said U.S. Agriculture Secretary Tom Vilsack, during a keynote presentation Friday.
Vilsack also used the event to launch the U.S. Department of Agriculture Branded Products database, a free online resource that contains nutrition details of more than 80,000 name brand prepared and packaged foods. He also announced an update to the Global Agricultural Concept Scheme (GACS), a thesaurus of over 350,000 terms in 28 languages that establishes common terminology across agriculture and nutrition worldwide. GACS is a collaboration between USDA, the FAO and the Centre for Agriculture and Bioscience International (CABI).
Many countries outside the U.S., such as Kenya, are keen to share agricultural data.
"Information is going to play a critical role," Willy Bett, Kenya's Agriculture Minister, told FoxNews.com at the GODAN summit. Kenya, he explained, is creating an agricultural information system that will provide the likes of satellite data, soil and crop information, as well as details of local infrastructure, population demographics and Kenyan agricultural regulations.
"This could help improve productivity within Kenya itself - if you are growing soy bean, for example, where is the most ideal place to grow soy bean?" he said. "You have information on how to do your agriculture better."
Open data can also help drive external investment, according to Bett. "We have a lot of people that want to invest in Kenya, and they would need to know some of this information," he explained.
The Minister, however, acknowledged the broader challenges of sharing vast quantities of data globally in ways that are easily searchable. "This is the push we're trying to see now," he said. "We're looking at a situation from the visionary perspective where we would have a global portal where all this information will be posted in a certain format … which would be accessed easily by any user."
"It's not easy – certain countries have restrictions in terms of the legal framework," he added.
Other countries supporting GODAN include Mexico, Argentina, the U.K., Canada, Brazil and Nigeria.
A number of companies have also thrown their weight behind GODAN, including crop technology specialist Syngenta. "The call here is for people to just have a mindset, a cultural change, where they think not just about producing the data for their particular purposes, for today," Derek Scuffell, Syngenta's Research and Development data strategist, told FoxNews.com. "You ensure that that data is connectable to the rest of the data in the world – there are technical frameworks that can help with that."
In 2013 Syngenta published its Good Growth Plan, which sets out six ambitious objectives to improve agriculture around the world in terms of crops, biodiversity and the people who work in agriculture. The plan is based on data collected from 3,600 reference farms in 41 countries.
Follow James Rogers on Twitter @jamesjrogers