California startup releases drone for the masses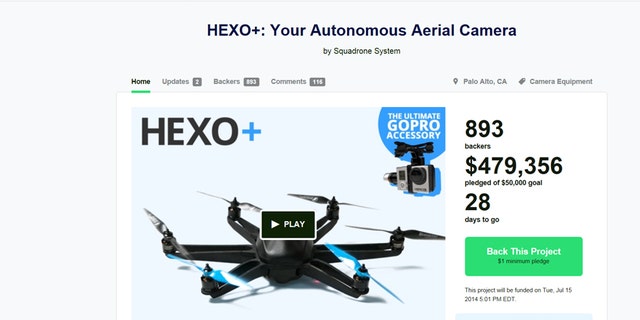 NEWYou can now listen to Fox News articles!
Ever wonder what you look like from a drone's perspective? The Hexo+ would like to show you.
The aerial drone, designed by Palo Alto-based startup Squadrone System, tracks and follows your iPhone to provide panoramic footage. Through anticipatory algorithms and a protocol called MAVLink that allows it to communicate with your iPhone, the Hexo+ predicts the trajectory of your every movement and adapts accordingly.
Squadrone Systems, founded by snowboarder and self-proclaimed "action sports moviemaker" Xavier de la Rue, is marketing the Hexo+ as a must-have for extreme sports athletes who want to film their stunts from a bird's-eye view without hiring a helicopter crew.
The device flies up to 45 miles per hour, has a battery life of 15 minutes and can shoot video of the user from up to 150 feet away. The lightweight, 2-foot-long mini-hexacopter uses a GoPro camera attached to a gimbal pivot that allows the camera to rotate with the user's movements. Six rotors ensure camera stability at high speeds.
An iPhone app allows the user to adjust the height, angle and distance from which the device records. The app shows the drone's perspective of an avatar that represents the user, and the user swipes his fingers to pan and rotate.
Squadrone Systems launched the Kickstarter for the Hexo+ Monday with an initial goal of $50,000. The company has already raised $450,000 for the product, and fundraising efforts will continue for the next 28 days.
The promotional video on the Hexo+ Kickstarter page includes endorsements from several extreme sports athletes and features impressive overhead shots of snowboarders, motocross riders and skateboarders, apparently captured by the drone.
The complete Hexo+ package, which includes the drone, the gimbal pivot, the GoPro camera and the iPhone app, will be priced at $700. Another package that doesn't include the camera will go for $600, and a do-it-yourself package, which features the drone's parts unassembled and has no camera, will go for $300.
Though the product appears to aim exclusively at extreme sports athletes, its potential – and its potential successors – may not be so limited.
"Drone technology doesn't need to stay in the hands of only professionals," de la Rue says in the promotional video. "We want to make aerial filming accessible to everyone."