Buyer beware: Think twice about pricey iPhone X, MacBook Pro models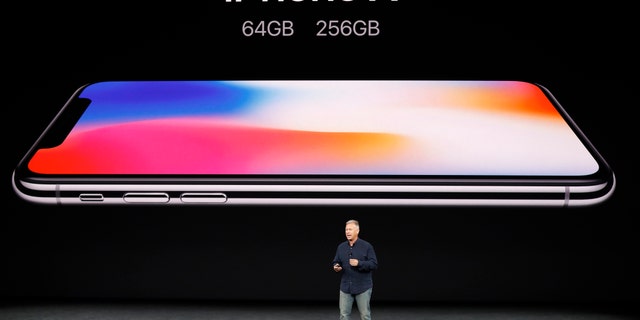 In the age of cloud computing, consumers should reconsider the old rule of thumb of always opting for the bigger hard drive.
It's tempting to splurge for a top-of-the-line iPhone X or high-end MacBook Pro with lots of storage. The iPhone X costs $999 for the 64GB model and $1,149 for the 256GB model – an extra $150.A 13-inch MacBook Pro non-Touch-Bar model, will cost $1,299 for 128GB and $1,499 for the 256GB, a premium of $200.
On its face, it may not look like a bad deal but with so much stuff being stored in the cloud these days that's either free or cheap, massive local hard drives just aren't as essential as they once were.
HOW BAD GUYS GET MALWARE IN YOUR SMARTPHONE
For instance, Google Drive is free up to 15GB and if a person needs more than that, it's an additional $1.99 per month for an extra 100 GB. Apple's iCloud gives users 5GB worth of free storage, then 50GB for $0.99 per month, and 200GB for $2.99 a month. Microsoft's OneDrive gives users 5GB free and 50GB for $1.99 a month.
In addition to cutting costs, there's another reason to rely on cloud storage: everything can be stored in one place.
If a person has an iPhone, iPad and maybe even a MacBook, they can put the bulk of their storage for all of their devices in one place. It may not only save money but it provides consistency across devices. The exact same set of documents, photos, and applications are available to all and not duplicated locally on every device.
My experience
I'm living proof that this works.
I have a 64GB iPhone 8 and I'm only using 12GB of the 64GB available. That's a big buffer of about 50GB free. On my 2017 64GB 10.5-inch iPad Pro, it's exactly the same, about 50GB worth of storage freed up.
On my 128GB 13-inch MacBook Pro, I have about 70GB free. So, even with the smallest, cheapest MacBook Pro configuration, I still have oodles of local storage.
And it's not like I'm skimping. I'm still using the typical assortment of work, play and social media apps.
IPHONE X REVIEW: MOSTLY SCARY-GOOD, BUT A COUPLE OF GRIPES
How to set up the iPhone, iPad or MacBook
The trick is to optimize the storage on the MacBook, iPhone or iPad. This puts the bulk of the storage in the cloud.
When a user sets up their Mac (or if they already have a Mac), they can go to "About This Mac" then click on "Storage" then select "manage" and then choose the "Optimize" button for "Store in iCloud." Also select the "Optimize" button for "Optimize Storage." This example is for macOS High Sierra.
For the iPhone 8, iPhone X and a 10.5-inch iPad Pro, it's more or less the same. First, check out how much storage you have available by going to Settings > General > [device] Storage. Then go to Settings > [your name] > iCloud > Photos, then make sure iCloud Photo Library is toggled on. This is for iOS 10.3 or later.