'Burmese Bin Laden': Facebook removes page of Buddhist monk after racist rant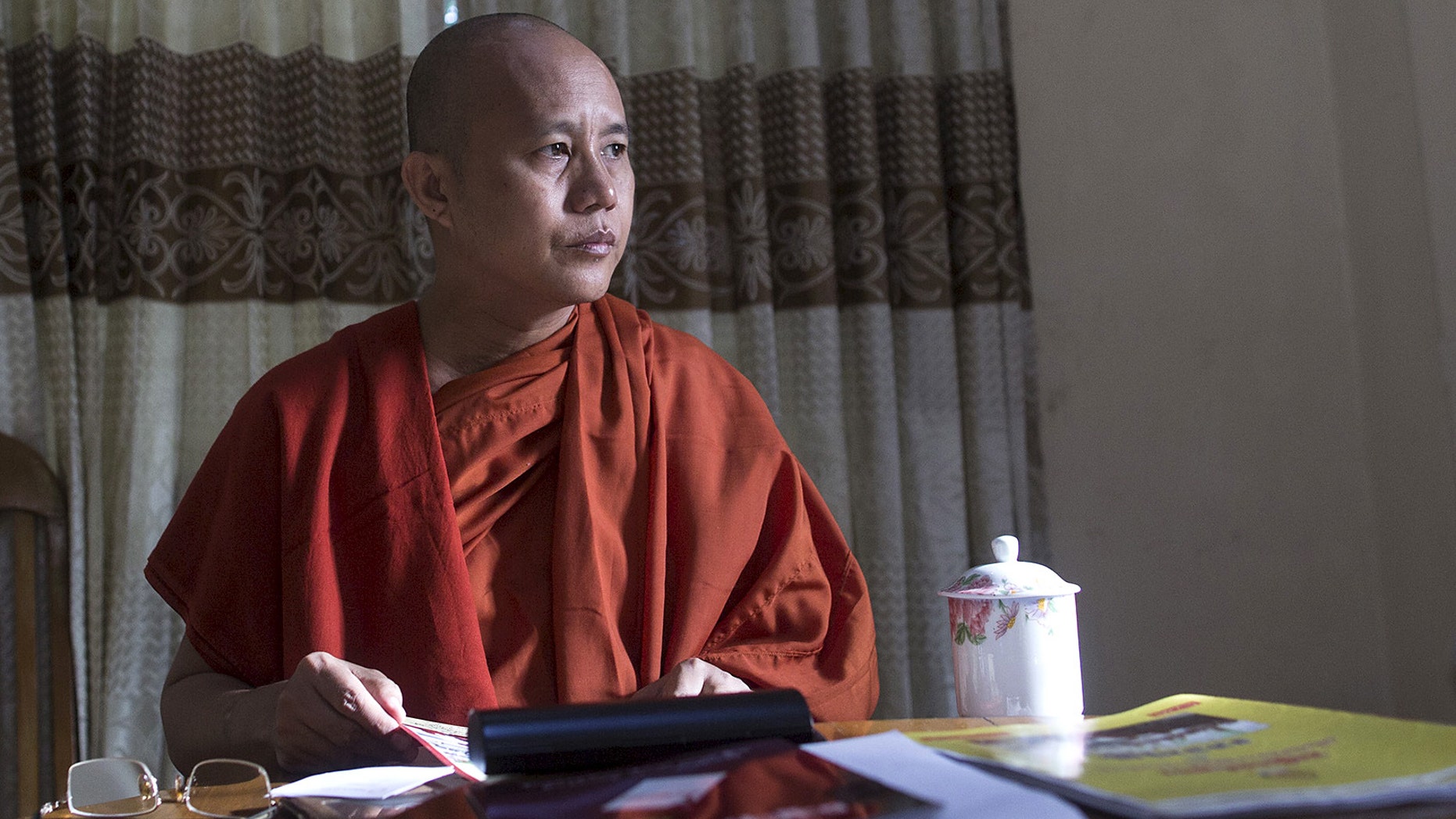 The notorious firebrand Buddhist monk Ashin Wirathu, also known as the "Burmese bin Laden," has been kicked off Facebook for violating its community standards.
Wirathu, who has used social media to disseminate anti-Muslim hate speech and racist comments, was kicked off the platform in January. A Facebook spokesman told Agence France-Press that the page violated its standards, prompting the social network to take action.
In an email to Fox News, a Facebook spokesperson said: "Our Community Standards prohibit organizations and people dedicated to promoting hatred and violence against others based on their protected characteristics. If a person consistently shares content promoting hate, we may take a range of actions such as temporarily suspending their ability to post and ultimately, removal of their account."
FACEBOOK'S VR SHOOTER GAME AT CPAC PROMPTS BACKLASH, APOLOGY
Facebook is dealing with domestic issues after the platform was used by Russian operatives in attempt to influence the 2016 U.S. presidential election. The social network is also facing issues across the globe, including in Myanmar, Wirathu's home country, where it has been accused of failing to curb anti-Rohingya propaganda.
The Rohingya people, a majority of whom are Muslim, are denied citizenship under the 1982 Myanmar nationality law.
A Twitter account that may be (but unconfirmed by Fox News) associated with Wirathu is still active. The bio on the Twitter account describes Wirathu as "A Burmese anti-Muslim Buddhist monk. A writer. A co-founder of the association for the Protection of Race and Religion." The account has not tweeted since 2016.
In a 2014 interview with VICE, Wirathu claimed he was being misrepresented and was misunderstood.
"I'm trying to educate the people not to [retaliate], but these aggressive Muslims must be brought to justice," Wirathu said in the interview.
Over 1 million Rohingya lived in Myanmar, but there were only 400,000 remaining in the country as of November 2017. Nearly 700,000 Rohingya have fled to Bangladesh following insurgent attacks, Time magazine noted. The crisis has been labeled ethnic cleansing by the U.N.
Wirathu was also profiled in 2013 by Time, being featured as a cover story entitled 'The Face of Buddhist Terror.'
A source familiar with the situation said that Facebook is a place where people can challenge ideas, institutions and practices, but the company is "opposed to hate speech and hate groups," something Wirathu has been accused of promoting. The company's Community Standards specifically calls for the removal of "hate speech, which includes material that directly attacks people based on protected characteristics like race, ethnicity, national origin, religious affiliation."
Facebook is intensely popular in Myanmar, due in large part to the wide availability of smartphones and Internet connectivity.
FACEBOOK EXEC APOLOGIZES FOR RUSSIA PROBE TWEETS, REPORT SAYS
Facebook, which has over 2.1 billion monthly active users (MAUs) worldwide, has 828 million MAUs in the Asia-Pacific region, according to its latest quarterly results. The company does not publicly break out its user base by country, but a 2016 report from the Myanmar Times said Facebook had attracted 10 million users in the country.
Follow Chris Ciaccia on Twitter @Chris_Ciaccia