BlackBerry PlayBook Tablet Prices Slashed After Lagging Sales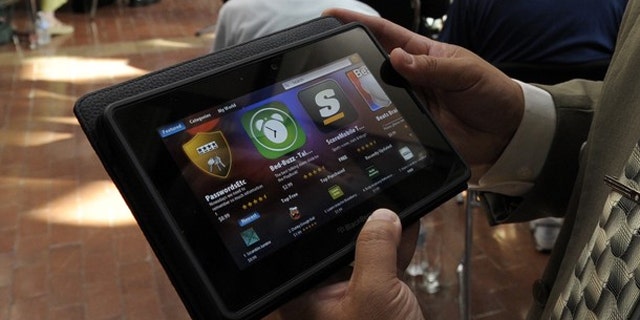 NEWYou can now listen to Fox News articles!
Research In Motion's retail partners have begun slashing prices on the BlackBerry PlayBook tablet in an effort to bolster unimpressive sales. RIM co-CEO Jim Balsillie confirmed on the company's second-quarter earnings call that price drops were imminent after the company reported just 200,000 units shipped into channels during the tablet's first full quarter of availability. BGR reported reported earlier this month that Rogers employees were able to purchase the PlayBook starting at $250, and now the general public can finally get in on the action. Read on for more.
RIM currently offers three versions of its QNX-powered tablet — a 16GB entry-level model, a 32GB model and a 64GB version — and all three models are on sale at numerous nationwide retailers. Staples has knocked $200 off the price of each slate, $100 in instant savings and $100 in the form of a mail-in rebate. Office Depot is offering the same deal: each PlayBook model is available for $100 off MSRP, and then customers get another $100 back in the form of a rebate.
Best Buy's sale prices line up with Staples and Office Depot, though Best Buy is advertising the new prices as a limited-time sale that ends on October 6th. The 16GB, 32GB and 64GB PlayBooks are available for $399.99, $499.99, and $599.99 respectively, and in-store purchases also qualify to receive a complimentary $100 Best Buy gift card, which means customers won't have to wait for a rebate card to be delivered in the mail.
Finally, BGR has also been told by multiple readers via email that Walmart is offering unadvertised sale pricing on at least one PlayBook model, with purchases of the 16GB tablet ringing up at $250 despite an advertised price of $498. Walmart did not respond to a request for comment.
The BlackBerry PlayBook is RIM's first tablet, and it is also the first device to launch with the company's new QNX-based mobile operating system. While the tablet can now safely be lumped into a large pile of similar offerings that are not faring well against Apple's iPad, many analysts still have high hopes for RIM's next-generation QNX platform.
This content was originally published on BGR.com
More news from BGR:
- Android adoption doubled iOS over past three months, Nielsen finds
- Samsung announces GALAXY S II LTE and GALAXY S II HD LTE smartphones
- Samsung GALAXY S II (AT&T) hands-on