Blackberry Maker to Aid London Police in Riot Probe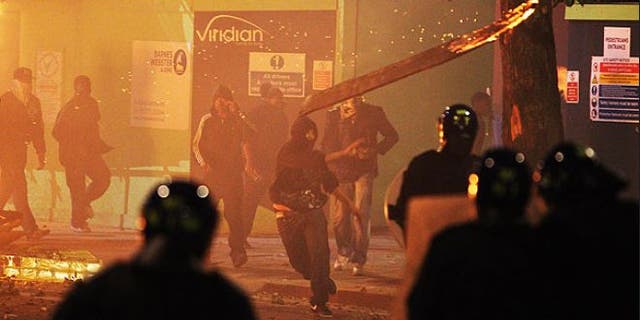 LONDON – Following days of rioting in London that have already led to one death -- riots planned and coordinated over mobile phones and instant messages -- the manufacturer of the Blackberry handheld has promised to help London police in any way it can.
Police investigating the extraordinary escalation of London's rioting and disorder, which continued for a third night Tuesday, believe that the BlackBerry cell phone played a vital role in coordinating the riots. Patrick Spence, managing director at Research in Motion (RIM), told the Guardian the company had reached out to police to offer its aid, potentially turning over messages and helping track down rioters.
"We feel for those impacted by the riots in London," Spence told the Guardian. "We have engaged with the authorities to assist in any way we can," he added. The company complies with a UK bill called the Regulation of Investigatory Powers Act, which may force it to cooperate with officials by intercepting and handing over relevant communications.
A 26-year-old man who was shot in a car during riots Monday in south London's Croydon district died in the hospital Tuesday, in what was the first fatality during three days of unrest. The circumstances of the incident were unclear, police said.
But one thing is clear: A private, instant messaging service on the Blackberry network which enables free, virtually instantaneous access to other owners has been used to fuel and spread the riots since Saturday, officials claim.
Users of Blackberry Messenger (BBM), which has replaced text messaging among young people, have posted messages inciting violence and identifying meeting points for future uprisings.
As messages can be passed to hundreds of users in minutes, the technology appeared to have been used to reach disparate groups of youths across the capital.
Police have said that much of the violence was planned using social networking sites and BBM, although many of the messages are unverified. While detectives have vowed to track down those who incite violence on the Internet, BBM messages are encrypted and cannot be easily traced by the authorities.
One youth worker told The (London) Times, "People have been talking on BBM all day deciding where they'd go next. They said Peckham would take the next hit. The stuff in Brixton, people used BBM to organize where to meet."
Alleged drug dealer Mark Duggan, whose shooting by police sparked the initial disturbances on Saturday night, used BBM to send a final message to his girlfriend. He wrote, "The Feds are following me."
After Saturday's unrest at Tottenham, north London, one widely circulated BBM message read, "Everyone in edmanton enfield wood green everywhere in north link up at enfield town station at 4 o clock sharp!!!"
RIM did not immediately respond to FoxNews.com requests for more information. But experts told the Wall Street Journal that it was unfair to single out the BBM service for its role.
"Certainly, it's a lot easier for people to communicate with each other in real time via some of these services but that's a fact of life," Ian Maude, an analyst at Enders Analysis, told the Journal. "They're not good or evil in themselves, its the purposes for which people use them."
Users intent on disorder appeared Monday night to be changing tactics in order to avoid detection. One BBM message was circulated which warned people to get off the network.
Meanwhile, Twitter users who have used the Internet site to incite violence will be prosecuted, the Metropolitan Police warned.
News wires contributed to this report.