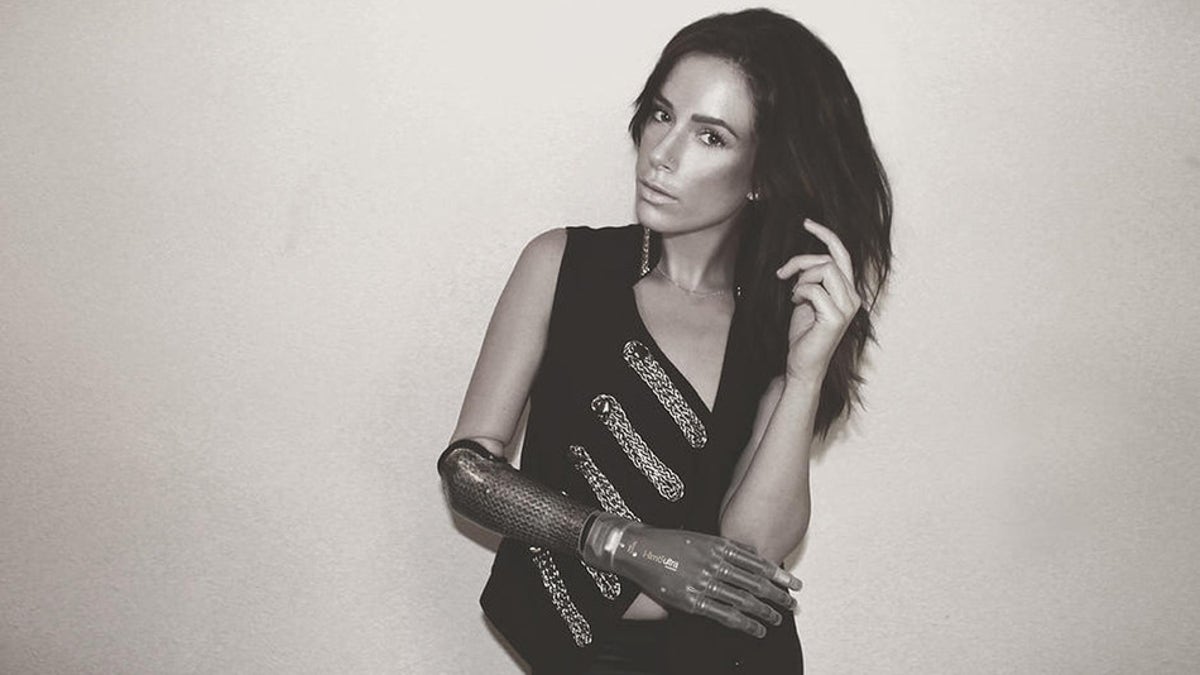 During fashion house FTL Moda's New York Fashion Week show at Grand Central Station's Vanderbilt Hall on Sunday, model Rebekah Marine will strut down the runway with one of the most unique accessories — a bionic arm. Philadelphia-based Marine, who was born without a right forearm, was fitted with an i-limb quantum earlier this year. The i-limb is one of the most advanced prostheses available, and with it, Marine has quickly become one of the most visible faces in a fashion world becoming increasingly more inclusive to models with disabilities.
This will be Marine's second time walking down a New York Fashion Week runway. The first was this past February, when she caused a stir at FTL Moda's finale show that featured models with disabilities who hailed from all over the world. For that show, Marine had very little preparation. She was notified that she would be walking down the runway only four days in advance. Marine works with Models of Diversity, a U.K.-based organization that aims to bring more visibility to models who do not necessarily fit the fashion industry's strict, often harsh standards of beauty.
Related: DARPA taps tech to build sophisticated artificial limbs for wounded veterans
"I want people to realize uniqueness is beautiful," Marine told FoxNews.com. "I want them to be inspired by that. The media portrays what is or isn't beautiful, and I think we often lose track of who we really are by trying to achieve 'perfection.' Well, there's no such thing as perfection."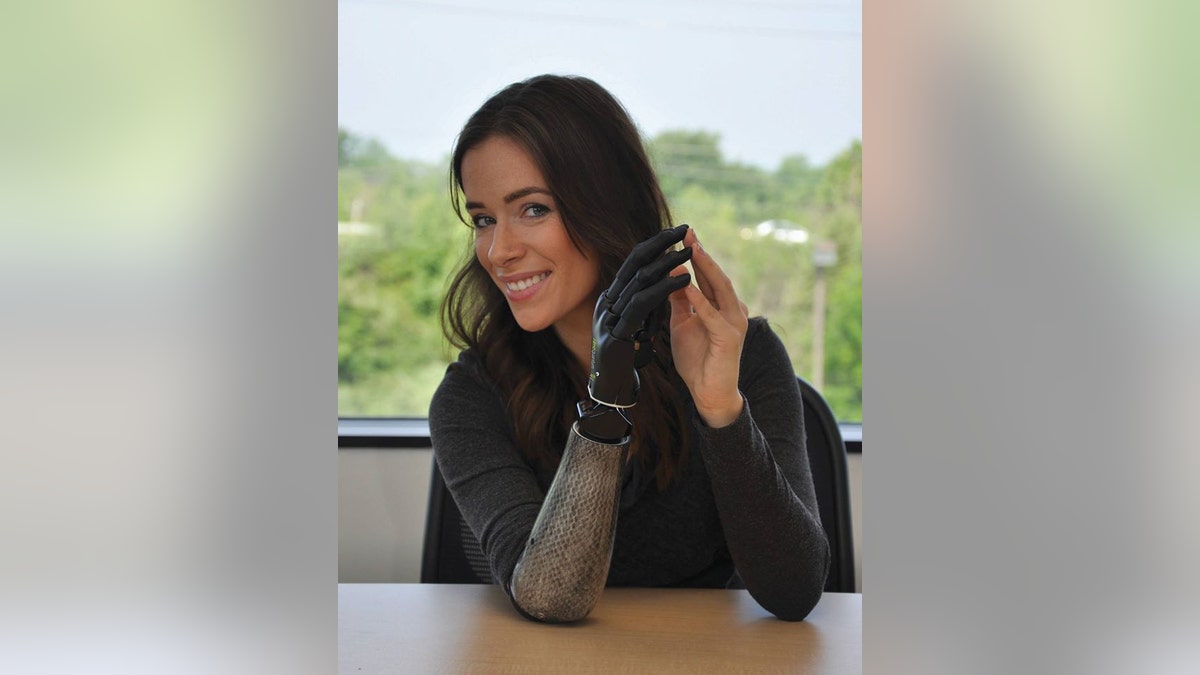 For this show, Marine had months to prepare, and she said that she "couldn't wait" to be walking the runway with other models, like Madeline Stuart who has Down syndrome, during FTL Moda's show. For this Spring/Summer 2016 season show, FTL Moda is partnering with the Christopher & Dana Reeve Foundation and Global Disability Inclusion to present more diversity on the show's runway.
Marine used to fantasize about modeling, but gave up that early goal as she grew older, becoming more insecure and uncomfortable about her disability during her adolescent years. She said that she used to tuck her arm behind her back, turning in photos with friends and family at an angle that would obscure her arm. She got her start in the modeling world at a relatively late age. After being outfitted for a prosthetic hand at 22, a friend suggested that she should model it.
"I was told I wouldn't have a shot in the fashion industry. 'You have a face for it,' is what I'd been told, but the implication was that my disability would prevent me from pursuing that career," she said. "When I first started modeling, I didn't wear my prosthetic, and photographers would hint that I should turn a certain way … but now that I have this new arm, it's a great prop in my photo shoots. I find people are fascinated with the technology of it."
The prosthesis has two electrode sensors that rest against the skin at the bottom of Marine's elbow. These sensors detect the muscle signals from Marine's arm which are then translated to a motion. The i-limb translates these muscle contractions to tell the hand at the end of the prosthesis to open and close, to perform different grasps. The arm even corresponds to a mobile app developed by Touch Bionics, the company that, along with Advanced Arm Dynamics, outfitted Marine with the prosthesis. With a tap on the phone app, users can access up to 24 grips, and are also able to program 12 custom grips.
The i-limb represents the great strides that have been made in prosthetic limb technology since the 1970s, Rob Dodson, a clinical manager for Advanced Arm Dynamics, told FoxNews.com.
"In the last five or six years, we've seen a big revolution in new hand systems coming to the commercial market," Dodson said. "Also, what has been happening is this technology not just coming out of MIT or Johns Hopkins — it's being made available to everybody."
Related: Mind-controlled limbs could restore sense of touch to combat casualties
Dodson said that his field is ever-changing. What he's working on now might be obsolete in a decade. The good news of a constantly evolving field? Advances are regularly being made to simplify the lives of amputees or people like Marine who were born with limb differences. The real breakthrough of these advances are the subtle, complex movements these "bionic limbs" can perform.
"I say 'hey it's like having a stereo with a really good equalizer.' If you want a little more bass, you balance the sound. Whatever action an individual wants, they have that control over their own device. With the mobile component, they are able to have a level of control that wasn't made available in the past."
Marine is now a Touch Bionics ambassador and said she has been given the opportunity to have a front-row seat to these innovations. She gets to test out the company's latest products, see what new hands are about to be available on the market, and most importantly, provide input as to what would be most helpful to someone like her from these devices.
Dodson suggested that the growing media presence of someone like Marine — in addition to the runway shows, she appeared in Nordstrom's 2015 anniversary catalogue — has contributed to a lessening of the stigma around those who wear prosthetics.
"There's been a real shift in how these hands look. In the past people would strive to cover the hand with a glove that matches the skin tone. There are companies out there that physically sculpts the patient's hand – an artist will make it look incredibly real, painting in hairs and freckles on the skin. But now, we are getting away from those cosmetics and more into a hi-tech look," Dodson said.
The skin-like gloves don't necessarily fit well over these bionic limbs, and Dodson said there is a growing trend of people like Marine embracing the "robotic" quality of the prosthesis.
"People like Rebekah aren't afraid, they are willing to expose their disabilities, to own them with pride," he added.
This confidence is a world away from Marine's time shying away from the camera, and for those who advocate for people with limb differences, it's a confidence that's important to be put under the spotlight.
Marine is an ambassador for the Lucky Fin Project, a nonprofit that offers support, educational resources, and a community for families of children with limb differences in the U.S. and internationally.
Molly Stapelman, the projects founder whose daughter Ryan has symbrachydactyly – a congenital abnormality that leads to limb anomalies – met Marine through Facebook and the two quickly became friends and collaborators.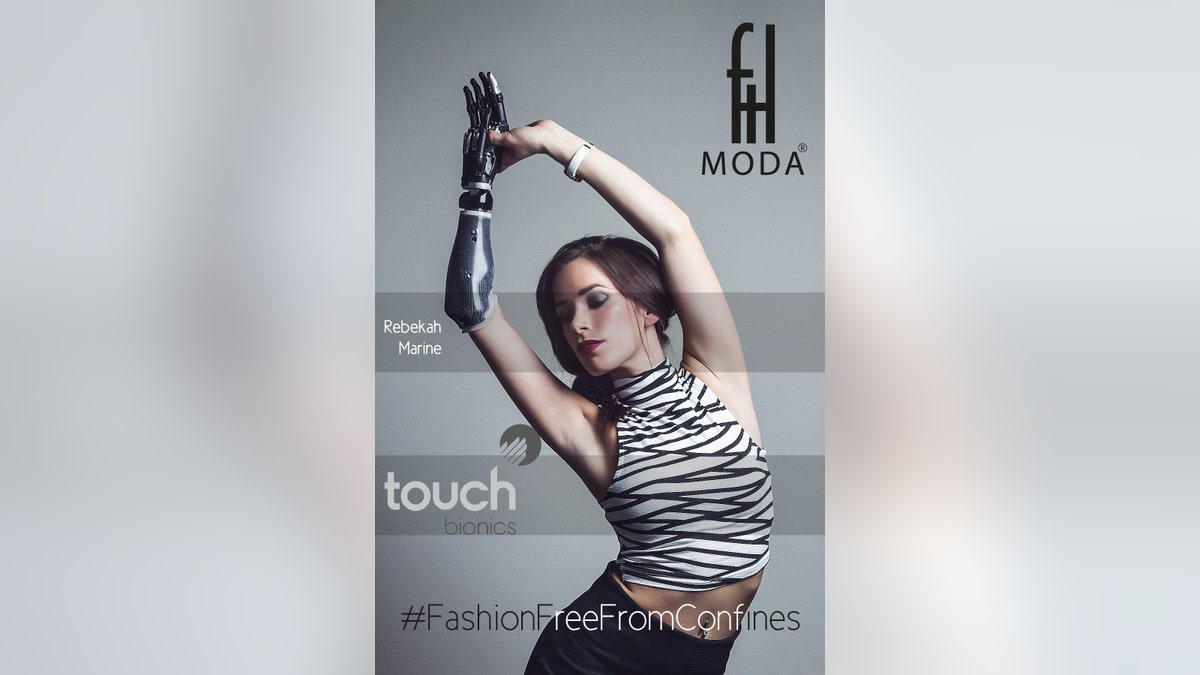 "Obviously, she's a living, breathing example that just because you have a limb difference doesn't mean you have to be inhibited or 'disabled,' " Stapelman said. "She wasn't always comfortable with her limb difference, entered a modelling industry where you are assessed based on how you look, and then pushed herself out of her comfort zone, and is now sharing her experiences and inspiring others to get out of their comfort zone as well."
Illaria Niccolini, FTL Moda's founder and producer, views Marine as part of a wave of acceptance of models who "go beyond the five-feet-eleven, blonde hair, blue-eyed, stereotypical models." She told FoxNews.com that the reaction to last season's show featuring models with disabilities was "fantastic." At first, she said people in the industry were apprehensive about what they would see.
"Of course there were some designers who say, 'oh wow, I'm not sure my line should be presented by this or that, or this kind of figure,' but I'm seeing less and less of that now. People are less afraid," she said. "As you get to know these talents with disabilities you immediately become aware of the fact that, here, there is really nothing to be afraid of. These are splendid creatures who perform in an incredible way. They are powerful and motivational, really."
"Bekah is the most joyful person on Earth," added Niccolini. After working together for the last show, she was happy to bring the model on board again.
"What I really found most with these talents, with talents like Rebekah, is the capability to be a leader, to form even a temporary community," she said. "I'm always very touched to see her photographs with children, with people with amputations, with any kind of disability. She has a capability to uplift, to refuel them with a confidence and hope and optimism."
For Marine, who studied advertising in college and manages to balance her modeling and advocacy work with a full-time job in the Internet department of a Nissan dealership, her teenage self would be surprised to see where she is now.
"When I was in my teenage years, I hid from the camera. I was so insecure. Now, I love showing off in every picture, I love it," Marine said. "It's great to see other kids be inspired by that. I used to hide away from the camera, then fast-forward about 10 years to when I was 22, 23 and I was significantly more confident, unafraid to show my arm. I guess it took me 10 years to be fine under the lights — that was a long time to be in the dark."