Beware of Bin Laden Spam and Malware, FBI Warns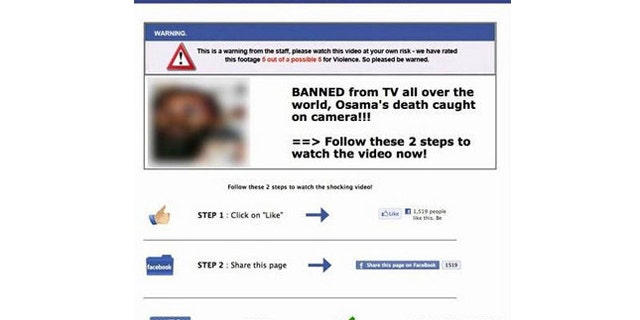 The intense public interest surrounding Usama bin Laden is the perfect vehicle for Internet scams and malware, the FBI warned Tuesday, issuing an official warning to "exercise" caution online.
One common piece of malware spreading rapidly on the Internet purports to show photos or videos of bin Laden's killing. Clicking on these links can wreak havoc on some users' machines, the agency warned.
"This malicious software or 'malware' can embed itself in computers and spread to users' contact lists, thereby infecting the systems of associates, friends, and family members," the FBI said in a statement. "These viruses are often programmed to steal your personally identifiable information."
Security firms have also been warning of the potential uptick in dangerous spam, citing similar malware episodes in 2004, 05 and 06 -- all related to Bin Laden news.
"News targeting famous/notorious personalities are often used in scams," Symantec explained on its official blog. "At this moment, we at Symantec Probe Network are observing a huge inflow of legitimate messages carrying links to the news. However, in all likelihood, there will be an increase in spam volume targeting this news."
Leading security firm Kaspersky Lab began detecting spam e-mail campaigns and Web pages built specifically to game the major search engines within hours of the first reports of his death in a firefight with U.S. forces in Abbottabad, Pakistan.
President Obama announced the results of the top-secret operation late Sunday night, calling it the most significant blow to Al Qaeda to date. Within hours, the architect of the Sept. 11, 2001, attacks that killed more than 3,000 people was buried at sea, the president said.
And within hours of that, warned Kaspersky analyst Fabio Assolini, the company began finding search engine optimized (SEO) Web pages offering news of bin Laden's death and claiming to offer photographs of the slain terrorist. Clicking those links directed Web surfers to malicious Web pages that try to install Best Antivirus 2011, a rogue anti malware program, Assolini said.
Another Kaspersky researcher uncovered a Facebook spam campaign offering "free subway rides and plane tickets" to "celebrate Osama's death." Users visiting the malicious page were asked to enter personal information to win a prize, but end up spamming their own friends with the solicitation, he warned.
With the amount of questionable software swirling around cyberspace, the best way to stay out of trouble is to play it safe, the FBI said.
"Even if the sender is familiar, the public should exercise due diligence," the agency suggested. "Computer owners must ensure they have up-to-date firewall and anti-virus software running on their machines to detect and deflect malicious software.