Best tactical stocking stuffers for 2017
Great things come in small packages and our stocking stuffer gift guide top picks are no exception. We have curated the ultimate gifts that are small enough to fit in Christmas stockings … but are sure to be massive in impact.
From irresistible coffee made by a Special Forces veteran and bottle openers made from fighter jet ammo through to combat flip-flops, whiskey ice bullets and Navy SEAL-created camouflage for hunting, here are seven outstanding stocking stuffers — something for every budget and all with the tactical spin.
Freedom Fuel by Black Rifle Coffee
Black Rifle is bespoke small batch coffee at its best. For conservatives in the know, it has rapidly become the coffee of choice.
Evan Hafer served our country at the most elite level, including in Special Forces soldier and as a CIA contractor. He then applied that same rigorous commitment to excellence to founding Black Rifle Coffee Company and to every aspect of the process. Hafer selects coffee beans in South America and then they are especially blended and roasted in Utah.
US SOLDIERS SET TO RECEIVE NEW HOLSTER AS ARMY DEPLOYS ITS LATEST PISTOL
There are lots of delicious blends to choose, from Sniper's Hide Blend, Freedom Fuel Silencer Smooth Blend, AK-47 Blend and Beyond Black Blend. There is also a special limited edition of Holiday Roast, available for $14.99.
Pick one and pop it in the stocking. The unmistakable Black Rifle coffee aroma will lure everyone from their cozy beds Christmas morning.
A 12-ounce bag starts at $12.99.
Chute Vacuum from CamelBak
This is one outstanding, sleek-looking stocking stuffer that is ideal for just about anyone who loves the outdoors, hiking, hunting and shooting, or simply likes hitting the gym.
CamelBak has set the gold standard for hydration in combat and hydration in the toughest, most extreme environments in the world.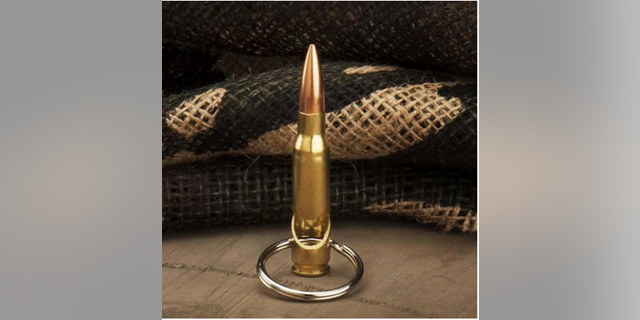 The company has taken all that expertise accumulated over all those years and all those war zones and combined it with the latest in their cutting-edge innovation to create must-have bottles.
COOL TECH CONVERTS DIRT BIKES FOR JASON BOURNE-LIKE SNOW SUPREMACY
Perfect size to pop in a stocking, its Chute Vacuum keeps liquids cold for a full 24 hours. On a day hike, it will keep your soup or hot chocolate warm for six hours. This 40 ounce-insulated bottle has a number of smart design features, like a cap that snaps into the handle so it stays out of the way when you pour and double walls to prevent condensation.
Even the opening has been especially tailored to make it ultra-easy to drink from and difficult to spill.
The Chute Vacuum is available for $38.
Bullet Ice Cubes by Bottle Breacher
Whiskey and other spirits are always a classic holiday gift, but this year why not go next level with the tactical twist? Instead of the traditional bottle of a favorite blend, go with the fun special bullets designed to protect the temperature of a favorite bourbon.
The Bottle Breacher Whiskey Bullets are stainless steel bullets that chill whiskey, vodka, eggnog — you name it. They're not just a great conversation piece, they also protect the flavor of that holiday drink since they won't dilute.
They just get popped in the freezer and then popped in the drink, where they will behave sitting at the bottom of the glass.
6 TOP JAMES BOND-INSPIRED TACTICAL GIFTS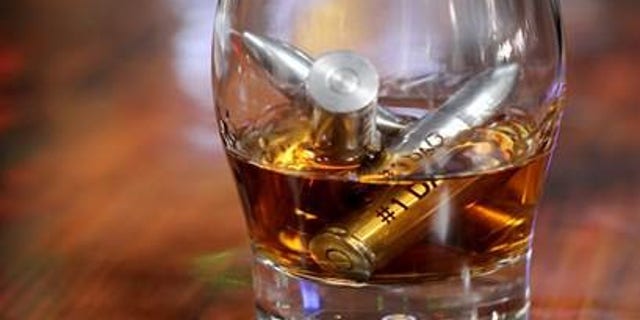 These bullets may be small but they are bound to be a big hit. The company recommends one whiskey bullet for every ounce of whiskey poured.
The set comes with six bullets and is available for $49.99. If you'd like to go bigger, you could add ─ under the tree, that is ─ the Revolver Cylinder Holster that is designed to hold the bullets.
PODCAST: FAITH NOT FEAR - LEARN HOW TO USE YOUR MIND
AS THE BEST WEAPON AGAINST TERRORISTS WITH THIS NAVY SEAL
Rite in the Rain Notebooks
Made in the USA, Rite in the Rain notebooks are ultra-popular with tactical professionals, underwater bomb experts, adventurers, expeditions and more. This is an amazing American company that has created truly weatherproof paper and a waterproof notebook cover.
These notebooks can withstand just about any adventure, anywhere. If it gets hit with water, the all-weather paper won't disintegrate like regular paper – it is just fine. Accidentally left in a pocket and put in a washing machine? No problem. Thrown in the gym bag and hit with sweat and mud? No problem.
Rite in the Rain also makes tailored notebooks for different passions and hobbies, from fishing and hunting through to shooting and birdwatching. They also make fantastic calendars with all the benefits of their extraordinary craftsmanship and quality materials.
NEW F-35A FIGHTER JET GETS A NEW POWERFUL BOMB
The notebooks come in all sorts of shapes, colors and sizes. The pocket-sized ones have a great, tough impact resistant wire binding so whether it is in the back pocket or backpack, it will never lose its shape.
Rite in the Rain also makes phenomenal pencils relied on regularly in combat and expeditions all over the world. The lead won't break. Won't be unsteady. Won't snap off. Won't fall out. It will be the only pencil you will ever need to buy for your student.
Rite in the Rain All-Weather Mechanical Pencil retails for $10.45 but you can now snap one up at a steal of $5.
Pocket top spiral starts at $3.95. The 2018 pocket calendar is available for $9.95.
Combat Flip Flops
Anyone who has been around special operations will tell you flip-flops are very popular with the military's most elite teams. Founders Matthew Griffin and Donald Lee both served as Army Rangers and served multiple tours in Afghanistan and Iraq. They've now created a company to make a difference in war-torn countries.
The men's Floperator in OD green is a must-have and not just because they will become the favorite footwear of your gift recipient. As Combat Flip-Flops says, "Bad for running. Worse for fighting. But we know you are going to do what you want with them" — which is just about anything.
This is a stocking stuffer that also helps make a difference. Their sandals are made in Colombia to provide jobs to locals there. And each Floperator stocking stuffer spreads Christmas spirit to a girl in need, funding one day of secondary school for an Afghan girl.
They are currently on sale for $24.99.
PODCAST: FIND OUT HOW THIS ARMY RANGER BROKE
INTO HOLLYWOOD + HEAD BEHIND THE SCENES ON A NEW TV SHOW
Predator Warpaint
For the hunter in your family, the very best surprise in the stocking would be Predator Warpaint.
Created by Navy SEAL veteran Nick Norris, this is best in class camo face paint that will also protect your loved one's face from the sun on those long days outdoors. It incorporates "bulletproof sunscreen" with SPF 50 protection. This scent-free war paint lasts for more than four hours and the colors won't bleed no matter how hot it gets.
Also makes an excellent gift for children who like to do their military maneuvers outdoors.
Made in the USA, the 3-Color Woodland Camo With Bottle Opener is available for $14.95 and the 5-Color Camo Milspec Compact $19.95.
Vintage Brass 20mm Bottle Opener by Bullets2Bandages
How about a bottle opener made from ammunition used by fighter jets like the FA – 18 hornet and combat helicopters like AH – 1 Cobra? These vintage brass bottle openers are made by Bullets2Bandages from 20 mm casings.
This a truly unique bottle opener that weighs half a pound and is nearly 7 inches long. You can personalize it with custom engraving, making it even more special.
It is also a gift in keeping with the holiday spirit because when you buy any product from this company, founded by two naval EOD officers, 15 percent of the profit is donated to veterans' charities.
You can nab one on sale marked down significantly to $25.99 right now.
.308 Bullet Bottle Opener by Lucky Shot
This stocking stuffer is made from a .308 caliber bullet casing. Lucky Shot takes it and turns it into a key ring that opens bottles. It gives the bullet a new life, tackling beer bottles instead of bad guys.
Lucky Shot offers a military discount and the .308 Bullet Bottle Opener can be personalized with an engraving for $7. The key ring comes with a velvet keepsake bag and a care card and is available for $ 8.99.