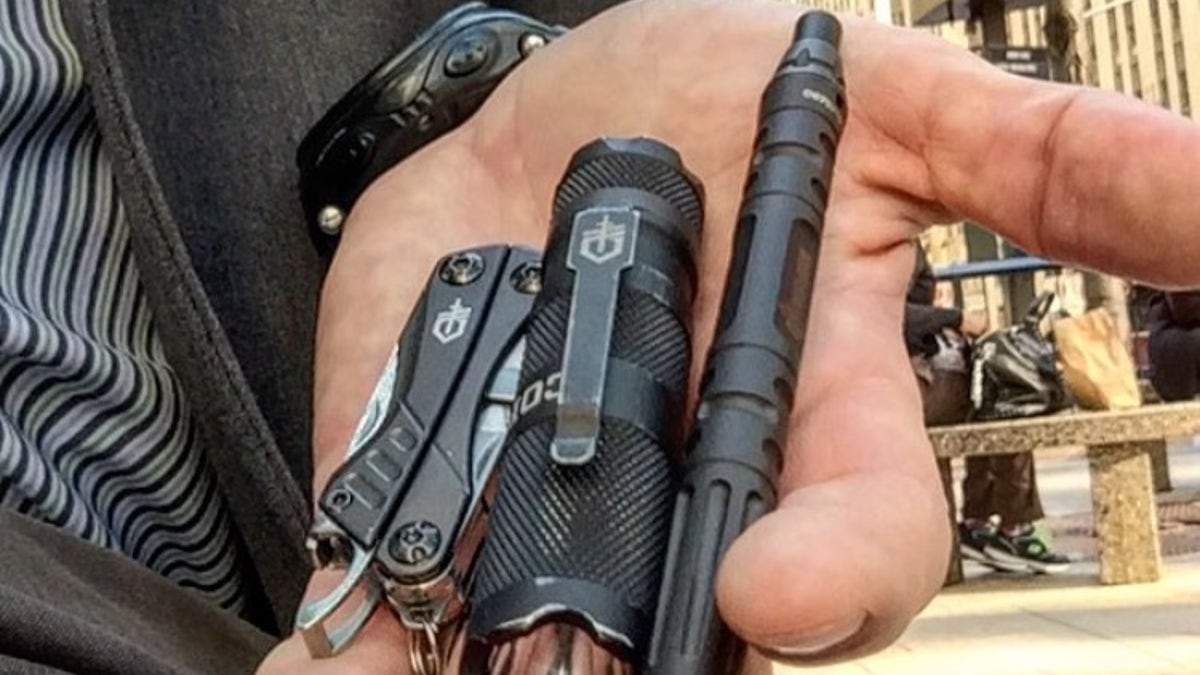 So what do folks in the business of survival tools carry on a daily basis? US Army veteran, and now Gerber Gear Marketing Director, Andrew Gritzbaugh, visited FOX Firepower to share what he personally brings with him everywhere he goes.
Here are five things that will integrate into regular business attire seamlessly – and will give you military-grade survival tools so that you can be equipped if a crisis hits.
Tactical flashlight: the Cortex Compact
Gritzbaugh's first piece of advice is a "small, tactical light with multiple battery options – you never know when you'll end up in a dark street or power outage."
During his visit in the studio, Gritzbaugh pulled the Cortex Compact he carries daily out of his pocket.
Tactical flashlights can provide powerful and critical light during the darkness that plagues some emergencies— but the light can also act as a defensive tool. The Cortex, for example, provides 125 lumens of output when charged with the CR123 battery. That kind of light is enough so if you are under attack you can momentarily blind an aggressor's night-adapted vision.
The Cortex Compact was designed for tactical professionals like police officers who need an everyday carry light. It is coated in black for low visual signature – which is tactical talk for keeping its big-time capability discreet.
Available for $94.00.
Tactical pen: the Impromptu
Pens are something people carry with them everyday anyway. But this is a pen that could save your life.
Stabby pens are a must-have with tactical professionals and should be a must-have for folks who want to survive threats.
Gritzbaugh pulled the Impromptu Pen out of his suit jacket pocket. It looks like a cool pen, writes like a pen— but this pen is also a glass breaker and a way to defend yourself against an attacker.
No matter where you are, if you have a tactical pen with you and are under threat, you always have a powerful way to defend yourself.
Available for $72.00.
Multi-tool: the Dime
The military takes advantages of multi-tools all the time. Rather than carry a whole bunch of unwieldy tool options, service members like that a multi-tool puts all those options in one lightweight, organized device.
Gritzbaugh pulled out of his pocket the Gerber Dime that he carries everywhere. As he explained, it is "a travel friendly multi-tool for every little problem you encounter along the way."
It features ten tools in a tiny size that slips ultra easily into a pocket. In terms of survival, you never know exactly which tool you would wish you had to hand. And there are no do-overs in a crisis.
Available for $25.00.
Watch with a compass: Suunto Vector
Most folks rely on a phone equipped with GPS and a mapping app to navigate around these days.
Why do you need a watch with a compass? Because phones die and signals get lost. Batteries can drain very quickly in a crisis. A watch with a compass is always a good idea when you are trying to get away from bad stuff and find your way home.
Gritzbaugh noted his Suunto Vector watch has been with him since his Army days and is still going strong.
Suunto Vector remains the gold standard worn regularly by tactical professionals. Robust and ready to stick with you in extreme events, a tactical watch is a smart decision to help guide your way to safety.
Available for $199.00
Grab and go bag: Timbuk2 Parkside Laptop Backpack
There is no shortage of great tactical professional bug out or covert-carry bags these days. But a business professional does not necessarily need all those bells and whistles – nor the hefty price tag that often goes along with it.
Gritzbaugh explained he carries the Timbuk2 Parkside Laptop Backpack. It fits in seamlessly to a work environment but also is fit for purpose to carry bare necessities in a crisis.
The backpack has smart padding to protect a laptop, but it can also fit back up clothes, water and other immediate essentials to carry you out of a threat zone.
Available for $69.00.