Barnes & Noble Rolls Out Lighter Nook e-Reader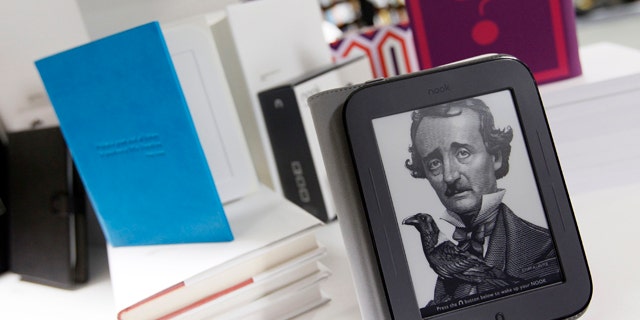 NEWYou can now listen to Fox News articles!
Barnes & Noble unveiled a new Nook e-reader on Tuesday that weighs less than a paperback book and has a battery life of two months -- features designed to help it compete with Amazon.com and Apple.
Barnes & Noble, which introduced its first e-reader in 2009, has been trying to remake itself into a digital book seller to cope with readers shifting away from print books.
The latest Nook will sell for $139 and start shipping on June 10. The touchscreen device weighs 7.5 ounces, has a 6-inch display, and allows a user to look up words, highlight passages and adjust the font size. It can store up to 1,000 books.
The new Nook lands in a highly competitive market, where the iPad and the Kindle are battling with Barnes & Noble for customers who want to read books on small portable devices.
Barnes & Noble executives trumpeted the new Nook's simplicity, saying designers streamlined it, reduced the number of buttons and armed it with a "paper-like" screen.
"The is the most advanced e-reader on the market," chief executive William Lynch said on Tuesday.
The new Nook comes just days after John Malone's Liberty Media Corp offered to buy the bookstore chain for $1 billion. A source familiar with Liberty Media has said that one of the driving forces in the takeover bid is Liberty's desire to acquire the Nook franchise.