AT&T, Verizon spend millions to bolster networks for Pope Francis visit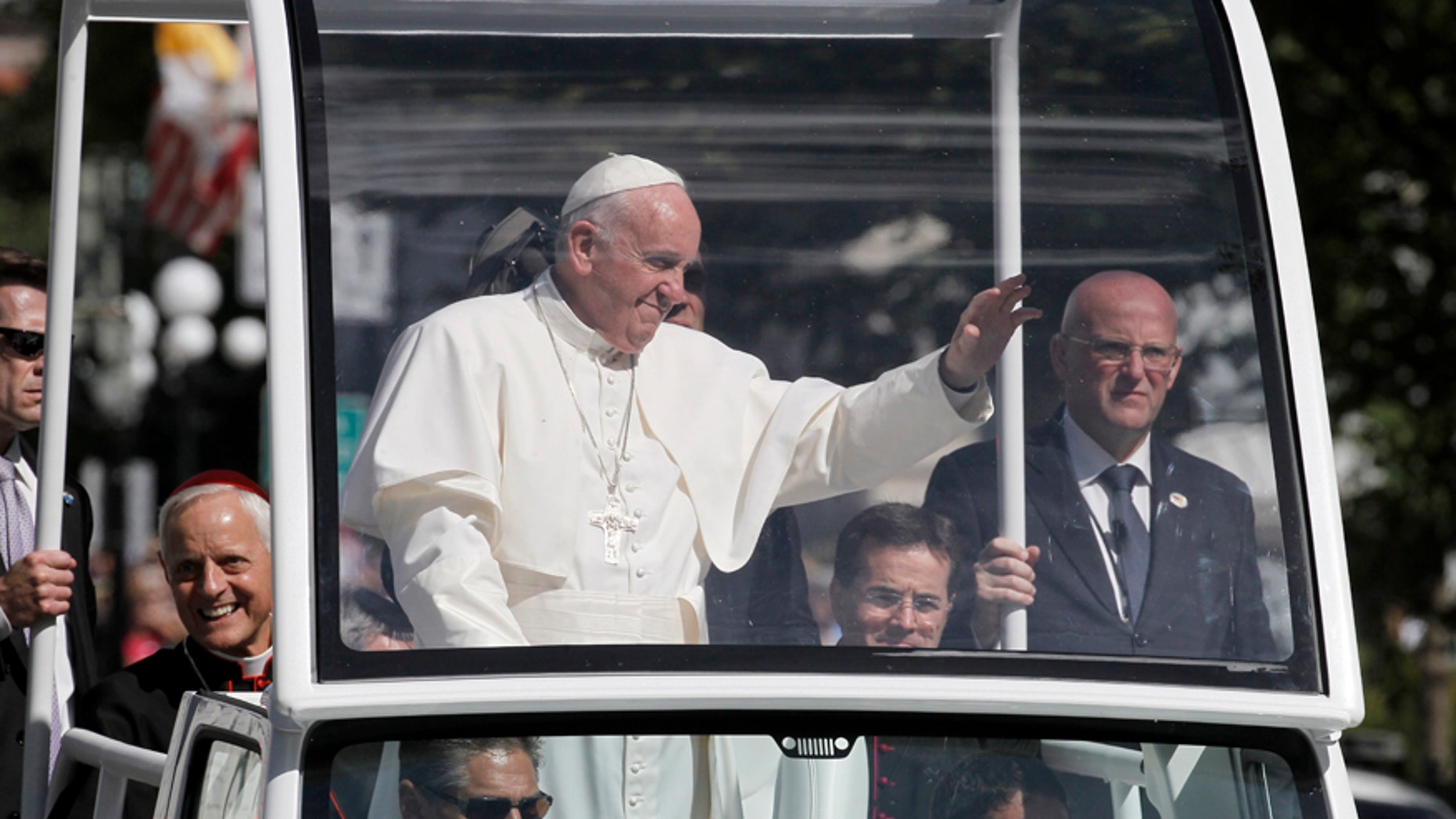 With huge crowds expected to greet Pope Francis on his historic visit to the U.S., telecom giants AT&T and Verizon have spent more than $49 million beefing up the cellphone infrastructure in Washington D.C., Philadelphia and New York.
Francis became the fourth pope ever to visit the U.S. when he arrived at Andrews Air Force Base Tuesday, kicking off his eagerly-anticipated six-day American tour.
Estimates suggest that 1.5 million people, for example, could attend an outdoor Mass celebrated by Pope Francis in Philadelphia on Sunday. With the crowds sharing vast amounts of image data and messages on social media, AT&T and Verizon have been hard at work bolstering their infrastructure in the city.
"We've actually invested more than $24 million over the last 18 months to boost capacity on our downtown Philadelphia network to prepare for the Pope's visit, effectively quadrupling our capacity in the city," explained Verizon spokesman John O'Malley, in an email to FoxNews.com. "To plan for this in Philly, we looked at past events that brought large numbers of people together in relatively small areas, such as the presidential inaugurations on the Mall in D.C., the ball drop on New Year's Eve in Times Square, and the Super Bowl."
Related: Pope features in White House's first ever Periscope production
Verizon added several new cell sites in Philadelphia, including a number of "small cells" in the city's downtown area, which are designed to add capacity to areas with high network traffic. The company also has beefed up the capacity of an outdoor Distributed Antenna System on Ben Franklin Parkway and will bring a number of mobile cell sites into the city.
"With the exception of the mobile cell sites, all of this infrastructure is permanent and will remain in place after the Pope leaves," explained O'Malley. "All of these network enhancements were already on our network build plan for the next couple of years – the Pope's visit just gave us an opportunity to accelerate the timeline on them."
AT&T has invested more than $25 million in Washington D.C., Philadelphia and New York preparing its network for the Papal visit.  In Philadelphia the company will use two portable cell sites to support the crowds, along with two temporary high-powered rooftop antennas and an outdoor Distributed Antenna System.
"We are more than quadrupling our mobile network capacity in the event area," explained AT&T spokesman Jim Greer, in an email to FoxNews.com, noting that the company has upgraded nearly 200 cell sites in the papal visit area and added a new 4G LTE tower. "All of these upgrades will boost our network not only for the visit, but to give area residents and businesses faster, more reliable wireless service for years to come," he wrote.
In Washington, D.C., Verizon has deployed mobile cell sites at key locations, including Catholic University, on the Mall near the Air & Space Museum and near the Washington Monument. "Small cells" have also been added in the downtown area.
Related: How to stay connected with 'The People's Pope'
Pope Francis spoke on the White House lawn alongside President Obama Wednesday before addressing U.S. bishops at the Cathedral of St. Matthew the Apostle. Later on Wednesday, he attends a canonization Mass at the Basilica of the National Shrine of the Immaculate Conception.
AT&T told FoxNews.com that it is using a portable cell site with a multi-beam antenna to cover the Mass at the Basilica of the National Shrine of the Immaculate Conception, as well two portable sites to enhance coverage at Capitol Hill and the National Mall. Two other portable sites were deployed to boost coverage along the pope's White House parade route Wednesday.
After addressing Congress Thursday the pope travels to New York, where he will speak at the United Nations headquarters, participate in a parade through Central Park and say Mass inside Madison Square Garden. He will depart for Philadelphia on Saturday, spending the final two days of his visit in the city of brotherly love.
Aside from telecom infrastructure, Pope Francis' visit has already prompted at least one technology first – on Tuesday the Pontiff featured in the White House's first ever live broadcast using the Periscope app.
Twitter has also created special emojis to commemorate the Papal visit, which accompany the hashtags #PopeInUS, #PopeInDC, #PopeInNYC, and #PopeInPhilly.
The micro-blogging site has also produced a chart documenting the excitement level on Twitter prior to Pope Francis' arrival.
However, Pope Francis' visit has delayed some shipments of Apple's new iPhone thanks to traffic congestion in some areas of Washington, D.C., New York and Philadelphia.
The Associated Press contributed to this report.
Follow James Rogers on Twitter @jamesjrogers