Artificial intelligence reveals gender bias in the workplace, study says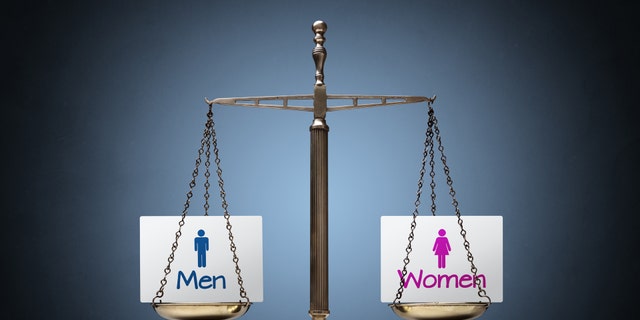 Most managers like to think of themselves as operating free of any bias, rewarding their employees based on merit alone—but a new study of five companies that's powered by artificial intelligence tells a more troubling story.
In the wake of sexual misconduct revelations that have rocked a wide range of industries, companies are looking at ways to improve and assure a bias-free workplace for their employees.
The Boston-based firm Palatine Analytics, which studies workplace issues, analyzed a trove of data—including employee feedback and surveys, gender and salary information and one-on-one check-ins between managers and employees—using the power of artificial intelligence.
HOW ARTIFICIAL INTELLIGENCE COULD BATTLE SEXUAL HARASSMENT IN THE WORKPLACE
"We realized that there was a very limited amount of data about causes behind why career prospects are worse for women," Palatine Analytics CEO Archil Cheishvili said, in a statement.
In the companies that Palatine studied, the C-level suite was on average heavily dominated by men, while entry-level positions had a 45 percent female and 55 percent male breakdown.
But would the data answer the all-important question: Do women get fewer promotions and lower salaries due to poor performance or due to bias?
NET NEUTRALITY'S IMPACT ON FREE PORN COULD BE SIGNIFICANT
"We collected the data, made it anonymous and did analytics. We had data regarding over a dozen important variables, including gender, tenure, position, the name of the manager, salaries, and the number of promotions/raises received," Cheishvili said.
In all the participant companies, performance review and 360-degree feedback results were linked to promotion and compensation. In order to understand the reason why women received fewer salary increases and promotions, the firm had to figure out whether performance reviews were biased against women.
The AI-powered study found that men and women were equally as likely to meet goals but men were getting 25 percent more positive evaluations compared to women in the same role.
FORMER GOOGLE AND UBER ENGINEER IS DEVELOPING AN AI 'GOD'
Looking at the data more, they discovered that women were providing almost identical performance review scores to men and women while 70 percent of men provided higher evaluations to men than to women. This disparity was more pronounced in senior positions, where approximately 75 percent of men provided higher reviews to men than to women.
According to a Pew Research study, 42 percent of U.S. women say that they've experienced some type of discrimination on the job because of their gender—with 25 percent saying they earn less than a man doing the exact same job.
Most experts agree that gender biases cannot be ended until there is more transparency brought to the compensation and review process.
"The era of secretive companies is over and the time will come when reasons behind every major decision in companies will be transparent," Cheishvili said. "This will reduce workplace biases, increase employee productivity and increase employee happiness levels."