Apple vs. Google: Who Will Own the Tech World?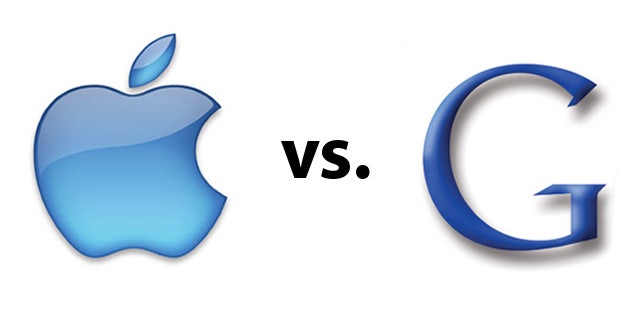 Ask yourself: Are you with Google or Apple?
Apple plans to build 26 million iPhone 5s in the second half of 2011, reports suggest, and will ship nearly 100 million phones this year. Yet over 5 million people worldwide bought Samsung's Google-powered flagship phone in the first 85 days it was on the market -- that's one every 1.5 seconds. According to research firm Gartner, Android phones made up nearly 44 percent of sales in the second quarter of 2011.
The once infinite universe of technology has clearly divided into just two. And the next time you go tech shopping, you'll have to decide: Which world do you want to join?
But remember, buy into Apple or Google and you commit to a whole world of products -- a world increasingly polarized.
Almost every Android-powered smartphone or tablet on the market asks for your Google email address when you first turn it on. Based on that, you're allowed entry to an expanding world of Google services and features: Google Docs, Google Music, the Google+ social network, and more.
Apple products work in a similar fashion, all syncing with iTunes and communicating beautifully with other Apple devices and services. And a new iCloud sync service Steve Jobs unveiled in June promises to more seamlessly tie together your computer, Apple TV, Apple iPhone and everything else.
Sure, they play nicely with gadgets from other companies. But they work great with themselves.
The once-crowded technology playing field has become a battle between two juggernauts; everything else is merely discarded circuits on the side of the road.
The Motorola StarTAC was once in every pocket, the must-have phone for celebrities and technophiles in the late '90s; today, the company is merely a blip in the rearview mirror. On Monday, Google announced it was buying Motorola's cellphone division for $12.5 billion dollars -- not because Google wanted to start making phones (though don't rule that out), but mainly to shore up its patent portfolio.
What of the BlackBerry? Research in Motion, the company responsible for that smartphone line, was once the powerhouse in the field. Gartner said RIM's share of the smartphone market fell 12 percent in the second quarter of 2011, its floundering PlayBook stuck on a bench on the sidelines. Sprint just abandoned plans to carry one version of the gadget.
Other smartphone competitors? Nokia is dominating dumbphones instead.
HP doesn't resonate with consumers looking for phones or tablets.
IBM? Dell? No chance.
What of that other device, the tablet? The tablet market has become so powerful and promises to grow so exponentially that experts say it's denting the sales of desktop and laptop computers. And there are only two names that play: Apple and Google. Over a dozen hardware makers sell Google-powered pads -- the names of the manufacturer are almost irrelevant. Acer or Asus, Samsung or HTC, they all make Google gizmos these days.
On Monday, Fusion Garage ended a quirky, months-long marketing campaign by debuting the Grid 10 tablet and Grid 4 smartphone, based on a unique, grid-based operating system the company spent uncounted months developing. The tech world barely blinked: If it ain't Apple or Google, it didn't happen.
The business world has reacted however: Apple stock shot sky high last week, giving the company at one point a $337 billion valuation and making it the most valuable company in America.
Google stock is no slouch itself, selling for a staggering $550 or so per share. The company is worth about as much as Microsoft -- though Apple is still worth more.
The lines are drawn. The playing field is clear. So which is it? Are you an Apple or a Google?