Apple unveils new iPhone SE and 9.7-inch iPad Pro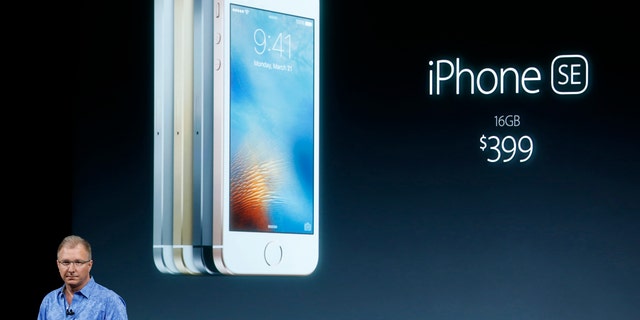 Apple unveiled its new iPhone SE and a 9.7-inch iPad Pro at the company's Infinite Loop campus in Cupertino, Calif., Monday.

As rumored prior to the event, the iPhone SE has 4-inch screen, a 64-bit A9 chip and 12 megapixel camera. Pricing for the phone starts at $399 for a 16GB version of the phone and $499 for a 64GB version. The phone comes in space gray, silver, gold and rose gold.
The iPhone SE is Apple's first new phone to offer a 4-inch screen since its iPhone 5s and 5c. Apple's iPhone 6s and 6s Plus have, respectively, 4.7-inch and 5.5-inch screens.
Related: New malware can infect iPhones without requiring a jailbreak
"I am extremely excited about the iPhone SE - many, many customers have asked for this and I think they are going to love it," said Apple CEO Tim Cook, during the launch event.
Pre-orders for the iPhone SE begin March 24, with the device becoming available March 31.
Jan Dawson, chief analyst at Jackdaw Research, told FoxNews.com that the new phone could provide a boost to the tech giant's smartphone business. "The iPhone SE is clearly priced to sell, at $50 less than the iPhone 5S it replaces and $250 less than the iPhone 6S," he explained, via email. "Apple wants to sell a lot of these, and it should sell millions over the next few months, during a time of year when iPhone sales are usually in a bit of a lull."
Related: Apple rushing to catch up with Samsung on displays, reports say
As anticipated, the tech giant also launched a new 9.7-inch iPad Pro during the event, significantly smaller than the 12.9-inch iPad Pro that was launched last year. Speaking during the event, Phil Schiller, Apple's senior vice president of worldwide marketing explained that 9.7-inch is the company's most popular iPad display size. "We have sold over 200 million iPads with a 9.7-inch display size," he said.
The device has an A9x processor and 12 Megapixel camera. The new iPad Pro also has a True Tone display that measures ambient light to automatically adjust the display's color.
Pricing for the new iPad Pro starts at $599 for a 32GB version. A 128GB version of the tablet starts at $749. Apple also unveiled a 256 GB version of the new 9.7-inch iPad Pro, priced at $899, which is the company's first 256 GB iOS device.
Related: Meet Apple's secret and surprisingly powerful privacy team
The new tablet is available in four colors – silver, gold, space gray and rose gold.
"The new iPad Pro is a logical extension of the iPad Pro line into the size that most people already buy, and should sell well too, though it will still be something of a secondary segment to the iPad Air and iPad Mini because of the higher price," Dawson of Jackdaw Research told FoxNews.com

Pre-orders for the new iPad Pro begin March 24, with the device becoming available March 31.
Related: In new San Bernardino filing, Apple calls the government's arguments 'misleading'
As predicted by experts, Apple did not unveil new Apple Watch hardware during the event.
The company, however, unveiled new woven nylon bands for the Apple Watch. Apple also lowered the starting price of the Apple Watch to $299 at the event.
Apple also used Monday's event to launch CareKit, a a software framework for developers building health apps and enhancements to ResearchKit, its framework for medical research apps.
Related: Giant future iPhone 7 could get bendable display tech, report claims
Before launching the new products, Cook briefly mentioned the company's ongoing iPhone battle with the FBI. Apple is fighting a judge's order to help hack the phone of a shooter in the deadly terror attack in San Bernardino.
"We built the iPhone for you, our customers, and we know that it's a deeply personal device," he said. "We need to decide, as a nation, how much power the government should have over our data and our privacy."
Cook, who said that Apple did not expect to be in this position, added that Apple will remain steadfast in its opposition to the court order. "This is an issue that affects all of us, and we will not shirk from this responsibility," he explained.
Follow James Rogers on Twitter @jamesjrogers